For the fifth time our surfteam set off to enjoy a surfholiday week on the Northwest Coast of Ireland. And just in time for our anniversary, Ireland showed off with amazing weather and well, the waves weren't too bad either 😉
The surf trip started in Dublin
Surf coach Angie and camp chef Ray arrived at Dublin a couple of days before the group. Enough time to sort out the rental car, and discover Ireland´s biggest ice cream cones. Even though rental car prices were through the roof, cool surfer dude Sean at the rental car place sorted out an upgrade and some extra freebies. Legend!
Most of the team arrived in Dublin on Friday night. Meeting at the hotel bar of the airport, hotel first contacts were made. And the first laughs, too. According to Irish man Mick, a long-term guest at the airport hotel, an Irish man has to buy foreigners a drink when they meet. Imagine the interesting evening that followed.
On the way North, looking for waves
The team set off from Dublin airport really early on Saturday morning. It was a 3 1/2hrs drive up north. Here is where they would meet Karen, the last one missing in the team. Karen who would drive up to the D-place from her home on the west coast. Surfboards were tied to the roof racks, all bags stuffed into the back of the car and the team was on their way to the coast. A few hours, and a little supermarket stop, later the team finally arrived at their home base, James Palace. And of course, James was there to meet them. So good to see him again, after not having been able to do so last year. This is James Palace, a lovely Irish cottage with ocean view.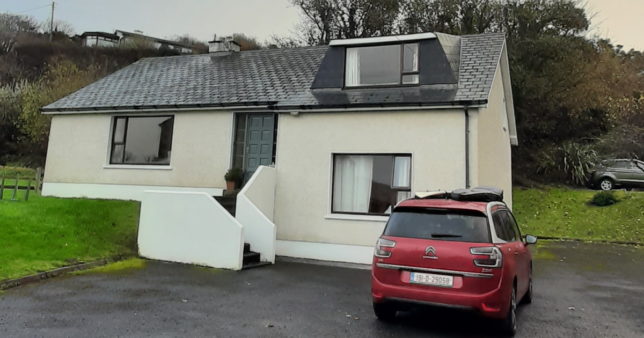 Gone surfing
Quickly the rooms were allocated, tea was made, surf equipment thrown into the car and off they were. Straight to the surf school to meet their local guide Good Old Lee. Another friendly face was waiting for them at the school, what a surprise. Duncan, the second owner of Narosa Life, normally spends the winter seasons snowboarding in Japan. This year the team was luckily enough to surf and hang out with him. What a treat.
For the first session the team headed to a nearby beach break. Mellow lines were rolling in, great conditions to get used to the waves, water temperature and also, to surfing with booties and gloves. Everyone caught heaps of waves, there were rainbows and even a seal. Not sure how this corner of the world manages to still surprise us and get more beautiful year by year.
The surf holiday week in Ireland unfolded
The first night they were spoiled with dinner at a funky pizza restaurant a few kilometres up the coast. Good Old Lee and Duncan joined the team, making it an even more fun and interesting evening. What a great start for the week.
The next few days were all about surfing. On Sunday they even managed to sneak in a double session. Conditions were simply too epic to not surf twice. On Monday, Good Old Lee had something special planned for the team and took them surfing to a different wave. Learning about how to surf a reef break was exciting for the group, and so was the surf session. That´s the team getting briefed by Lee in their new surf school / shop / best coffee shop within 100 km radius.
The rest of the week was spend with loads of waves, surf theory, video analysis and also, a very helpful surf skate session. Step by step everyone of the group advanced, got more confident and corrected little mistakes. Being an advanced level group, surf coach Angie had come up with a special plan beforehand, and it seemed to be working. Great waves were surfed, comfort zones expanded and loads of funny moments shared.
The routine
The team itself didn´t take long to groove in with each other. A steady routine was implemented. And be honest, who doesn't want to listen to the piña coladas song before jumping into the waves?
If you like piña coladas, and gettin´caught in the rain,

If you´re not into yoga, if you have half a brain..
As a surprise the team was blessed with a mild climate this year but still enjoyed another routine: hot chocolate, tea or soup after the surf sessions. On top of that, camp chef Ray treated them with delicious cinnamon rolls or cake, what more can you ask for?
A week of surfing gone by fast
Way too soon the week was over. It generally passes fast but this time it simply ran past us. How do they say? Time flies when you are having fun.
Well, while we bath in our recent memories, we can´t wait for next November to hit our favourite D-place. The dates of #I❤️Ireland are already set and soon the trip will be open for bookings. If you can´t wait till the official details get published, get in touch with us and secure your surf space for our 2022 cold water surf trip.
Thanks to all our NOMB Surfers Karen, Johannes, Sven and Thomas for making this trip extra special and surfing epic waves. Thanks to camp chef Ray for her delicious food and great company. Thanks to the man of lee-sure Lee and Duncan for sharing their waves and treating us like family. Thanks to James for letting us stay at his palace. And thanks Ireland for having us, still can´t believe the waves we were blessed with this year!
Check out our Facebook face for pics and moments of #IrishIdols 2021.
Sea you in the water soon,
Angie & the NOMB Surfteam
Ps: couple of spaces left on our next surftrip #FuerteFuerza, an all female confidence boost workshop on sunny Fuerteventura. Check it out!