The Canary Island of Lanzarote showed us all her amor during our sneaky surfescape #LanzaroteLove. Daily sunshine is not unusual on the Canary Islands but several glassy days, with next to no wind, that is showing off with all it´s assets.
Four days of glassy conditions
The NOMB Surfteam was greeted with beautiful small waves rolling on the islands shore. Perfect conditions for coaching a team with different surf levels.
The conditions allowed surf newbie Caro to also paddle out to the lineup, and start her surfing career with learning the right board handling (sitting up, turning the board, emergency break etc) and catching first little green waves.
More experienced surfers Tina and Markus used the smaller conditions to correct tiny errors in their timing and take-off techniques, and focussing on watching the wave while taking off.
NOMB surfer Kristin and Miri really did some meters paddling and tried to catch as many green waves as possible. What a great start to the week. Look at this little partywave our team shared.
Lifesaving skills for surfers
While daily surfcoaching sessions obviously were what the team came for, there were still a lot of other things on the trip agenda.
Surfcoach Angie had organized a very helpful surprise for the NOMB Surfers: a lifesaving for surfers session with lifeguard master Paul from Lavaflow Surfschool.
During a morning session in the calm waters on the east coast, Paul taught the team how to rescue someone in the ocean, without and also with a surfboard. The team also learned how to place someone into the shock and recovery positions once back on shore.
As a last part they were shown how to escape if being attacked, from the front or back. A very useful skill to know, in and outside the water. If someone is panicking and thinks he´s drowning, he will hold onto anything he can get hold off. If that´s you, things can get dangerous for both of you. Always make sure there´s something, for example a surfboard, placed in between you and the drowning casualty.
Here are Kristina and Caro practicing the one-arm-drag, used to save someone without a surfboard.
More wind, more swell, more surfcoaching
After four amazing days surfing clean and glassy waves, the wind finally showed up. But wind also means waves and now the team was ready to face bigger conditions.
Tina and Markus paddled out to the line-up with surfcoach Melly and took some pretty bombs. The rest of the surfteam stayed closer to shore. Even though the wave was already broken, the whitewash produced a pretty long ride to the beach. However, with the rising tide, the whitewash started reforming and producing nice little green waves. This great beachbreak on Lanzarote offers waves for everyone.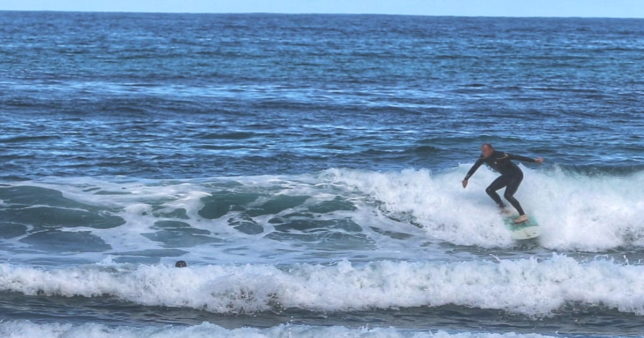 Going hiking and other stuff to do
When the team wasn´t surfing, they chilled in their superb home base. A typical Canarian finca, located in a little valley in the north of the island. While on a surf holiday trip, everyone also has time to wind down and relax. But some of the team were eager to explore and set off for a hike.
Just outside the homebase there is an awesome track going up the famous Risco of Famara, but from the backside. Right on top there is a little chapel and a breathtaking view all over the north of Lanzarote. Definitely worth the hike.
On the way back the team stumbled across a lot of rubbish thrown into a field. Luckily Angie carried some trash bags with her, so the team started collecting all the rubbish and left the bags at the side of the road. When a local farmer passed, they asked him to please take the collected rubbing to the next rubbish bins. Once they returned two days later to check on the trash, luckily it had been picked up already. As surfers we are being conscious about our environment, and always try to leave nature in a better condition than we found it.
Here is the hiking team up on the Risco de Famara. What a view, right?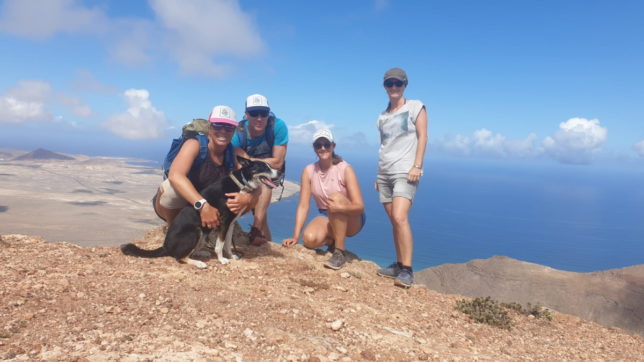 Our surfholiday trips are made for active people, as you can see. However, we still find time to chill, sunbath and read a book. And our homebase had so many hidden corners, everyone could find their peace. Did you know that we had our own wine cellar?
Surf theory sessions, tailmormade to the group, were also a part of #LanzaroteLove. The team learned a lot about the ocean, hurrican Larry, the different forecast models and much more. Video analysis helped to recognize small errors and correct them.
Daily stretching sessions, lead by a different team member every day, made sure that the team was fit for the next days surfing session. Surfskate session on the local football court opposite our house got everyone's stance up to date.
And just like that, seven days were already over. There were too many funny memories, too many great waves surfed, to mention here. Check out the #tripnotes photos on our Facebook page to find out more about #LanzaroteLove.
Thanks to Caro, Kristin, Markus and Tina who joined us on this marvellous trip.
A special thanks to our campchef Miri for once again spoiling us with delicious powerfoods.
A big gracias to local guide Melly, a female surfing legend on Lanzarote.
Thank you to Paul for making us feel safer in the ocean.
And a big thank you cuddle to teamdog Rainbow for simply being herself and hanging out with the gang. What an epic week!
Next stop: #IRISH IDOLS
While #LanzaroteLove was our warm water trip for this year, we are suuuper excited about our upcoming cold water trip. #IrishIdols marks our 5th year anniversary trip to Northwest Ireland.
Cold waters, challenging outdoor conditions but epic wave and empty line-ups. Nothing for the faint hearted this years trip is aiming at experienced intermediate surfers, to really take advantage of of the Irish waves. Is this trip for you? Then get in touch and secure one of the two last surfspaces available.