As you maybe know by now, we don´t only coach private surfcoachings on our homebase island Fuerteventura but we also organize epic surftrips around the globe. Together with a small group of max six surfers, (and a fantastic campchef), head surfcoach Angie sets off to discover new surfspots and find empty line-ups.
Teaming up with a local surfschool, she is always looking for uncrowded surf destinations where our participants can get the maximum of their time in the ocean.
Here is how NOMB Surftrips work, why we think they are epic and how you can find out which trip is perfect for you.
Great surfteam of likeminded surfers
On thing you can expect on every NOMB Surftrip is an amazing group of like-minded surfers. Coming from all sorts of different walks of life, our surftrips tend to only attract interesting, motivated and fun surfers.
Within our small group you can share your highs (and lows), find motivation, make new memories and friends and a little bit of Schabernack, too. Acceptance and an open mind come natural to our incredible NOMB Surfers. Our local surf guids are local legends, sharing their waves and stoke with us. Overall, an epic surfteam! Like the ladies below on our adventure surftrip #Ghanarama in 2019.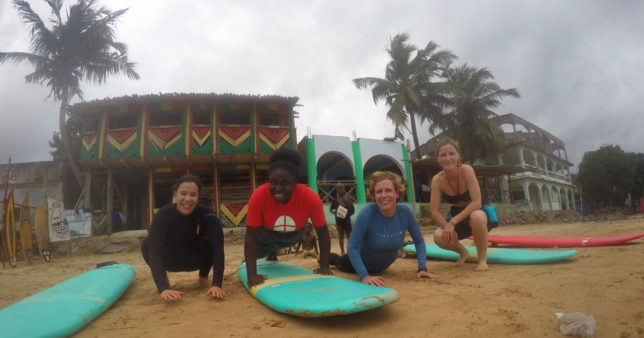 Different surftrip categories
Everyone likes to spend their holidays in different ways. Sure, everyone wants to surf but some like it more relaxed, others totally hardcore and others are up for a challenge. That´s why our trips come in different categories for you to choose from.
The classic trip is our SURF HOLIDAY. Generally lasting 7 days, this trip category is the perfect mix of surfcoaching and relaxing. Great for surfers who want to improve their surfing skills but also find some time to wind down. Daily surfcoachings and theory sessions included.
For those who really want to boost their surfing, (and don´t mind muscle pain), we offer our INTENSIVE SURFCAMPS. They generally run for 14 days and it´s all about surfing. Daily surfcoaching and guided freesurf sessions, loads of drills and surf related activities easily take our participants surfing to another level.
And then there are our ADVENTURE SURFTRIPS. These 14 days trip take you to unusual destinations and make you step out of your comfort zone. Daily surfcoaching but also a lot of exploring are on our agenda. But then, you never know what will happen.
Even more trip categories
Above, these are our main surftrip categories. However, from time to time, we also run special trips. In the past we have run a surf & fitness camp, combining neuroathletic training with surfing. An all ladies boostcamp is about to happen in 2022, #FuerteFuerza. Especially designed for surfchicas who want to address their fears, blockages and surf in an all girls environment.
Sign up for our newsletter below to always be the first one to find out about new trips.
An all-inclusive surftrip: all you need to do is surf
And that´s one of the main features of our surftrips. All YOU need to do is to get to the meeting point and surf. Everything else is organized for you. Sounds amazing, right? Here is what to expect on every NOMB Surfcoaching trip:
Daily surfcoachings
Head surfcoach Angie
Local surfguide/coach
Cool accommodation close to the ocean
Healthy power foods (breakfast & dinner)
Surf theory session
Photo / Video Analysis
Safety intro to surfspots
Transport to/from meeting point
Transport to/from surfspots
All surf equipment
All your surfing pics/videos on a USB Stick
NOMB Surf goodies bag
Loads of waves and epic moments
Finding your connection with the ocean
With many years of coaching experience, surfcoach Angie is not only qualified and experienced but also specialized in dealing with challenges and fears in the water. During our trips we can´t stress enough about how you, as a surfer, need to find a connection to the ocean. But that´s easier said than done.
Angie will guide you through the process of understanding the ocean, devoting to it and finding your confidence. Without you noticing you will be a confident surfer, able to read the ocean and react to it.
Our next surftrip: #LanzaroteLove
Unfortunately, this year we weren´t able to run our annual winter surf holiday on the Canary Islands. But with all challenges come opportunities. And we will now take advantage of the warm Atlantic waters and milder waves that we are blessed with at the beginning of the Autumn wave season.
#LanzaroteLove will be run as a surfholiday from the 11 – 18 September 2021. That means, daily surfcoachings and enough time to relax and discover the volcanic island. And guess what? There is one surfspot left for one lucky surfer.
Let´s see what frequent NOMB Surfer Tina, who will join us on #LanzaroteLove, has to say about our next surftrip. Thanks for the great video, Tina!
Now you know how NOMB Surftrips work, and what makes them so special. We hope you like what we do and want to join us on one of our upcoming trips. Maybe you are even super spontaneous and want to join NOMB Surfer Tina, surfcoach Angie and the NOMB Surfteam on the trip to Lanzarote?
To find out more, get in touch asap and secure the last available surfspot!