Surftrippin' worldwide
Live the search & improve your surfing
Professional surfcoaching
Together with a NOMB Surf coach and at least one local surf coach, we provide quality teaching on a personal level in a group of max. 6 people.
After defining your individual goals at the beginning of a trip, we will set your personal training schedule for the whole trip period. Each day contains practice in the water, theory and / or photo and video analysis, as well as constructive feedback to prepare you for your coaching the next day.
Discover new surfspots
Each day, we bring you to the surfspot with the best conditions for your surf level and  the goals of the day.
We guarantee a safety introduction to the new spot: Where & how to enter and exit, information about the ocean floor, the currents, the shape & intensity of the wave. Everything you need to know to feel comfortable during the coaching and free surf sessions.
Healthy food & fitness
Our NOMB chef spoils you with healthy, nutritous and very tasty food for breakfast and dinner to keep your energy up throughout the whole trip.
In addition, we try to include a daily stretching session to lenghten and strengthen your surf muscles – something which is especially important on our intense surf trips with two sessions a day. This, of course, depends on your mood and motivation.
Accomondation & Equipment
On each trip we base ourself in a comfortable surf house close to a surfspot where you can relax in your free time. The houses generally contain twin/double rooms but often single rooms are available on request.
 
You can bring your own surfboard. However, we always provide a quiver with various boards for different conditions. Please be open to switch your own board for a recommended one to get the best out of your surfing. 
Worldwide surfcoaching trips
Explore new destinations while getting coached
Our surftrips go all around the world!
While we focus mostly on Europe, there's a NOMB Adventure Trip to another continent or an extraordinary location planned each year. We are not warm-washed surfers either: some of our trips will take place at cold-water destinations.
On our trips, we welcome you with well-organised training sessions, a specific personal coaching plan on what you want to achieve during your surftrip and collaborations with local surfschools & -guides to guarantee the best spots. We strongly believe in the importance of sustainable surftravel, try to keep our footprint positiv and have the local community benefit from us being there.
You can always count on a comfortable & cosy accommodation getting spoiled with healthy & delicious meals.
Whether you're a beginner or advanced surfer, we will focus on stepping up your game.
How does a NOMB surftrip work?

Before the trip
Our bookings are always handled on a personal level. After a personal introduction with your trip organizer, you'll receive information to prepare for you trip. From physical exercises to step up your pop-up and paddling game beforehand, over packing lists and additional information on the trip – we got you covered.

Your arrival at the destination
You organise the flight yourself, but we're there for you from the very beginning of the trip! We will set up a meeting date and point – normally at or close to the nearest airport – where you and the other trip members will be picked up by our team. That's when the surftrip starts! We will bring you to the accommodation where everything is prepared for you and the others. From then on, it's surftrip time!

During the trip
x days of trip = x days of surfing! From day 1 on, we'll spend time in the waves of local spots. At the first session, your surf coach will evaluate your surfing to define your goals that we will work on during the trip. From this moment, it's all about improving your surfing, having fun and exploring new surfspots with the help of local guides.
Surf Trip Info
Our Trips are tailored for you.
Each NOMB Surfcoaching Trip is tailor made. To make it easier to find the one meeting your interest, we distinguish different trip types and surf level.
Types of Trip
Each NOMB Surfcoaching trip is unique! You want to maximize your skills with two sessions a day? Or would you prefer a mixture of surfing and exploring a new country? We offer adventure trips, intensive coaching camps, surf holidays and specific surfcamps.
Surf Level
Beginner, Intermediate or Advanced? There's more than the three worn-out classifications. Because most surfers are strong in some areas and weaker in others, we distinguish 5 different surfskill level to meet the requirements for our trips.
Sustainable Surftravel
We love to travel around the globe chasing waves. Who doesn't? At the same time we are aware of the impacts surftravels causes. Adapting to the methods of sustainable tourism is the only way for us to operate. Therefore we strive for economical, socio-cultural and environmental sustainabilities in all our surftrip operations.
How does it work? It means, that we deliberately work with local surfschools and partners to leave economic benefit in the hosting community. It means, that we look for socio-cultural exchange and carefully integrate our surfteam by being open, showing respect and participating in local events . It means, that we leave any location in a better state than how we have found have it.
If you want to know how much more we do to keep our surftravel footprint as positive as possible, please get in touch. We are happy to inspire you!
Surftrip Impressions
We've been traveling all around the world with great people. 
Trip notes
Relive our past trips.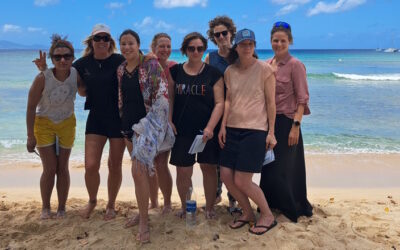 Our last surfcoaching trip, #GuadeGirlsGang, didn't have much to do with housewife duties and...
read more