Our NOMB Surfcamp in Galicia Spring 2024
Surf fantastic waves in a beautiful setting & improve with every session
#Geilicia 2024
On a surf quest in Galicia
Once more we are returning to the stunning shores of Northwest Spain. 
The sheer variety of waves, sunshine and great vibes lure us back to run our trademark intensive surfcoaching camp in Galicia in 2024. Join us and find out why we are so stoked on Galicia.

27/04 - 11/05/2024: 2 weeks intensive Surfcamp
Benefit from loads of watertime during this 14 days intensive surfcamp. Daily surfcoaching sessions are backed up with daily freesurf sessions = loads of waves for you.
The surfcoaching sessions are focused on you, we work specifically on your goals in and out of the water.
During the freesurf sessions you can either train on your goals, or simply enjoy surfing epic waves in beautiful surroundings. The choice is yours.
Combining daily surfcoaching with freesurf sessions has proven to be the perfect mix to make you really improve your surfing. And have a lot of fun while you do so!
Meeting Point: Santiago de Compostela
Level: Experienced beginner – Advanced
Minimum requirements:
Pop-Up in white wash, maybe even the first small green waves

Shifting the weight on the board, maybe even slight turning
accomodation in twin room
14 surf coachings (depending on conditions)
14 free surf sessions (if you're up for it)
transport from / to Santiago de Compostela
NOMB Surf goodie bas plus surfpics
The Surfcoachings
The idea of our surfcoaching trips is to really improve your surfing. At the beginning of the trips, we set your individual goals which we will focus on for the trip duration. This intensive surfcoaching trip will boost your surfing to the next level (or two). Loads of watertime through daily coaching session and freesurf, supported by out of the water surftheory, video analysis and surfskate sessions.
Even though we surf as a group of max. 6, surfcoach Angie will coach each of you individually. This includes assesssment of your surfing level, setting fixed goals, explaining drills and exercises, coaching in and outside of the water, demonstrating and explaining.

daily surfcoaching sessions (depending on conditions)

daily freesurf sessions (depending on stamina)


transport & safety intro to spots

surftheory sessions & workshops


your surfpics & videos to take away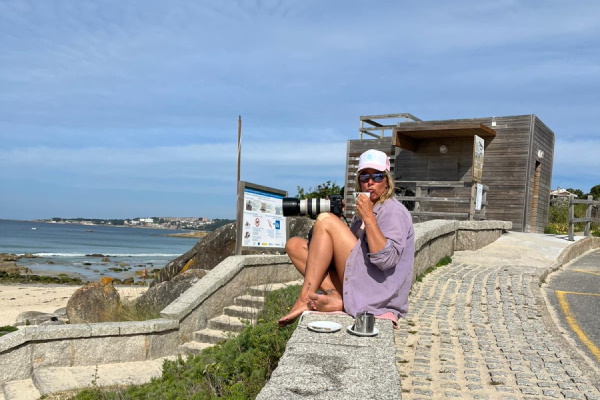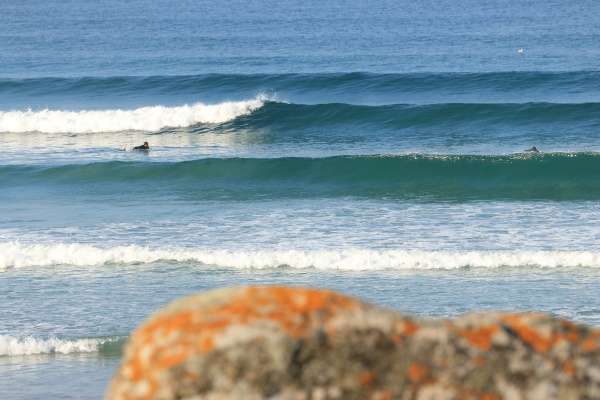 Is this trip for me?
This trip will be run a 14-days Intensive Surfcamps. On each day, we will coach you individually within the group and also head out for a free surf session. Expect to surf a lot and your surfing skills to increasly quickly. We use direct & indirect coaching techniques, in and outside of the water.
With two sessions per day, this trip is only for people who really want to focus on their surfing. There won't be a lot of free time left for other activities, especially since we might also go on day trips to the North of Spain or Portugal when the waves are good.
This NOMB Surfcoaching trip is open to surflevel 2-5, experienced beginners and up.
Mimimum requirements: 
Pop-Up in white wash, maybe even the first small green waves

Shifting the weight on the board, maybe even slight turning
Surf Time

90%

90%

Free Time

10%

10%

Minimum Surflevel

30%

30%
Accomondation & Food
What your home in Galicia looks like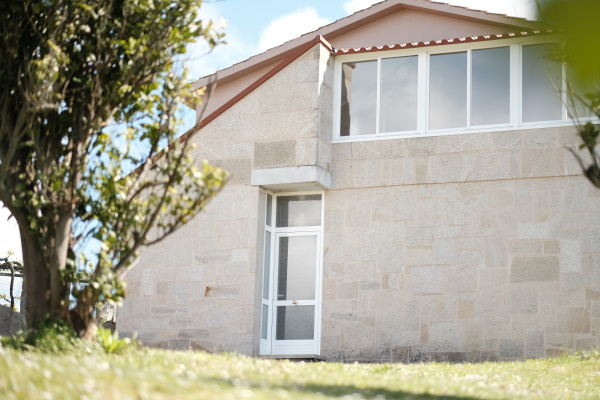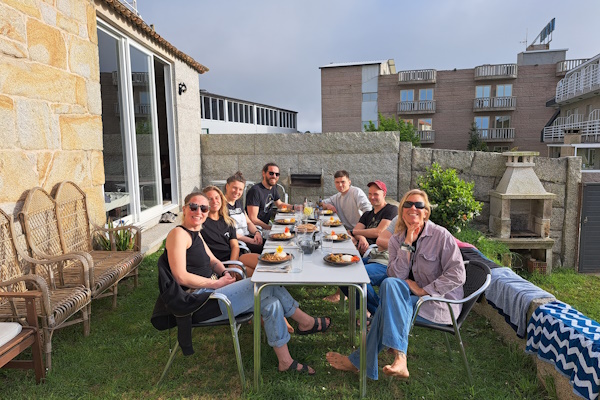 We will meet in Santiago de Compostela. Please arrive at least a day prior to the trip and enjoy exploring the city – the end of the way of St. James for all pilgrims. There, we will pick you up and bring you to our home in a small village on the West Coast.
The house is a classical Galician stone house, with a garden and perfect sunset view. The house has two kitchens and two bathrooms spread over two floors, enough space in case you want some me time. In the living room and garden, there are plenty of options to sit down in good company, drink some beer & wine and play a round of table football on the kicker.
You'll stay in shared twin rooms. If this is not for you, you can also book a single room for an additional fee (please request).
Every day, our private camp chef treats you to a nutritious power breakfast and a delicious re-energizing dinner. Yum! Your food will be mostly vegan but with the option for meat/fish.

transportation from & to Santiago de Compostela

accomodation in a twin room

delicious breakfast & dinner

NOMB Surf goodies bag and little surprises
Sustainable Surftravel
We love to travel around the globe chasing waves. Who doesn't? At the same time we are aware of the impacts surftravels causes. Adapting to the methods of sustainable tourism is the only way for us to operate. Therefore we strive for economical, socio-cultural and environmental sustainabilities in all our surftrip operations.
How does it work? It means, that we deliberately work with local surfschools and partners to leave economic benefit in the hosting community. It means, that we look for socio-cultural exchange and carefully integrate our surfteam by being open, showing respect and participating in local events . It means, that we leave any location in a better state than how we have found have it.
For each participant, and coach Angie of course, we offset our carbon footprint through Sustainable Travel International. In addition we plant a tree/bush in our jungle garden at our headquarters in Fuerteventura, in order to create a local and direct impact.
If you want to know how much more we do to keep our surftravel footprint as positive as possible, please get in touch. We are happy to inspire you!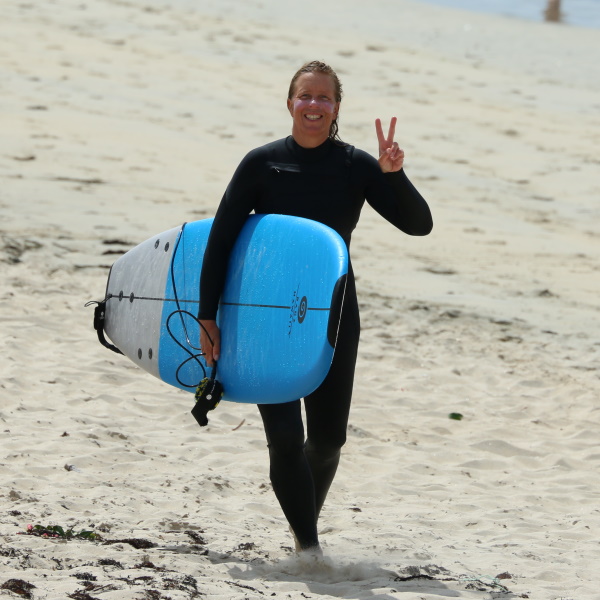 Angie Ringleb
Angie is an ISA level II qualified surfcoach, professional lifeguard and has lots of years of coaching experience. Angie can coach in English, German and Spanish and will be your main coach & trip organizer on this trip. She'll also bring good vibes and neon clours to the trip.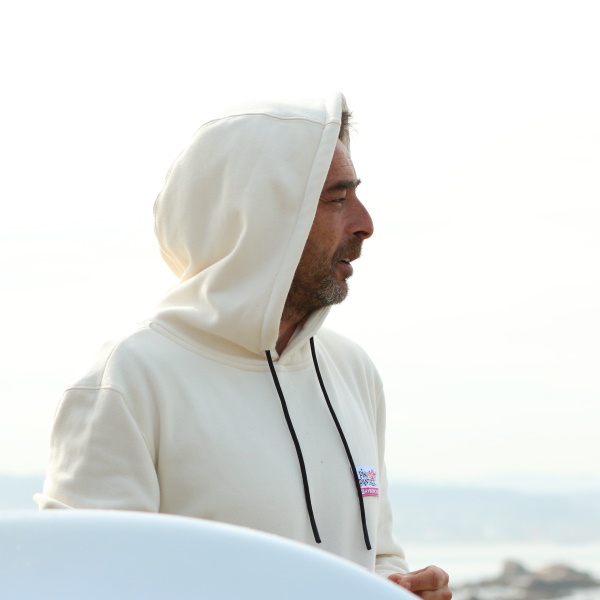 Ramon Alvarez
Ramon, aka Ramonskis or the pirate, is our local surfguide and coach. He is a certified surf coach and also owner of our cosy home in Galicia. He'll guide you to great spots, coach you together with Angie, and beat you in a crazy game of table football!
Teamdog Rainbow
An essential on our trips to Galicia is professional wavespotter Rainbow. Being in her granny years, she is spending a lot of time chilling on the sofa or on the backseats in the van. Always up for cuddles and a walk on the beach, she spreads her love with the team.
Campchef (tba)
Without our kitchen gurus we wouldn't survive! Stay tuned to find out who is gonna spoil us with delicious kitchen skills, tasty surprises and neverending smiles.
Any questions left?
Send us a message and we will get back to you asap!