Online Surfcoaching
Improve your surfing at home
Personalized Surf Training at home
Prepare yourself for your next session in the water
Online surfcoaching gives you the chance to prepare yourself physically and mentally for your next surftrip. Improve your surfing back home, long before hitting the water.
Send us videos or photos of you surfing, and a little bit of information about your surfskills and challenges. What you will receive in return is a digital coaching via call and/or video – however you prefer.
Our head surfcoach Angie will analyse your visual surfing and identify errors. You will then receive a coaching consisting of three parts: Feedback, Theory and Practical Exercises. 
Our surfcoachings mean undivded attention. We focus on only you. Your level, your goals, your struggles. No matter if you're a beginner or an intermediate surfer, we always look at the level you're at and together define the goals for your coaching.
Content of the online coaching

Analysis of your surfing through photo and video
Via collected video and photo content from you surfing, we will profoundly analyse your movements and behavior in the water. This allows us to give you a detailed feedback, identify errors and work out how to correct them.

Theory & background information
After identifying problem areas, we will go into detail how you can possibily improve them in your next session. You will receive background information explaining in detail what's behind every tip, so you can really understand and internalize how to improve.

Specific exercises for a surf home workout
According to your surf level and identified areas to work on, we will design a training consisting of different exercises to get you fit for your next trip while improving your surfing. You will be able to physically and mentally prepare yourself for the next time in the water, using your brain's capacity to memorized chains of movements, and even thoughts
Advantages of online surf training
Why train with NOMB Surf outside the water?
Watertime is awesome, for sure, but try to count the seconds/minutes that you actually surf down the face of the wave. During a normal 2hrs surfsession you might get up to a minute or two. That means that our effective time of training (apart from paddeling) is pretty low.
In order to learn a new chain of movement you will need repetitions, and loads of them. If you want to replace an incorrect movement with a new one it gets even more tricky: more than 1000 repetitions are needed. That means a minimum of 1000 surfed waves. That's a lot and something you could probably only achieve moving straight to the ocean and going surfing every day.
However, we do have the chance to feed our brains with repetitions outside the water. How? That's why we have developed the NOMB Surf Online Surf Coachings: let us instruct you how to train your brain and body outside the ocean!
The surfcoach: Angie Ringleb
NOMB Surf's headcoach Angie is a FCS level I certified surfcoach, an ISA Level II qualified coach and judge, and also a qualified lifeguard. She has many years of coaching experience.
She speaks English, Spanish and German fluently.
Angie has been living on the surfer's island Fuerteventura for almost ten years now. Before that she lived in the coast in Chile after traveling through Australia and OZ. Surfing has been part of about half her (salty) life, giving her the necessary background and understanding for the ocean, waves and the physical aspects of the sports.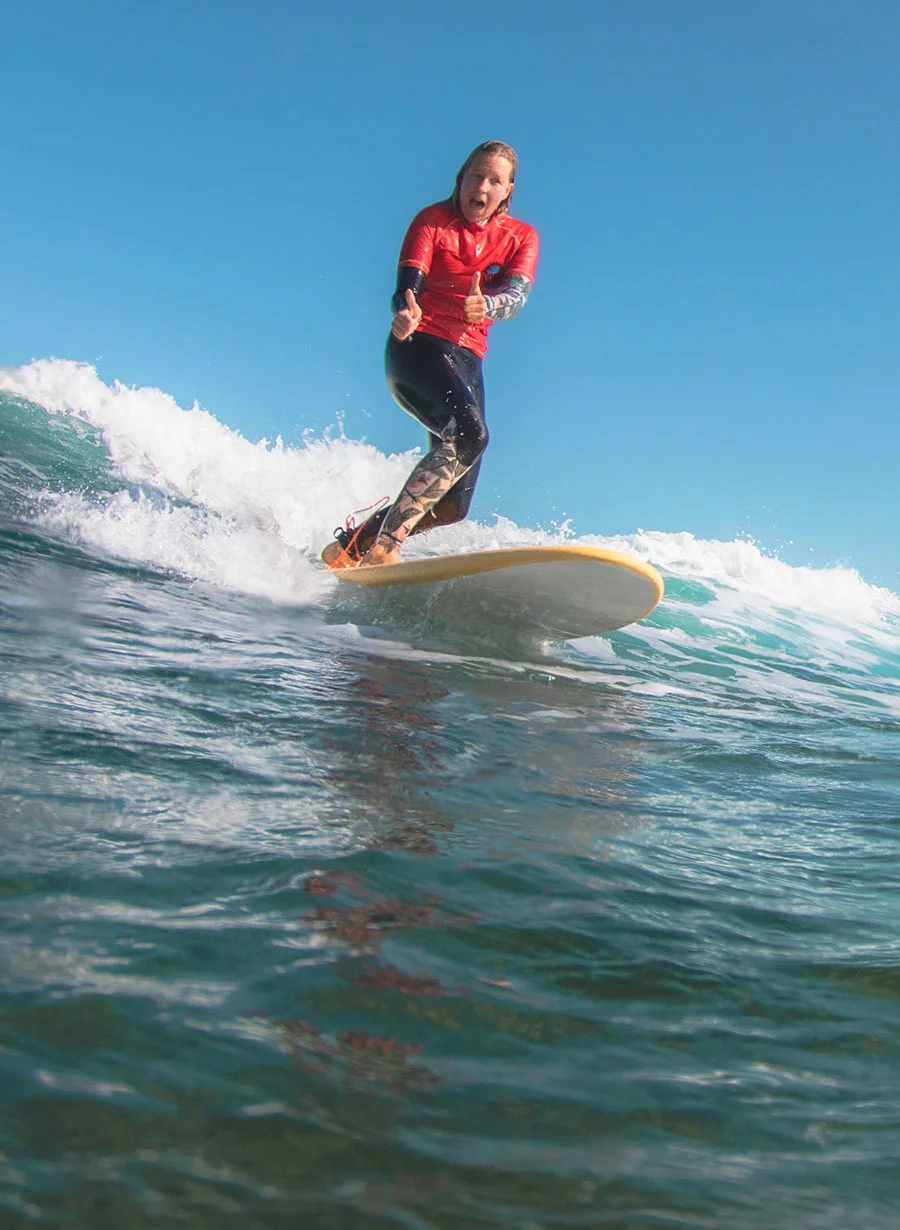 Contact Us
Request an online coaching or leave us a question