Hi, I'm Angie
Happy to meet you!
My name is Angie Ringleb, I am the founder and head surfcoach at NOMB Surf.  Together with Rainbow, my loyal travel companion, I live on Fuerteventura, one of the Canary Islands. Here is where I coach individual surfcoachings all throughout the year. That's if I am not away on one of our surfcoaching trips of course.
NOMB Surf started as a one-woman-show (two if you count Rainbow), but through our trips, our family grew to an international team with different members joining us on our different surftrips. We're excited to say that we collaborate with some of them every year, celebrating a family reunion every time we meet.
What's NOMB?
Nature. Ocean. Mind. Body, that's NOMB Surf.
To be in ease with nature, the ocean, your mind and your body is the key to becoming your best self – in the water and outside.
During our private surfcoachings on Fuerteventura as well as during our surfcoaching trips to fantastic destinations, we are always trying to pass on the idea behind NOMB Surf. We show you how to find a balance between those elements as they are an important part of our coachings.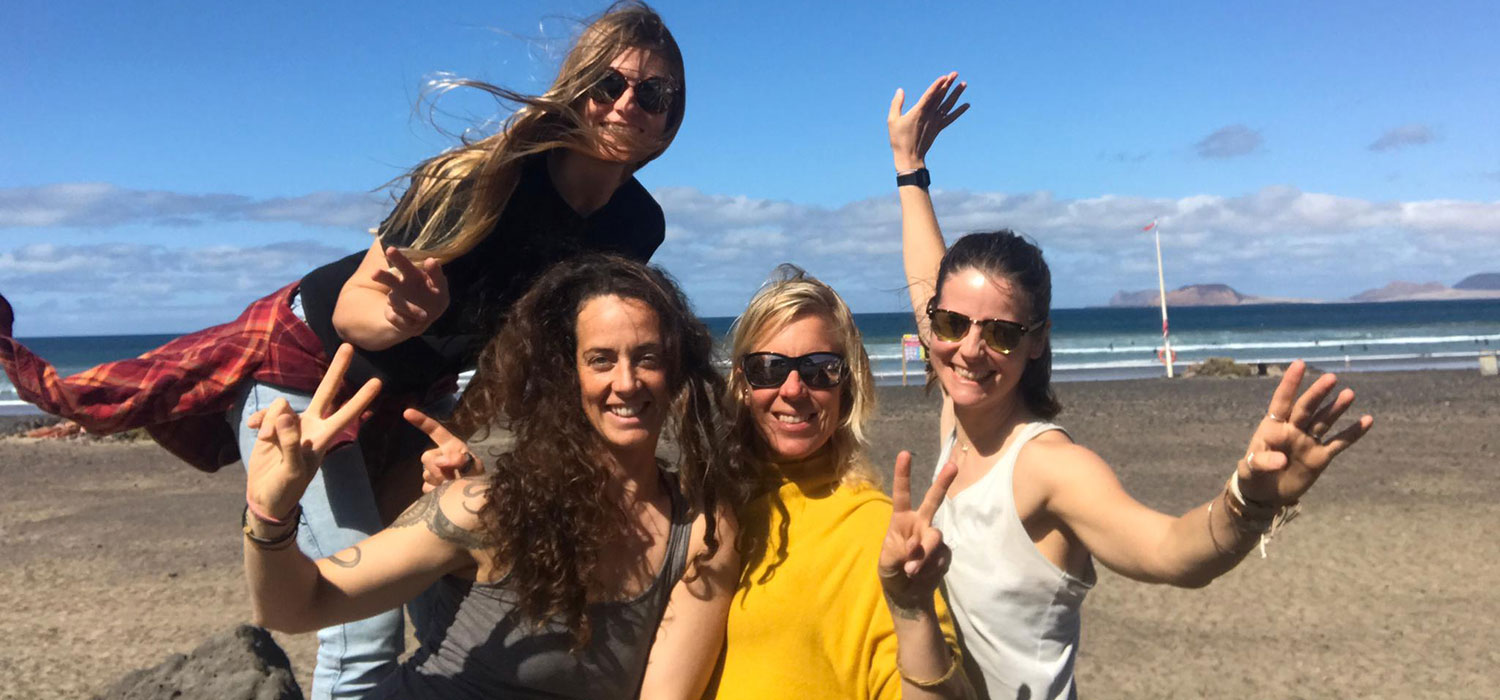 NOMB Surf Team
Meet the Family
While the core of NOMB Surf are Angie and Rainbow, we are a whole family around the globe. On Fuerteventura and on our trips, you'll meet an additional crew taking care of your well-being through food, hospitality, fitness, yoga – you name it. We always collaborate with local surf schools on our surftrips, on our evergreen trips it's the same ones every year that we love and trust.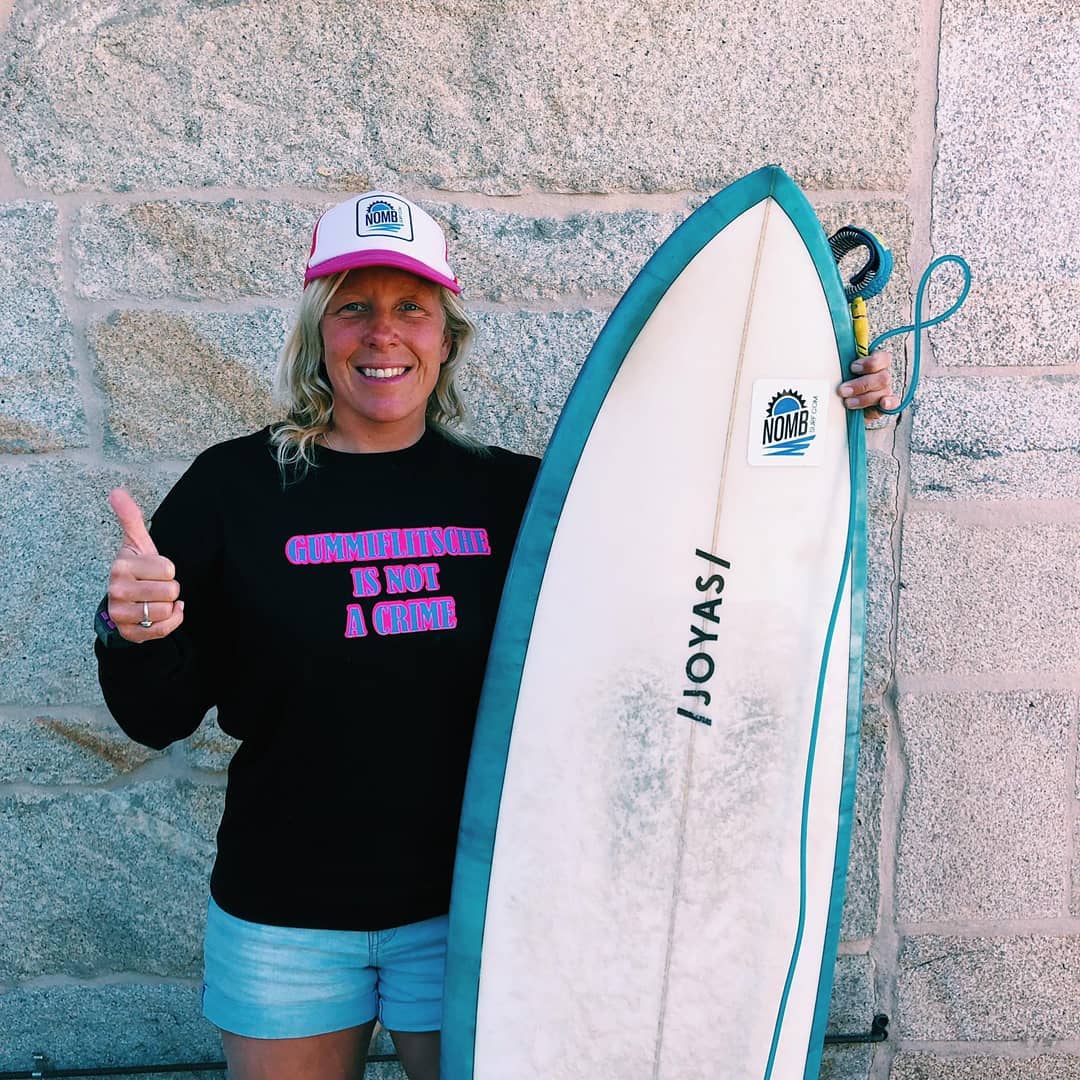 Angie Ringleb
Founder & Surfcoach
Fuerteventura, Spain
NOMB Surf wouldn't exist without her. Angie is the head behind it all. She is also an ISA level II qualified surfcoach, a certified surf judge, a qualified lifeguard and has loads of years of coaching experience. Angie and NOMB Surf have their homebase on Fuerteventura, where she coaches individual surfcoaching and from where she heads off to meet you for the various NOMB Trips.
Partners on the Trip
Our Family Worldwide
A.K.A. Good Old Lee, formerly known as Lee-gend.
Surfcoach ISA Level 2.
That's his face when the swell hits big close to his home at the D-place, Ireland. He's a ripper in the water, always up for a joke and a laugh, and a really nice guy!
A.K.A. Ramonski, Ramonetta or El Pirata.
Him and Josh are our family in Galicia and one of the main reasons why we normally stay a couple of weeks longer than the actual camps last. His welcoming guesthouse is our base in Galicia.
Ramon knows the west coast in Spain and North Portugal like the back of his hand and always finds the best waves for the day.
A.K.A. Joshinski or Joshiño.
Don't mess with Josh. He's the king of jabber and definitely one of the reasons our surfdays in Galicia are filled with laughter. 
He's also a great surf instructor who knows when to switch from fun to empathy and seriousness. He is also the one taking fantastic videos and photos during the trip. 
Our partners on Fuerteventura
Meet our amigos on the island
We collaborate with people that are more than businesses: friends that we trust and professionals that we love for being extraordinary in what they are doing.
Their services are a great enhancement of your surf trip or a nice way to spice up your holiday on Fuerteventura – create memories that you will never forget.
Spend an incredible time on Lobos Island with our friend Captain Javi. He is the grandson of the old lighthouse keeper and will happily share his stories, good vibes, and a cold refreshment with you. Snorkel, SUPs, bikes –  get active if you want, or just enjoy the relaxed vibes of the island.
Price: From €45 p.P.
Capture your surf coaching or other surf moments and make them last. Experienced surf photgraph Moncho will take photos from outside or inside the spot to document your best waves. Definitely something for the holiday album, and definitely Instagram-able.
Price: From €50
Always pictured yourself in a magazine-style underwater surf pic? Franco from BlueGingerLab will make it possible. Whether shooting through the wave or from below while you surf or a beauty underwater shooting for you alone or together with your partner – Franco does it all, to excellence!
Price: From €50
If you are looking to get into your best shape before or during your trip to Fuerte, Kati vom Lesano FV is the woman to ask. Being a great surfer herself she will address your specific physical needs with just the right training. Online upfront or face-to-face here on the island.
Price: From €45
Practice surfing movements outside the water gives you the big chance to get in loads of repetition. Get trained in a private session by one of the professional skateboard coaches of the Bowl Lajares.
Price: From €50
Not in the mood to cook for yourself after a long day in the water? Then let chef Basti from StrandedKitchen spoil you with a delicious dinner, at your house. Basti's BBQ skills are widely known, but he will also happily dish out an amazing vegetarian / vegan meal for you.
Price: From €20