Coldwater Challenge
Join us at our 2 weeks coldwater Surf-Holiday
Travel and surf quality waves in Ireland with likeminded surfers. This NOMB surf coaching trip is our annual surf holiday for experienced surfers. While the cold water temperatures might be a challenge for warm water surfers, the conditions make up for it: We are talking about plenty of quality beach breaks with pumping waves and empty line-ups.
Our local partner surf school Narosa with surf coach Lee and NOMB surf coach Angie select the best daily spots and will coach you in and outside the water to improve your positioning and overall wave game.

Cold but beautiful
We not gonna lie: it is going to be cold. Water temperature averages at around 11 degrees, outside temperatures vary from frosty 4 to mild 15 degrees. But equipped with the right wetsuit, clothing and after-surf tee/soup, the cold doesn't really matter anymore. And if you want rainbows (and we will have plenty of them), you have to put up with the rain 🙂

Excellent waves for surfers with experience
Ireland offers world-class waves, especially in winter. Hit by north/west swells from the North Atlantic, it can get huge! But don't worry: the rugged landscapes provide a lot of beach- and reef breaks which are sheltered from big swells and wind. A promising prospect for two weeks of everyday quality surf!

Empty beaches & wild landscapes
Cold water and outside temperatures keep away most of the holiday surfers, allowing for empty line-ups surrounded by mountains, green grass and wild cliffs. From the line-up and in your exploration time, you'll have an impressive view on the mystical land of Ireland – a unique setting to enjoy during your surf holiday.
Surf Level: experienced beginners
Minimum requirements:
tried surfing before

basic understanding of the ocean

physically fit

motivated
Equipment: We recommend a 5.4mm wetsuit, neoprene booties, gloves and a hood. Rental equipment is available and included in the price.
accomodation in shared room
14 surf coachings (in & outside the ocean)
surfboard quiver to surf different boards
transport from & to Dublin
NOMB Surf goodie bag & all your surf photos/videos
Trip Details
What to expect
The Surfcoachings
The idea of our surf coaching trips is to improve your surfing  while exploring new spots and waves. At the beginning of the trip, we set your individual goals which we will focus on for the week. One daily surf coaching, backed up with ocean knowledge, surf theory, surfskate sessions and video analysis will make sure that we work on your skills through a variety of instruments to get the best out of it.
Even though we surf as a group of max. 6, surf coach Angie will teach each of you individually. This includes assessment of your surfing level, setting fixed goals, explaining drills and exercises, coaching in and outside of the water, demonstrating and explaining.
With a minimum of 2 surf coaches for the group, different surf levels are no problem. From experienced beginners to more advanced surfers, this trip is suitable for nearly everyone. If you are unsure about it this trip is for you, please get in touch.

daily surfcoaching sessions (depending on conditions)


transport & safety intro to spots



your surfpics & videos to take away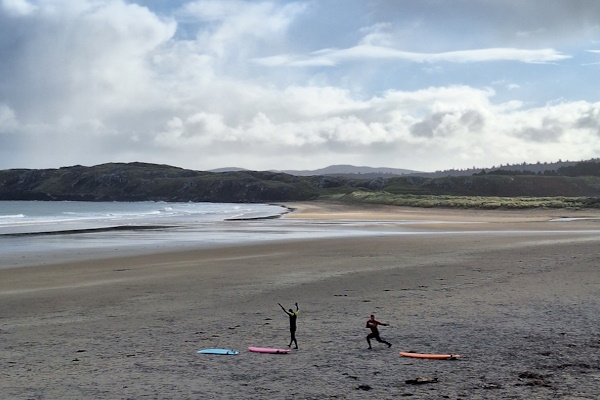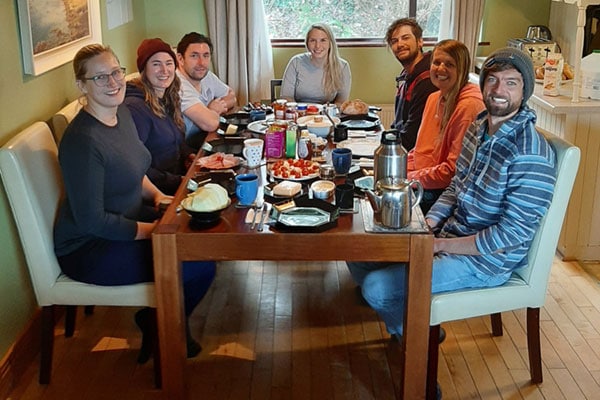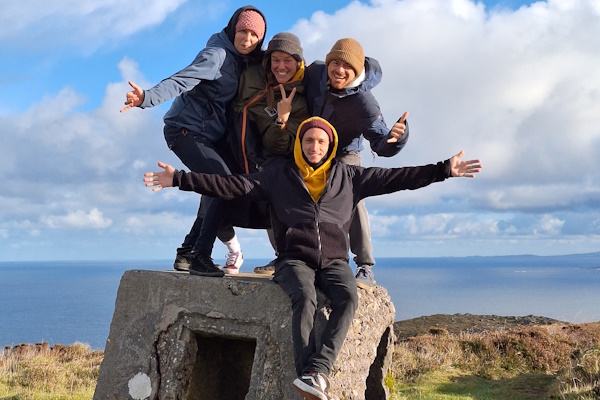 Accomodation & Day to Day
Lean back from day one on this carefree surftrip to Northwest Ireland.
On the first day of the trip, we will meet early in Dublin. We recommend arriving a couple of days earlier to explore this vivid city! From there, we will pick you up and bring you to your home for the trip. In James Palace, our cosy&cranky Irish house, you'll stay in shared  rooms. If you prefer a single room, please let us know and we try to accommodate you (extra fee).
We will start every day with a nutritious power breakfast and finish it with a re-energizing dinner served by chef Ray. If we don't surf straight after breakfast, we either learn something in a surftheory session, go exploring or relax until it's time to surf. To fight the cold, we love to go out to one of the local pubs for a tea, whiskey or dark beer at the end of the day. In between, we will take short trips to explore the mystical land of Ireland or just warm up on the couch at home if you prefer taking it slow.

transportation from & to Dublin

accomondation in a shared room

delicious breakfast & dinner

discovering the beauty of Northwest Ireland

NOMB Surf goodies bag and little surprises
Does this trip suit me?
This trip is nothing for the faint hearted. Participants will face the Irish weather in November with wind, hail, fog and sunshine, sometimes all in one day, as well as cold water. It's worth it for the quality surf and hospitable people.
It will be run as a Surf-Holiday trip. In a 14 day timeframe, we will coach you individually within a group, so expect your surfing to improve immensely. We use direct & indirect coaching techniques, in and outside of the water.
With one surfsession per day, you will have enough free time to relax and recharge your batteries. However, if the waves are epic, and our muscles allow, we might go for a sneaky freesurf on some of the days if you're up for it!
This NOMB Surfcoaching trip is open to surflevel 2, so experienced beginners and up.
Surfcoaching Time

Free Time

Minimum Surflevel
Sustainable Surftravel
We love to travel around the globe chasing waves. Who doesn't? At the same time we are aware of the impacts surftravels causes.
Adapting to the methods of sustainable tourism is the only way for us to operate.
Therefore we strive for economical, socio-cultural and environmental sustainabilities in all our surftrip operations.
How does it work? It means, that we deliberately work with local surfschools and partners to leave economic benefit in the hosting community. It means, that we look for socio-cultural exchange and carefully integrate our surfteam by being open, showing respect and participating in local events . It means, that we leave any location in a better state than how we have found have it.
For each participant, and coach Angie of course, we offset our carbon footprint through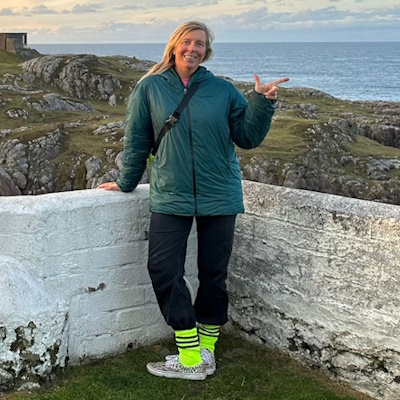 Surf Coach & Organizer Angie
Your Surf coach Angie is an ISA level II qualified surfcoach, a qualified lifeguard and has lots of years of coaching experience. Angie can coach in English, German and Spanish. Angie and NOMB Surf have their homebase on Fuerteventura but she loves setting off to run the NOMB Surfcoaching trips around the globe.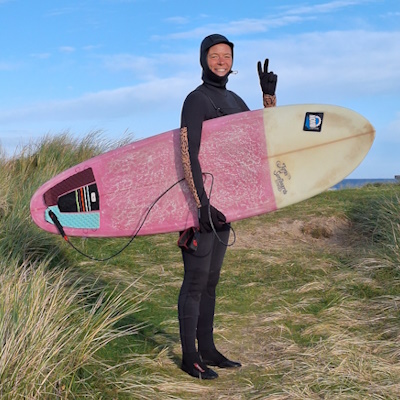 Chef Ray
Your chef on this trip is Ray from Bonn. In real life, Ray is a bad ass journalist and podcast presenter. After work however she is a cook & bake enthusiast. Ray will treat us to glamorous breakfasts and dinner, and also lift the group spirit in and outside the water, with just being her glitzy self.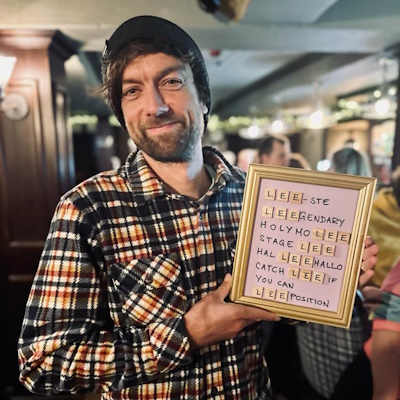 Lee – Our local surfguide
Once more we are super lucky to count on the legendary Good Old Lee from Narosa Surfschool as our local surfguide. Not only an amazing surfer & experienced surfcoach but also real fun to hang out with!
Lee will look after the NOMB Surfcrew, making sure we are at the right spot at the right time.
Any questions left?
Send us a message and we will get back to you asap!