A hollistic approach to surfcoaching
Challenge your brain and tackle your surfing issues
#SurfingBrains is an innovative 10 days trip to the Northwest of Spain during which you will discover the hidden potentials of your body and your brain and use them to improve your surfing.
Extending surf coaching with neuro-centered training is a new concept – one that makes total sense.
Surfing is, on the one hand, all about connecting with the ocean.
On the other hand however it is about executing a chain of movements at the right time and the right point of the wave.
What if you find the right point at the right time, and then struggle with a certain movement? That's where our carefully designed training program will start. 
Based on your personal needs we will work out an ideal sensory surf-warm-up for you, so you face the waves in your best possible mental and physical condition. Then we will coach you inside of the spot to enhance your wave count and work on your skills.
Our home base is located in a small seaside village on the west coast of Galicia, in the Northwest of Spain. Our home break is in walking distance and from here we also set off to discover more corners of Galicias beautiful coastline. 
Are you up for challenging your brain and body with this new, hollistic and exciting approach to improve your surfing?

A specifically designed trainings program
NOMB Surf and neuronuss have teamed up and designed a tailormade training programm for #SurfingBrains. The first 5 days will contain daily surfcoaching in the water and a neuronuss session on land. The second part of the trip will be filled with two surfing sessions per day. The idea behind this structure is to understand your movement patterns and learn how to change them in a safe (on land) environment. Once you are confident, we then transfer the aquired skills into the waves.

Individual NOMB Surf coaching within a group
At the beginning of the trip surfcoach Angie will identify the individual surfing skills and goals. Being in a group environment doesn`t mean getting lost. Quite the opposite. You will have a clear undestanding of your surflevel, your goals, your areas to work on and specific daily tasks for the time in the water.
Angie and our local surfguide Ramon will be in the water with you, giving you direct input and feedback.

Neuro athletic coaching gets your brain fired up
Understanding how your body and brain work is fundamental if you are aiming at changing movement patterns and/or habits. Lead by neuronuss coach Christian you will learn to understand why some things are just so hard for you to change or achieve.
You will be able to identify and understand your specific surfing issues and get shown how to tackle them.
Meeting Point: Santiago de Compostela (Spain)
Spaces: 6 (min 4 participants)
Surflevel: experienced beginner to intermediate.
Minimum requirements: We aim at surfing green waves, so you should have some experience in surfing and be able to paddle out to a line-up and sit on your board comfortably.
Fitnesslevel: generally fit and living a healthy lifestyle.
Minimum requirements: as we will be working on developing your individual skills, any fitness levels are welcome.
delicious & nutricious breakfast and dinner
10 days NOMB Surf surfcoaching
10 days neuronuss neuro athletic training
specifically designed trainings programm
transfer to/from surfspots
safety intro to surfspots
all surf & training equipment
all your surf/training pics & videos
transport to/from meeting point
Trip Details
Here's what to expect
#SurfingBrains Training Program
Let the name of the trip speak for itself: these 10 days are all about surfing – and your brain.
To break it down: Surfing, as any movement, is a result of the information your body/brain receives. While you can't influence the weather and ocean, you are very well able to prepare your brain and therefore your body for being in the water.
You might not know this yet, but when entering any situation, your brain is evaluating the question "Is it safe what I'm doing?".
To answer this, it gathers information (explained in a simplified way) from:

your visual systems (eyes)

your balance system (straighten up against gravety)

your body perception (joint positions, muscle stretches)

breathing (energy availability, tension or relaxation)
Inaccurate or deficient information from the above systems make it difficult for your control center to answer this question. The result is usually a protective reaction. This can occur in the form of loss of strength, immobility, pain and more. Ever wondered why one of your legs is stronger than the other? Or why the turn on one side is better than on the other? This is why.
Your quality of movement depends heavily on the accuracy of the information from your brain. With our neuro-centered surf training program we improve this information and therefore your surfing.
Neuronuss Neuro Athletic Training
Guided by Christian Sidler, expert in neurocentered training & rehabilitation (neuronuss.trainiert), you will discover your potential out- and inside the water.
Together we will develop an individual program to synchronize your body and brain for the surf sessions. Thus we create the best possible conditions for you to take the next step in your performance.
The neuro athletic coaching sessions will come with small theory parts. You will learn useful tricks and tips that you can apply in everyday life. We will get to the bottom of some training myths and you will learn why some things work or don't work for you. The focus however is on the practical part, where you can feel the changes in your body and movements immediately.

daily practical exercises & training for breathing, balance, and body awareness

individual surf preparation program

short and crisp inputs about the brain and how learning works

tips and tricks to take home

the possibility to look at sports & everyday life from a new perspective
NOMB Surf Surfcoaching
Out of your head and into your body. We're also working on your surf skills with daily surf coachings.
You'll go surfing with Angie Ringleb, an ISA Level II surfcoach and local surfcoach Ramon Alvarez. Together they guarantee you a safe and professional coaching experience.
For each participant, we will create an individual surfing plan at the beginning of the trip. This includes an assessment of your surfing level, defining blockades, and setting reachable goals.
Each surf coaching contains a session in the water, backed up by exercises, demonstrating and explaining, ocean knowledge, surf theory, and photo– / video analysis to make sure that we work on your skills through a variety of instruments.
When we paddle out, we will go surfing as a group while still focusing on you as an individual. Included in the trip are:

daily surfcoaching sessions

all surf equipment (if needed)

transport & safety intro to spots

surf theory & visual analyis sessions

your surfpics & videos to take away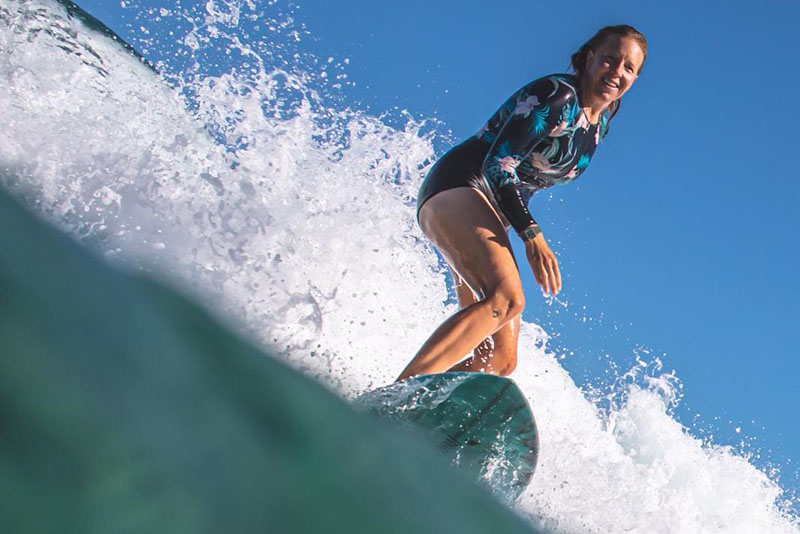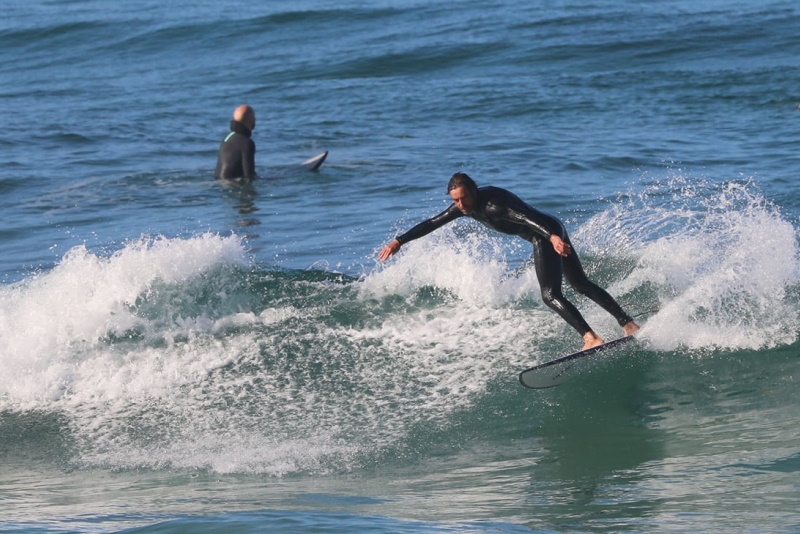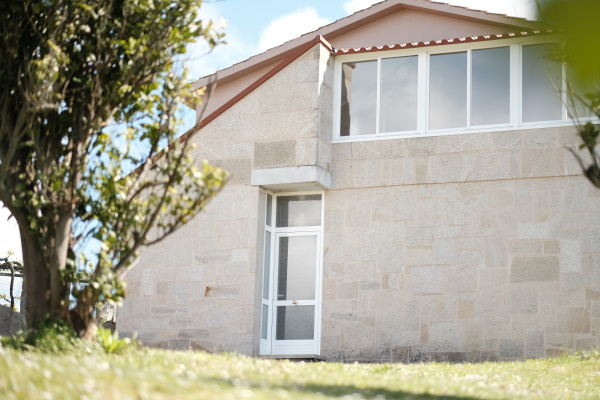 Accomodation & Food
We will meet in Santiago de Compostela on Saturday morning (04th of June, 2023). Please arrive at least a day early. This also gives you some time to explore this magical city. Here we will pick you up and bring you to our homebase, in a small village on the Westcoast of Galicia.
The house is a classical Galician stone house, with a garden and perfect sunset view. Our homebase has five rooms, two kitchens and two bathrooms spread over two floors, enough space in case you want some me time. In the living room, the winter garden, on the sun terrace and our garden, there are plenty of options to sit down in good company and play a round of table football.
You will stay in shared twin rooms. If this is not for you, you can also book a single room for an additional fee (please request).
Every day, our private chef treats you to a nutritious power breakfast and a delicious re-energizing dinner. Yum! Your food will be mostly vegan but with options for meat/fish.

transport from & to Santiago de Compostela

accommodation in twin room

delicious breakfast & dinner
Waves in Galicia
The waves in Galicia can be described by one single word: epic!! No joke, we are truley in love with the variaty of Galicia`s waves.
Endless beachbreaks with several peaks offer a little bit of everything: gentle longboard waves, perfect intermediate waves, more challenging & bigger waves, barrels and slabs.
Every day we will choose the best conditions for you and your surfskill level. Surfing in Galicia means having to go wave hunting. Loving it. If there are no waves on the beach in front of our homebase, we will travel up to the next ria, or even drive down to the North of Portugal. The options are endless.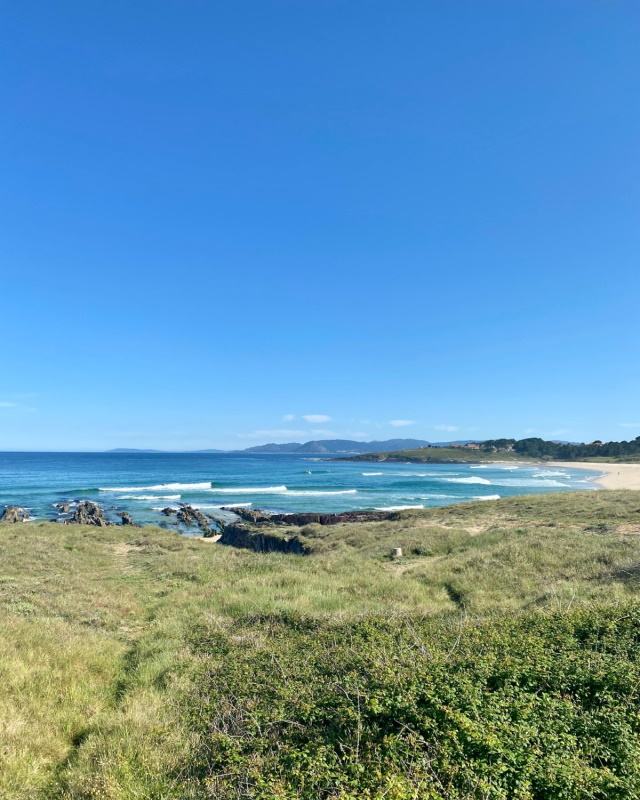 Is this trip for me?
#SurfingBrains is designed for surfers who want to experience a new and innovative form of surfcoaching and are excited about tackling their performance issues.
We will be focusing on breaking down and understanding your automated movement patterns on the surfboard. Both the surfcoaching and the neuro athletic training will be in the actual waves but also outside on dry land. Don't expect much free time 😉
During the first 5 days we will develop individual foundations and understanding of your movements which we then implement directly into the water during the second half of the trip. 
The retreat requires a minimum surflevel 2-4, so experienced beginners and up.
Surfcoaching Time

50%

50%

Neuro Athletic Training Time

50%

50%

Minimum Surf & Fitness Level

25%

25%

Free Time

10%

10%
Sustainable Surftravel
We love to travel around the globe chasing waves. Who doesn't? At the same time we are aware of the impacts surftravels causes. Adapting to the methods of sustainable tourism is the only way for us to operate. Therefore we strive for economical, socio-cultural and environmental sustainabilities in all our surftrip operations.
How does it work? It means, that we deliberately work with local surfschools and partners to leave economic benefit in the hosting community. It means, that we look for socio-cultural exchange and carefully integrate our surfteam by being open, showing respect and participating in local events . It means, that we leave any location in a better state than how we have found have it.
If you want to know how much more we do to keep our surftravel footprint as positive as possible, please get in touch. We are happy to inspire you!
Surf Coach Angie Ringleb
Many years ago I decided to live my life outside the box. My travels brought me to a lot of different corners of this planet, and I couldn't imagine settling down somewhere. Until I stumbled across a small island in the Atlantic ocean: Fuerteventura. It seemed to be the perfect place to open up a small female-led surf school, and spread my love for the sport of surfing and the ocean. Having found a homebase I looove setting off and discovering new waves and places.
With my licensed surfschool NOMB Surf I follow a different coaching style: I focus on individual surf coaching, fully adapting to my studends goals, needs and challenges. During my 10 years of coaching experience I have developed a highly successful coaching method, combining direct coaching in the water, visual analysis and personalized theory knowledge.
On my trips I coach every student individually in a group environment. Sounds impossible? Let me proof it to you on this incredible power surftrip. Sea you soon in Galicia 💙
Neuro Athletic Coach Christian Sidler
Why does a training method work for some and not at all for others? This question has fascinated me since I started in the healthcare industry. It quickly became clear to me that pure fitness training is too one-sided to develop one´s full potential. Through various athletic courses I came across neuro-centered training.
At neuronuss we have been working for the past 5 years with a holistic and neuro-centric way of thinking. We believe that we are all athletes in some way, and everything we do is some form of skill.
Let me help you dive into the fascinating world of your brain and teach you how it affects movement. Our control centers are as different as we are. Through individualized training but also easily digestible bits of knowledge, you will rediscover your potential. I am looking forward to help you to discover your hidden abilities and amazing AHA moments. Let`s take your surfing and movement skills to the next level. 
Any questions left?
Send us a message and we will get back to you asap!