Trip Classification
What do NOMB Surftrips look like?
Know your level. Choose your type. Go on a NOMB Surfcoaching Trip!
Each NOMB Surfcoaching trip is unique
Participants, surfspots, waves, expectations, physical requirements. Also – of course – destinations.
It would be the easiest to choose your surftrip only according to a destination you always wanted to see. But what about meeting like-minded people with a similar level and similar goals and surfing waves just perfect for you? That's why we distinguish our trips according to skills and trip type, so you can choose the best experience for you. Come and join us on our next surfcoaching trip!
Our different surf trips
From a relaxed holiday to an intense adventure
More time for yourself, a new culture to explore, intense surfing from dusk till dawn – you choose. While each trip is unique on its own, so are the type of trips that we organize. Listen to your gut feeling and find the one which excites you the most. 
On each of our trips, we try to keep up a high level of comfort, so you can concentrate on your surfing. That's why you can expect an accomondation where you can relax completely and healthy & heartful meals. You will stay in a typical house with character, with a comfortable common area and always a breathtaking view.
Your personal room will normally be a double or shared room, the group itself decides the sleeping arrangements. Our NOMB Chef will treat you to healthy & tasty breakfasts and dinners.
Surf Holiday
General Info
This type of NOMB Surftrip is a great mix of surfing and holidaying. 
Water time
The trip includes one surfcoaching session per day (with all the material of course) and on some days extra free surf
Personal time
However this trip is designed to provide a good combination of water- and freetime. Depending on the group you will go and explore countryside and sights, check out the local markets and nightlife
Fitness level
Surfing is a physically demanding sport. If you are not doing sports on a daily basis in your normal life please prepare a bit for your NOMB Surftrip. Swimming, practising take-offs and flexibility exercises will make you get the most out of your surftrip experience!
Intensive Surfcamp
General Info
This NOMB Surftrip is designed for surfers who are looking for the maximum amount of watertime.
We will have our headquarters in a house close to the beach and starting from there explore different beaches with our local guide (depending on the conditions). Accommodation will be in shared rooms. Single rooms on request.
Water time
The intensive Surfcamp includes two surfsessions daily (one surfcoaching session and one guided freesurf session). Also included are yoga sessions during the trip to relax and stretch the challenged muscles.
Personal time
Due to two sessions a day and looking for the best spot we maximize the watertime but minimise the freetime. Be prepared to be spending most of your time with the group in or out of the water.
Fitness level
Surfing is a physically demanding sport, especially with two sessions per day. It is essential to prepare for this type of NOMB Surftrip. Participants are expected to have an advanced level of fitness, core stregth and flexibility. We will provide you with NOMB Surf's 3P: Physical Preparation Program.
Adventure Surftrip
General Info
NOMB Surf Adventure Surftrips are nothing for the faint hearted. It´s the ultimate surf explore experience. Be prepared to touch (and cross) your limits! Challenging waves, crazy new cultures, new foods, stepping out of your comfort zone!
This trip is the most flexible and unpredictable NOMB Surftrip. You might end up sleeping in a little cabin right on the beach, in a solar powered shack in the desert, in a treehouse in a deep forest or some weird artisty hostel.
You gonna try new foods and spices, eating locally but healthy. Due to the adventurous nature of this trip you might find yourself without internet access, sitting in a 4X4 crossing deserts or preparing dinner over a bonfire.
Water time
In our adventure surftrips, we normally plan with one surfcoaching session per day. However, we might add another free surf, especially when we spend a daytrip to explore a new part of coastline.
Personal time
Adventure time means group time! We want to spend a lot of time together on additional activities and exploration of the foreign country & culture. Of course, you can always skip a day or two and stay for yourself when you need some time on your own to indulge yourself in your new experiences. Or spend some time in a hammock – because our adventure trips often take part in southern regions.
 Fitness level
Every surftrip needs a basic level of physical strength and endurance to make the best of the daily surf sessions. We suggest preparing a couple of weeks beforehand with a special training. When booking the trip, we will send you special exercises plan to prepare.
Surf & Fitness Camp
General Info
The NOMB Surf & Fitness camp is the ideal trip for those who want to improve their surfing but also their overall physical abilities. The trip is designed to make you enhance your surfing and fitness abilities.
Water time
The water time is a little more restricted on this kind of trip as we split up the days in surfcoaching and fitness days to not overwhelm your mind and body. In 10 days, you can expect 5 days in the water with surfcoaching and free surf and 5 days with fitness classes. 
Personal time
The surf & fitness camp trip offers a balance of fitness- and freetime to give you time to recover.
Fitness level
The trip includes daily surfcoaching and daily fitness classes. The type of fitness depends on the professional fitness instructor joining us. Yoga sessions are always included to learn the correct breathing technique, develope core strength and also stretch our used muscles. A motivation to move and some endurance would be helpful to make the most of the trip!
Wave rating
Choose your wave wisely
All NOMB Surfcoaching Trips are classified by waves into 5 different surfskill levels.
1 Wave
You have never surfed before, done a surfclass years ago or got thrown into the ocean by your friends.
2 Waves
Positioning on the board, take-off, surfing white water and shifting weight is no problem for you, maybe even a first few turns.
3 Waves
Paddling into the open ocean, take-off, surfing little green waves, turtle roll and changing directions in the wave is what you love doing.
4 Waves
You are confident in the line-up, able to position yourself in the wave, turn and surf along the face of the wave and master your duckdives.
5 Waves
You pretty much know what you're doing on a surfboard. Bottom turn – no problem, top turn – getting there, cutback – in the making.
Now that you know about our trips, choose the one fitting you best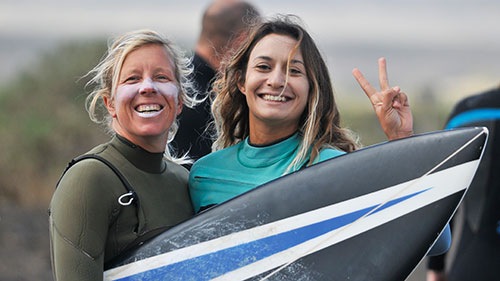 Confidence Boost Surf Retreat for Women
29.01. – 08.02.2022
Fuerteventura
#FuerteFuerza is an all-female surf coaching retreat in Fuerteventura to empower women in the Line-Up. In these 10 days, we invite you to join a sisterhood of surfers for more fun and confidence in the water.
With a mix of individual surf coachings in a small group and surf-related workshops like fear management, breath-hold, wave reading, and fitness & health improvement, you'll not only become better but also much more confident in surfing.