Surf better & more confident in 10 days
Fear Management and confidence boost for women in the water
#FuerteFuerza is an all-female surf coaching retreat in Fuerteventura to empower women in the Line-Up. In these 10 days, we invite you to join a sisterhood of surfers for more fun and confidence in the water.
Whether you've made a bad experience or feel intimidated by the ocean, big waves, or competitive surfers, our boost camp will help you deal with your emotions and overcome them. With a mix of individual surf coachings in a small group and surf-related workshops like fear management, breath-hold, wave reading, and fitness & health improvement, you'll not only become better but also much more confident in surfing.
To round things up, you will stay in a beautiful house in the north of the island where you won't have to care about anything, but working on yourself. Breakfast and dinner are prepared for you, with healthy and tasty plant-based meals.

8 Surf Coachings
The best way to become better in surfing and thus, feeling more secure to take bigger and steeper waves, even in a crowded Line-Up, is of course practice in the water. With a specific plan considering your individual goals, female ISA II surf coach Angie, is taking you surfing in different spots and waves around the island. Combined with photo- and video analysis, we will go into detail about what needs to happen so that you can make the most of your surfing. 

Daily Workshops to actively work on boosting your confidence
On each day, we will concentrate on one topic to work on insecurities or blockades you might have in the water. Topics are about understanding the ocean, managing your emotions and fear, learning more about waves, techniques, surfboards, and how to breath correctly and be fit in general. Each of those will improve your self-confidence and minimize insecurities.

A trusting sisterhood with likeminded women
Fear and insecurity in the water are obviously not solely concerning women. We still wanted to create an empowerment trip, for women in surfing only, because there's still not enough of us shredding out there with confidence.
This trip is meant to create a trusted environment for women with similar experiences in the water to share their stories openly and hopefully, create friendships for future female surf adventures. 
Date: 29.01. - 08.02.2022
Meeting Point: Fuerteventura
Surflevel: Experienced Beginner to Intermediate
Minimum requirements:
We are aiming at surfing green waves, so you should have some experience in surfing and be able to paddle out to a line-up and sit on your board comfortably. If you're paddling for green waves, but don't manage to nail the take-off every time, don't worry.
Entry requirements for Fuerteventura:
present negative PCR test upon arrival (not older than 48 hours)
plant-based breakfast & dinner & snacks
8 days surfcoaching (equipment included)
transfer to/from surfspots
professional underwater photo shooting
relaxing day trip to a surprise location
transport to/from airport
Trip Details
Here's what to expect
The Surfcoachings
The 10 days trip will include 8 surf coachings. We will take a break from surfing on 2 days, to recover your body and mind.
You'll go surfing with Angie Ringleb, an ISA Level II instructor and certified lifeguard to guarantee you a safe and professional coaching experience.
For each participant, we will create an individual plan at the beginning of the retreat to work on by yourself and with the help of surf coach Angie. This includes an assessment of your surfing level, defining blockades, and setting fixed goals.
Each surf coaching contains a session in the water, backed up by exercises, demonstrating and explaining, ocean knowledge, surf theory, and photo– / video analysis to make sure that we work on your skills through a variety of instruments to get the best out of it.
When we paddle out, we will go surfing as a group while still focusing on you as an individual.



transport & safety intro to spots



your surfpics & videos to take away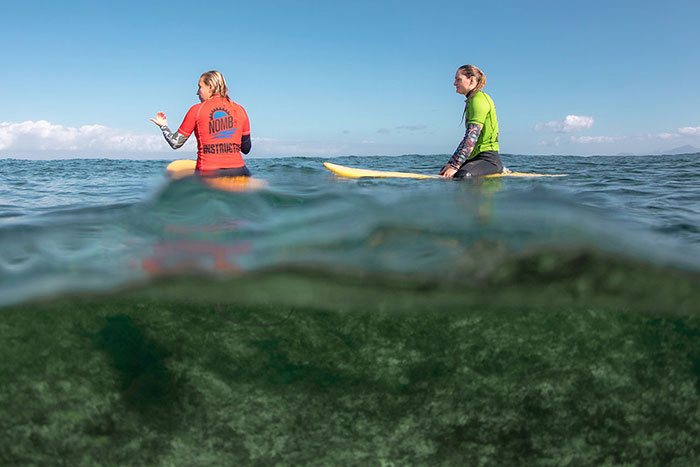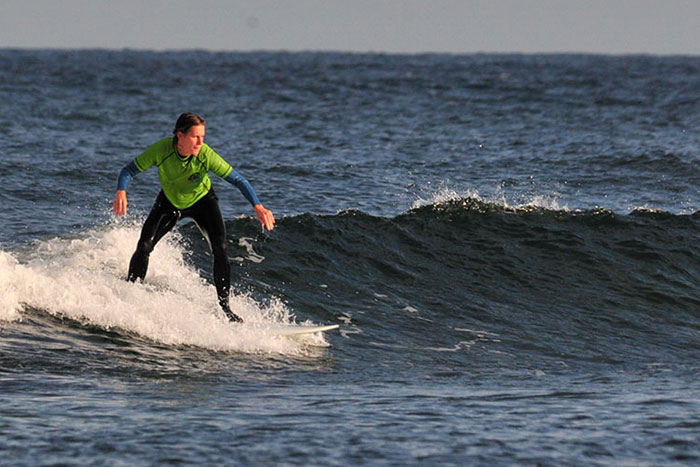 The waves on Fuerteventura
As Fuerteventura is our home base, we know exactly which spot works with different swell-sizes and wind directions. We will choose the ideal spot for the day, for your level, and the goals we are concentrating on. 
The surf coaching will mostly take place in the north of the island at the different lava reef spots Fuerteventura is known for.
If you're a little insecure about reef breaks, let us assure you that the chosen breaks on the island are friendlier than the classic beach break. Being point breaks, the wave has a certain peak where it will break, as well as a channel to sit in safely, to take a break, and wait for your turn. This makes the wave predictable, so it will be easier to position yourself correctly.
Furthermore, we choose waves that break more mellow, like Longboard waves, so you will have more time to stand up and cruise along.
Workshops & Activities
Apart from surfing, this week is all about actively working on strengthening your confidence outside of the water, with open dialogues and workshops in a friendly environment.
The programme includes:


Fear Management: Control your emotions

Breathhold: Techniques & Exercises from big wave surfers



Healthy lifestyle, stronger surfing

Integrating surfing into your everyday life

Mental Training for a stronger mind
Furthermore, we will round things up with two exciting activities with local amigos. We are inviting you to a professional underwater shooting, to become even more comfortable in the open ocean. This is also a great memory to take home.
The second activity includes a relaxing day trip to a surprise location in the middle of the holiday, to recharge your batteries for the rest of the days.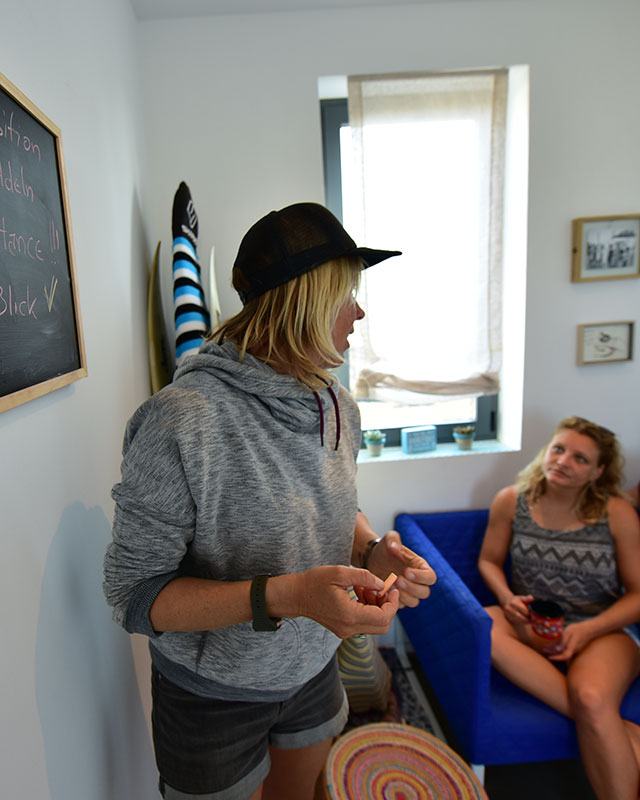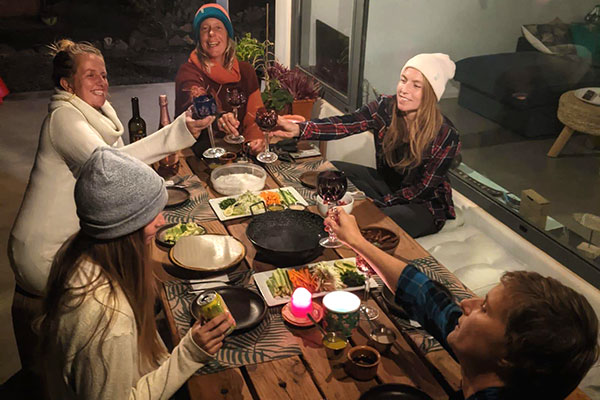 Accomodation & Food
We will pick you up from the airport and bring you to your home on the island. Our home base is a beautiful villa in the north of the island. You'll stay in shared twin rooms. If this is not for you, you can also book a single room for an additional fee.
Each day, there will be a surf coaching session and a workshop session. The workshops will take place in the villa or outdoors, depending on the content.
For your personal well-being, we have an experienced cook take care of us and will create healthy, delicious stomach and soul-filling plant-based meals for breakfast and dinner to give you the needed energy for every day. 
Is this trip for me?
#FuerteFuerza is designed for female surfers who want to overcome a fear or blockades in the water. As we want to create a trusting environment, the trip is for you if you're willing to open up and work on your blockades in a group of likeminded women.
As we're focusing on improving your surf skills on a mental level, so you should be fine with surf coaching only being a part of your day.
The retreat requires a minimum surflevel 2-4, so experienced beginners and up.
Surfcoaching Time

50%

50%

Activities & Workshops

50%

50%

Minimum Surflevel

25%

25%
Surf Coach & Trip Organizer Angie
Many years ago I decided to live my life outside the box. My travels brought me to a lot of different corners of this planet, and I couldn't imagine settling down somewhere. Until I stumbled across a little rock in the Atlantic ocean: Fuerteventura.
As this little island paradise spoils us with daily sunshine, waves, and a pretty relaxed lifestyle, it seemed to be the perfect place to open up a small female-led surf school, and spread my love for the sport of surfing and the ocean.
However, surfing and the surfing industry is still a male-dominated business, and it can be tough sometimes to fight your corner. There were some ups and downs, stones were thrown in my direction. Luckily, by the time I decided to open NOMB Surf, I already had many years of coaching experience and thus, had already earned my respect as a female coach, and surfer.
I have experienced first hand the challenges of being a female surfer and a self-employed business woman: fighting for my place in the line-up (literally & metaphorically) and facing my fears.
I believe that every woman & surfer has its own limits and challenges, and I would be delighted if you let me help you with your personal journey.
Right-Hand Woman Doro
When Doro quit her permanent job in 2015 and landed on a to her previously unknown island to work at a surf school for a while, she had no idea of many things: that this barren, beautiful spot on earth would one day become her second home. That she would still be riding the waves with the surf instructor from her first surf lesson six years later. But above all, she didn't know that surfing would develop into much more than just a sport:
"Surfing is the most wonderful and at the same time the most difficult challenge for me. It pushes me to my personal limits again and again – physically, but above all mentally. And maybe I would have given it up already if there hadn't been people who encouraged me, cheered me on, asked me critical questions or helped me at the right time.
We are the sum of the stories we tell ourselves about ourselves.
' Every surfer has her own unique stories. Challenges. Limits. In the water and on land. And it takes space as well as like-minded people to help us rewrite old stories or write new ones. '

Nowadays, Doro is self-employed, has a home base in the South of Germany with a view of the Alps, travels Europe by van, is a hiking guide and nature mental coach in training – and of course spends many weeks a year on Fuerteventura. And she is very much looking forward to telling lots of good stories with you during these 10 days.
Any questions left?
Send us a message and we will get back to you asap!