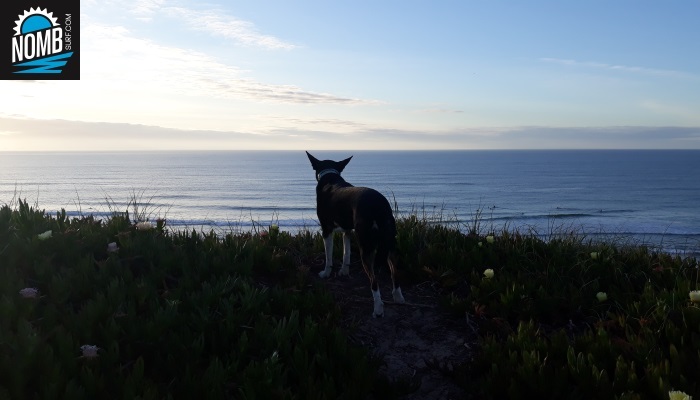 Oooouuuhhhh these cuuteee little dogs! We just love them soo much.. That's why here at NOM Surf we also have dog as part of our surfteam:  meet Rainbow. That´s her up there wavechecking in Portugal.
Not really into dogs? Well, we have some pretty good reasons for you why every surfer should have a dog:
Best excuse to check the waves
Especially if your partner is not surfing, he/she probably won't understand the driving around and checking the wave sthing. He or she might complain that you are always out to look for waves and never have time for him or for her. But you know what, by having a dog you can just say that you have to take the dog for a walk and go and check the waves. Best case scenario is obviously if your partner joins you for the walk, and if there are waves, you can just jump in right away and your partner will take care of your little cutie while you're surfing the waves of your life 😛
You will be spending more time outside in the fresh air
Yes right, cause your dog prefers being outside than inside a house. And the best thing about that, you will have to do more BBQs at the beach, where your dog can also enjoy being outside and running around (just make sure the food is safe). And all of your friends will be thanking you for these frequent after surf sit togethers 🙂
You will get the best morning surfs
Your dog will have to get out the first thing early in the morning, so if you haven't been a morning person, you'll be it from now on. But do you know what's the good thing about it? You will have awesome morning surf sessions ! Less wind, alone in the water, amazing colors and so on. Yeesss and that's all thanks to your little cute doggy, cause he made you to go out in the morning and start your day right – with a nice walk and a good surf =)
You have your partner in crime
We all know these days, when we might be a little lazy and not tooooo motivated, but actually we wanna do something, just don't find the right motivation to leave our comfy house or bed… Well there's your motivation: your dog! Cause your day will be better if you just go out and enjoy life, rather than spending it at home doing nothing. And if you even go in the water, you'll definitely see another happy (dog)face when you come out again =)
Small waves – no problem
When we normally (not all of us) would complain about smaller waves or even no waves, no problem with your dog! Cause you can go in the water anyway and take the chance to teach your little cutie the first steps of surfing. What's better than having fun in the water and enjoying the ocean with your dog?
Your secret surf spots stays your secret surf spot
The struggle about secret surf spots – we all might know this one. Cause you want to share your stoke with your friends but on the other side you want to keep your secret surf spot a secret surf spot – well guys it's pretty easy, share it with your dog! Take your dog to surf with you and you'll have the one that shares the stoke with you. Best is, he won't tell anyone about your newest favorite surf spot – promise 😛
Kill two birds with one stone
Of course we don't mean that literally, but it's true! If you are a surfer and have a dog, you can combine two of the best things in the world – and in the end you will have a happy dog, cause he is always outside with you, hiding with your friends, annoying you because he wants to play or just in the cuddle mood – the important thing is you will give your dog all the attention that he needs. Secondly you will be happy – cause like mentioned above, you'll be more outside, be the first on the beach and enjoy your surf even more when you know your dog is happy to be outside as well =)
Well guys, of course everyone should have a dog and we just gave you some good reasons to have a surf dog, but you should also consider a few things before you decide to get a dog (again).
Where can your dog be while you are in the water?
Can you leave him in the car (window open of course) when it's not too hot?
Make sure there will always be fresh water! Or will you surf on a surf spot where your (well-trained) dog can just run around free while you are in the water? Would be the best of course 🙂
Maybe you also have some surfing or non surfing friends or a partner who joins you to the beach and take care of your dog while you're surfing 🙂
Anyway always make sure your having sun shades for the windows of your car and enough fresh air!
And also consider that you have someone who can take care of your dog when you are going to a surf trip where you can't take your cutie with you – we are pretty sure you'll have enough dog-loving friends around you =)
Sharing magical moments with your dog will always be special. Weather you are a surfer or not. We don´t call them men´s best friends for nothing, right?? Here is to all the beautiful doggies out there. Let´s protect and love them, they can´t speak up for themselves. NOMB Surfdog Rains will welcome you during our  surfcoachings on Fuerteventura and sometimes even on our surfcoaching trips.
Are you in love with Rains yet?? We definately are!!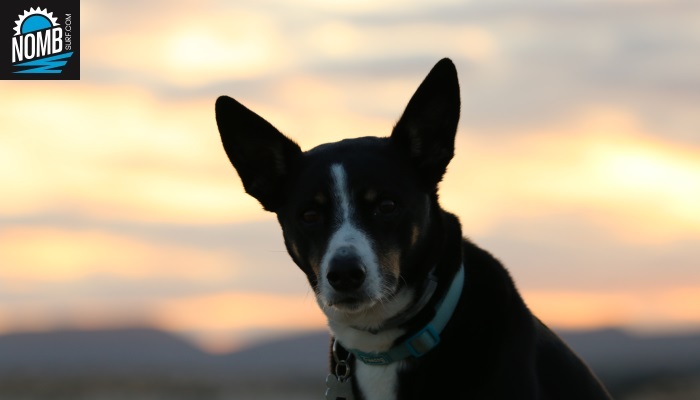 Sea you in the water soon!
YOUR NOMB SURFTEAM (and Rainbow)