Nature – Ocean – Mind – Body, short NOMB Surf.
The love and respect for these four elements is what brings the NOMB Surfteam together. Surfers, coaches, campchefs, backoffice chicas. We all love to surf, and everything that comes with it! 
In hectic times like today we here at NOMB Surf are trying to not only teach you how to surf but also how to find your own balance between these vital elements. If you are in ease with nature, the ocean, your mind and your body, imagine the waves you are able to ride. And imagine how balanced you could be in your personal and working life, too!
During our private surfcoachings on Fuerteventura as well as during our surfcoaching trips to fantastic destinations, we are always trying to pass on the idea behind NOMB Surf. 
Environmental awareness is homework for everyone of us, so is marine conservation. We all can do our little part in looking after mother earth. Not sure how to? Let us help you. And how about our mind? Do we know how to understand and control our emotions? But how about ourselves? How do we treat our bodies with our everyday lifestyle? Do we give them enough attention?
Now, how is all this related to surfing you ask? Is it really relevant? The answer is yes, and here are a few example why and how we are aiming for a balance of Nature-Ocean-Mind-Body..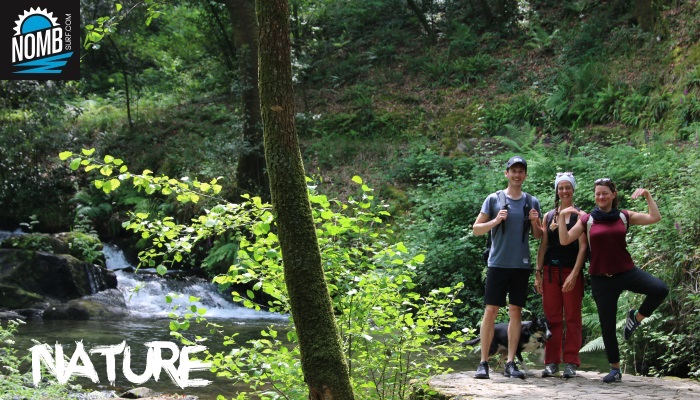 1. We as surfers looove to be outside. Mostly in the water but living a surfer lifestyle also gets us to appreciate the rest of mother nature around us. How about a hike in between surfs to relax our paddle muscles? Like the NOMB Surfteam did in stunning Galicia, hiking along parts of the St. Jacobs way on a layday.
Getting lost in the ocean and nature makes us surfers understand the importance of protecting the fragile ecosystems surrounding us. What impact do we have as surfers? And how can we help to protect our oceans, minimize our ecological footprints and help to pass on the knowledge? Whenever we can, during our coachings and surftrips, the NOMB Surfteam is trying actively to create awareness and encourage getting involved.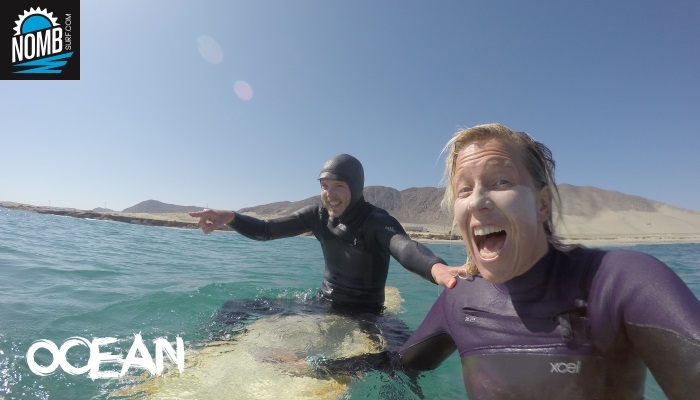 2. Imagine being on top of a hill on a mountain bike, looking for your line down, ready to cruise around trees and little obstacles. You are reading nature around you without knowing it. Well, the same applies to surfing.
If you are aware of what the ocean is doing and are understanding the constant changes, your wavecount gets really high and you can get the most out of a wave. Time to get stoked 😉
We teach you about the ocean environment, about how to read the ocean, about how to anticipate what´s gonna happen next. Either during our private surfcoachings on Fuerteventura or on our surftrips, ocean awareness is an important topic, from beginner to advanced surfskill level!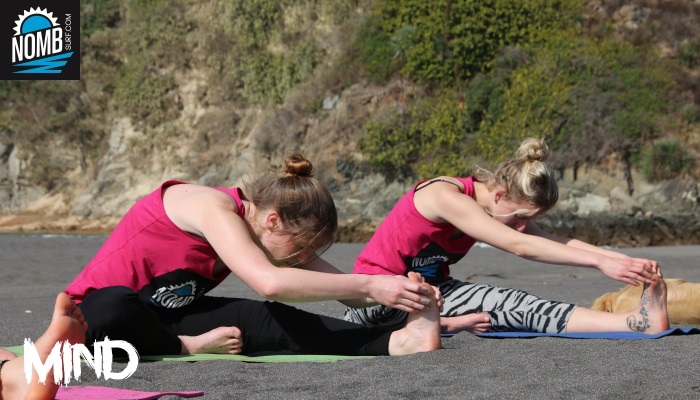 3. How does your mind influence your surfing? Joy, fear, frustration.. Lots of emotions our mind has to handle. But how to deal with them? We are no psychologists but we can show you some easy tricks for how to acknowledge, accept and handle your emotions. And even turn negative into positive ones. Our favourite saying: ´If your mind thinks you can do it, your body can!´
On our surfcoaching trips in addition we offer yoga lessons, to give you that little bit time in the day to wind down and treat your mind to some well deserved resting time. How about listening to the sound of the waves at the same time?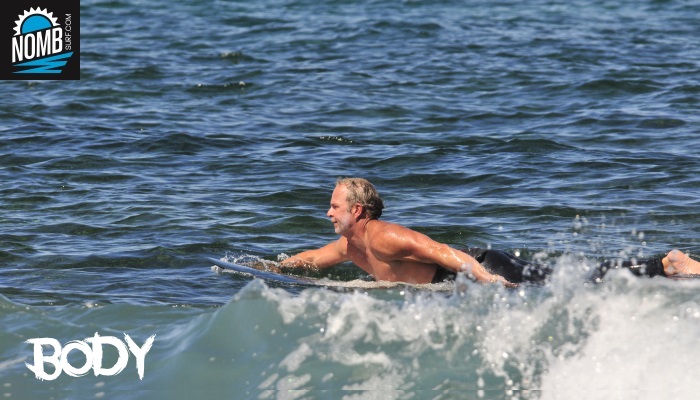 Our body is like a high functional machine. The better you fuel it, the better it runs. Leaving nutrition being a very big part of how you perform day by day. On our surfcoaching trips our campchefs treat the surfteam with delicious but carefully selected meals. High quality ingredients, local and natural products, a nutrition plan for high performing surfers. We are always happy to help you try new ways of diets to get the best out of your body.
Being surffit is another way to understand and balance our bodies. Being surffit does not only mean you can surf for hours. It also means preparing yourself physically through specific training, including explosive power, flexibility, endurance and mobility. If you get your body surffit not only can you surf longer and more explosively, it also gives your more confidence for battling through challenging conditions in the ocean.
You see, NOMB Surf is not only about teaching you how to surf or improve your skills. It´s also about trying to pass on everything that comes with an active surfing lifestyle. Our name represents what we believe in. 
We are excited to invite you to join us and let us pass on our experience. Hope to sea you in the water soon!
YOUR NOMB SURFTEAM