Aloha NOMB Surfers!
My name is Angie Ringleb, I am the founder and head surfcoach at NOMB Surf. Luckily NOMB Surf is not only me. We are a team of young, experienced and fun surfers, spread out worldwide, all connected by our love for the ocean. But let me tell you a little bit about myself..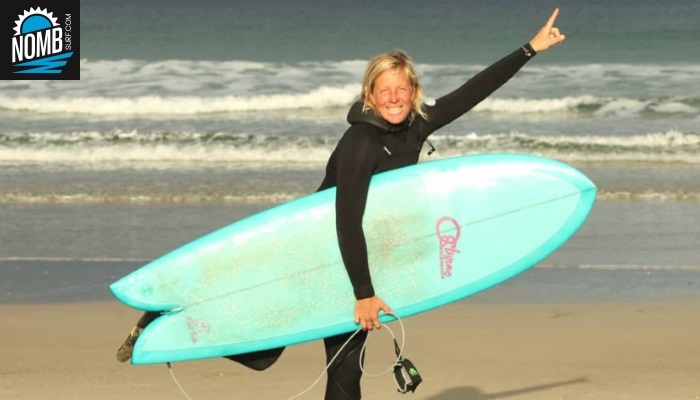 I was born in New Jersey, United States but grew up in Europe, in Germany to be precise. Since I can remember I have had itchy feet and the desire to see the world. My love for travelling has taken me a few times around the world until the day I arrived at a little beach in Chile, and decided to make it my home for a while. Here is where my love for surfing started and grew into a desire that I couldn´t ignore anymore.  Outdoor sports have come natural to me but when someone put me on a surfboard, that moment changed my life. Ever since then I have been living close to the ocean, enjoying it´s waves and energy on a daily basis.
Together with Rainbow, my loyal travel companion, I now live on Fuerteventura, one of the Canary Islands. Here is where I coach individual surfcoachings all throughout the year. That´s if I am not away on one of our surfcoaching trips of course 😉 Having Fuerteventura as a homebase is great. Waves and sunshine every day, and a healthy lifestyle. Even though I love hitting the road, there is hardly a better feeling than coming home. And that´s what Fuerte is to Rains and me.
NOMB Surf was born out of my desire to surfcoach individually and in more detail. Working in a mainstream surfschool I found myself struggeling with the time issues and the ´drive through´ of students I had. When I got certified with the ISA Level II surfcoach award I realized that my way to coach was different from 1-2-3 get up on the board. There is sooo much more to surfing than the pure chains of movement. NOMB Surf gives me the opportunity to coach exactly the way I want: personalized, with no set time frame, customized for my students.
When being home on Fuerte, I just looove it. There are always surfable waves and the daily sunshine is great for my soul. As I spend most of the year on that little rock in the Atlantic I normally can be found here, or better down at the beach. I love surfcoaching individually here, giving me the opportunity to really work with my students. The results are mindblowing!! NOMB Surf offeres only private surfcoachings on Fuerteventura.
My desire to travel, my love for teaching and the search for the perfect wave has made me set up NOMB Surf´s surfcoaching trips. Exploring the world and it´s oceans it´s something I would never want to miss.
On the NOMB Surfcoaching trips we are in a small group of max 6 students. As we always work with a local surfschool there is at least one more instructor in the water with us. Spending the whole day in a group gives me the chance to also coach outside the water, using video analysis, customized surftheorie, drills and exercises. Sounds great, right?
Come and join me on my travels to forgetton corners of this world, surf amazing waves, experience incredible cultures and improve your surfing!
I hope you too want to get NOMBed, and I´ll sea you in the water soon!! Buenas olas!
Angie
Ps: get in touch with me if you want to improve your surfing. On Fuerte or on one of our incredible surfcoaching trips!