Great news for the upcoming surfcoaching trip ´Irish Infusión´: professional chef Basti Peters is once more joining the NOMB Surf adventures! Last year Basti already spoiled the NOMB surfers with his healthy powerfood, giving them enough energy to brave the cold Irish waters. Basti has just confirmed his participation in just another epic surftrip. This is what breakfast looked like last year.. hmmh.. jummy!!
Since the trip to Ireland in November last year Basti has dedicated himself to find the perfect mix of vegetarian and meat based cuisine for extrem sports people, like the NOMB Surfers. A perfect nutrition for extreme athlets like surfers contains 5 meals a day: a powerful breakfast, a lunch full of proteins and a healthy dinner that refills all your batteries, plus two snacks in between.
Breakfast should be full of fast carbonhydrates such as oats, dried fruits and natural sugars. This mix will kickstart your body after sleeping and get you ready for the first surfsession. A great snack just before, or after a long surfsession, is a handfull of dried fruits, maybe a mix of almonds and raisins. That way you are providing your body with fast and slow carbonhydrates, ideal before a surf sesssion and even better after to restore the used muscles.
Lunch is often overlooked, while this is the meal that keeps our body going throughout the day. A lunch packed with proteins (both animal or vegetable proteins will do) and fast carbonhydrates will make sure that your engines keep running. As everyone has their very own preference for lunch we leave this meal up to our surfers to decide. Some prefer to cook, others prefer to check out one of the Little irish coffee places. We do daily supermarket stops so our participants can stock up on supplies if needed.
A family style dinner rounds up an epic day full of surfing and discoveries. Dinner can vary, sometimes containing only veggies and meat, sometimes also fast carbonhydrates such as pasta or rice. The importance of a balanced sport diet is to follow a varied died. Never give your body the chance to get used to the same menu. Challenge your  body by changing the rhythm of fast and slow carbonhydrates, not giving him any time to adopt and start getting ´lazy´in absorbing the food´s energy. If you wanna learn more about how to fuel and prepare your body for the demanding hours of surfing check out the book ´Body fuel´ by Mark Watson.
We are delighted that Basti will join us on the ´Irish Infusion 2017´ and can´t wait to dig into his delicious food. One of the great things about a NOMB Surfcoaching trip is that even though we are like a mobile surfschool, we still provide our guests with everything you can dream of in a surfcamp. With the extra bonus that our locations change, so you won´t ever get bored of surfing with a NOMB Surf adventure.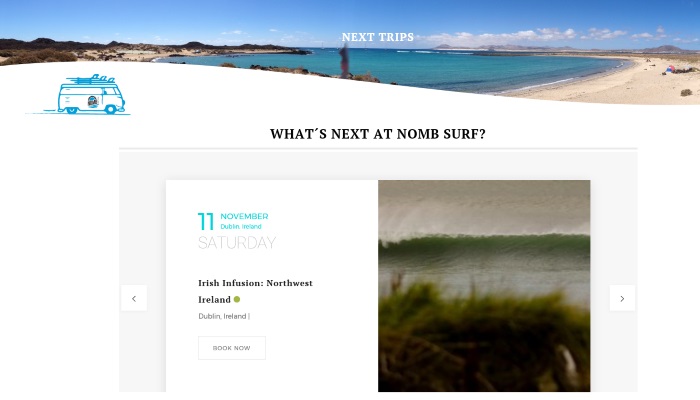 Apart from the NOMB Surftrip ´Irish Infusioon´in 2017 we will also run ´Lanzarote Legacy´and ´Charging Chile´ in 2018. And always keep an eye on our website for more trips to be announced 😉
Any questions or enquiries, get in touch and we will find the perfect surftrip for you!
Cu in the water soon! Your NOMB Surf team
(Photo credit: NOMB Surf & Bastis friend)