Your NOMB Surfteam shouts out a big: HAPPY NEW YEAR!!
We wish you a cracking 2018, filled with love, peace and amazing waves!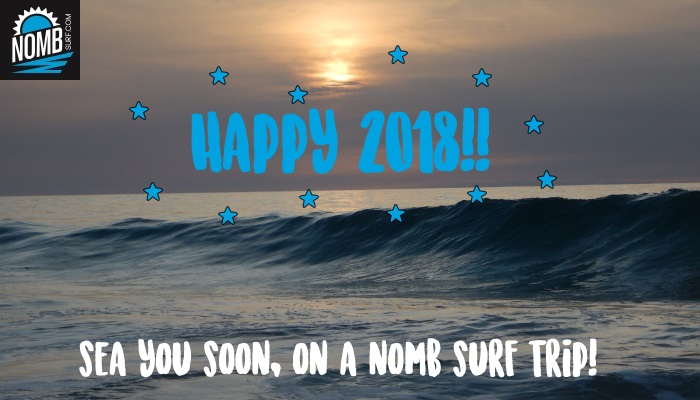 We here at NOMB Surf can hardly wait for 2018 to kick off. It´s gonna be a mindblowing year, with loads of unforgettable surftrips and also a few surprises to come. And hey, here will be a NOMB Surftrip for everyone. Surfholiday, surfadventure, family surftrip, and some cool surf projects, you name it. Don´t worry, we will keep you informed!!
We will start the 2018 NOMB Season with our surfholiday trip ´Lanzarote Legacy´ to the beautiful canary island of Lanzarote. The NOMB Surfercrew is nearly complete, only a couple more spaces left. If you wanna join us, get in touch asap and book your flight, we´ll meet on the 27th January in Arrecife. That´s what Lanzarote looks like:
Oh, and did we mention that also our NOMB Surfteam for Lanzarote Legacy is now complete?? We are very happy to announce that chef BASTI is joining us again on this fantastic trip! He will dish out some energy filled dinners and spoil us with healthy and tasty breakfast, with ocean view!
Local surfguide & surfcoach MELLY will also join the NOMB Surfteam on Lanzarote. She will make sure that our surfers enjoy the best conditions, surf different spots and also find their confidence in the water.
Having two surfcoaches joining the trip, we are certain that all of the NOMB Surfers will improve heavily and surf unforgettable waves.
With sooo many good news, 2018 can only be a cracker. We hope that you, too, will make all your dreams become reality.
Why not complete one of your dreams right now and join us on one of our cool surfcoaching trips?? We will be very happy to have you!!
Happy 2018 and sea you in the water soon!
Your NOMB Surfteam