.. oh happy days… What an amazing trip!! Name three things about the NOMB Level 2 Surftrip to the South of Chile?? Loads of waves, loads of smiles, loads of unforgettable moments…
Where to start?? Well, lets start with the ocean.. Normally the Pacific Ocean swells are a little bit more intermediate friendly in the summer months. This summer however, with El Niño working its magic, the chilean coast encountered huge swells. As the swells hit the entire coast it was decided to turn South, and enjoy&discover some green, unique and empty places. The trip passed through Pichilemu, Chile´s surf capital and then headed further south.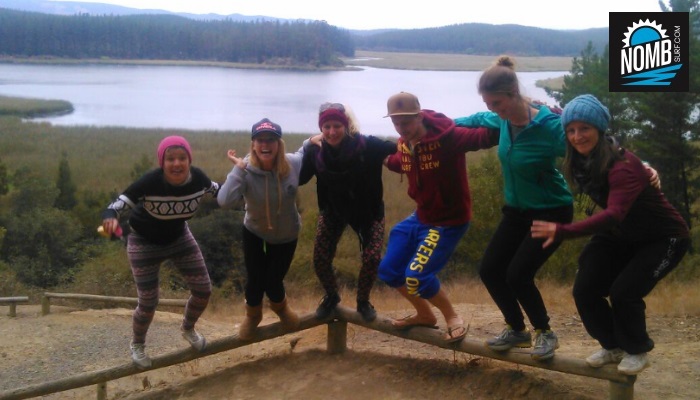 Homebase was found in ´El Puerto Buchupureo´ where the NOMBsurfers stayed in a Cabaña (beachhouse) in front of the beach. After an amazing breakfast, made especially for the NOMB Surfteam, the surfers bravely faced the walls of water and jumped into the ocean again and again. Due to the huge waves Surfcoach Angie had to change the training programm, loads of theory, ocean knowledge and motivation training could be found on the daily initerary. 
Yoga instructor Sharon made sure that all those hard worked muscles were proberly stretched. On top of the hard earned stretching Sharon focused on the right breathing techniques, flexibility and muscle strength. Yoga classes took place with amazing ocean views, in a special yoga hut or on the terrace of a domo between the trees at the Sirena Insolente Hostel in Pichilemu, or even right on the beach.
In between surfing, yoga and travelling the NOMBsurfers found time to discover hidden places, local food and markets, and explore the little towns of Chiles South. The team engaged in a local beach clean up and even protested against the building of salmon fields in the Pacific, only a few meters distance from the powerful and outstanding pointbreaks of the VIII region. Thanks for getting involved NOMBsurfers!!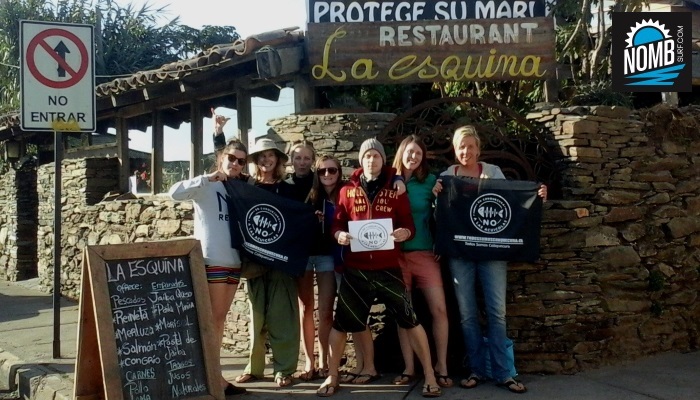 After 10 days on the road and in the water the NOMBsurfers said their goodbyes in Valparaiso, a bohemian city build on hills and an UNESCO heritage site. Thank you Clara, Johannes, Susann, Susi and Tina for making this NOMB Surfcoaching trip an unforgettable first trip! A big thanks also goes out to Milton our local surfguide, Juane & his team at the Sirena Insolente Hostel in Punta de Lobos, Chaka for the most tasty sushi in South America, Erik & his team at El Puerto Buchupureo. And everyone along the way who treated the NOMBsurfers with respect and welcomed us with open arms!  Last but not least a massive thanks to yoga instructor Sharon, an amazing person and friend! This trip could have not happened without you!
Check out the NOMB Surf Facebook page for more photos!
Buenas olas for all of you, we will hopefully see you in the water soon!