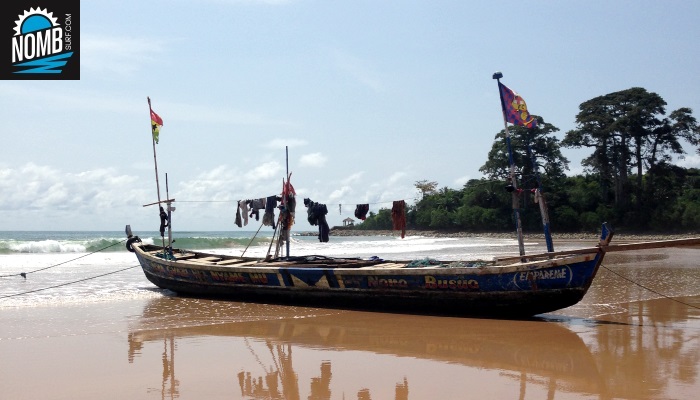 Great news, it´s time for another NOMB Surf Adventure Surftrip! Woohoo! This time it will take the surfteam to Ghana, a beautiful country on the westcoast of Africa.
Why Ghana you ask? Well, we here at NOMB Surf are always looking for off the beaten track destinations. That´s one of the things that makes surftripping with us so special. Our destinations are generally not known for surfing, and definately not at the time of the year we visit. Who really considers Ireland as a surfdestination, in November 😉
But back to Ghana. One day NOMB Surfer Annette told headcoach Angie about her work she was doing in Ghana. And mentioned about her surfexperience down there. Let two travelling minds come together and the idea of GHANARAMA was born: surftripping along the westcoast of Ghana.
Unlike on the past adventure surftrips, in Ghana the surfteam will have a homebase, an amazing eco-lodge right at the end of a beautiful beach. Starting from there the team will not only surf the waves in front of their door but also head out to explore the amazing (point) breaks that Ghana´s coast has to offer. Guided by a local surfguide who always makes sure that the team is a the right time at the right place. Two weeks of surfing without big crowds in warm (24degrees) waters, what more can you really want?? Here is Annette with her local surfguide just before jumping into the warm atlantic waters.
Ghana as a travelling destination can be a bit of a challenge, especially for not too experienced travellers. There are a few things that you have to have in mind before booking your flight ticket:
apart from the standart vaccinations you will need a yellowfever vaccination
you will need to apply for your tourist visa at the nearest Ghana embassy /consulate
you will, if travelling to the coast, need malaria prophylaxis
you need to be prepared to step out of your comfortzone and into a totally new culture
To some of you it might sound like the usual preparation before heading out into the world, some of you might find themselves overwhelmed. Either way, the reward for stepping out of your world and into another culture is always mindblowing. And not only talking about surfing new waves but also talking about experiencing new customs, new languages, new smells, new foods, new colors, new music, new friends.. The list is endless.
NOMB Surf´s adventure surftrips are designed for giving you the chance to experience all of the above while having the security of an organized trip. Sure, you will have to take care of your travel arrangements to get to Accra, Ghana´s capitol. But the rest is organized for you: transport, accomomodation, surfcoaching, food, surf equipment, yoga etc.
Daily surfcoaching (in English, German or Spanish) will make sure that your surflevel will boost up a level or two. NOMB Surfcoaching is different from the general teaching you find in a surfschool or surfcamp. Headcoach Angie works with direct (i.e. direct feedback or tips in the water) and indirect (i.e. video analysis or drills) coaching techniques. Qualitiy and effective surfcoaching is what makes NOMB Surf special. Goal setting, self- and surfawareness, theory and so much more..
We here at NOMB Surf are totally excited and stoked about this once in a lifetime trip. If you want to join us on this crazy surfadventure get in touch now and secure your surfspots. We are only taking 6 surfers down there, only 4 spots are still available, and yeahh, there are booking up really fast.
[vc_row row_type="row" use_row_as_full_screen_section="no" type="full_width" angled_section="no" text_align="center" background_image_as_pattern="without_pattern" css_animation=""][vc_column][vc_empty_space][vc_empty_space][vc_column_text]
Sea you soon in Ghana!
YOUR NOMB SURFTEAM
[/vc_column_text][vc_empty_space][/vc_column][/vc_row]