Here at NOMB Surf we like to offer you the best options to improve your surfing: On our surfcoaching trips you share a certain time learning within a group. During our individual surfcoachings on Fuerteventura it´s all about you and your own surfcoach.
However, we do understand that not everyone wants to travel to Fuerteventura or join one of our surfcoaching trips. And that´s how NOMB SURF CUSTOMIZED was born.
So what exactly does that mean? Well, it means that we are open to any surfcoaching suggestions you can think of. How about coaching a group of friends at a certain destination? How about guiding a family during their surfholiday? How about teaching university sport students the basics and beauty of surfing?
Whatever it is, if you feel like you are in need of a surfcoach, that´s what NOMB Surf Customized is there for. Head surfcoach Angie (ISA Level II qualified, valid lifesaver, very experienced, German, English, and Spanish) is keen on coaching at new destinations and discover the world with you.
But is this for real you think? It certainly is. Let us tell you about a couple of really cool surfcoaching projects from last year
1.Teaching students from of the German university of Hildesheim how to surf – on an island in the Northsea
Island? Northsea? Germany? Yep, the beautiful island of Sylt, located just below the boarder to Denmark, is a watersports mecca. Generally more know for it´s perfect conditions for kite- and windsurfing Sylt also offeres some rare days that will make every surfer feel like in heaven. Imagine how super stoked NOMB Surf headcoach Angie was when she arrived on Sylt and found this little gem just on the other side of the sanddune from her homebase.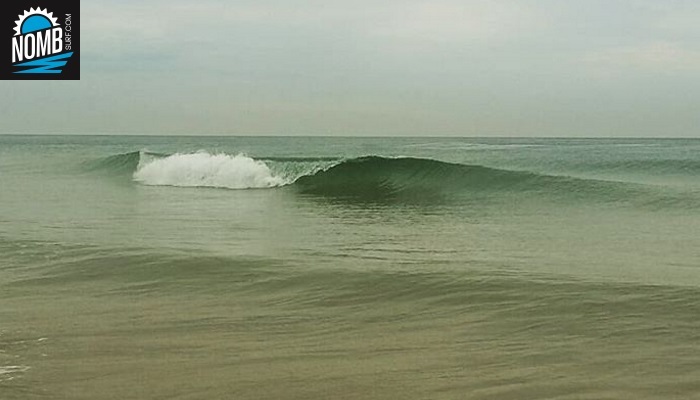 Based in a big youthhostel, 5min walk over the dunes to the beach, a whole basement full of great surfequipment, the islands best coffee shop just around the corner – what a treat for Angie.
A total of 24 sport students from the University of Hildesheim, Germany, flogged to the island to take part in a watersports excursion. Within 10 days they got taught the basics of surfing, kitesurfing and SUP. NOMB Surf headcoach Angie was in charge of the surfing business. Theory sessions, explaining of surfequipment, ocean awareness and loads of hours on the beach. At the end every single one of the students looooved surfing and promised to go for more! Job done!!
2. Family holiday to Galicia, Northwest Spain
10 days surfholidaying with your family on the Northwest coast of Spain? There is hardly a better way to spend  your autumn vacations. When Angie was asked if she wanted to join her favourite surfer family from Berlin, Germany, on their holiday, her answer was: YEEEEES, for sure!! While the family stayed in a real cool house overlooking the beach, Angie rented herself a mobile home and that way wavechecked every morning to find the best conditions for the day.
3 adults and 5 kids, what a great surfer family. And everyone, apart from little Willy who is a little bit too small still to surf, was keen to go surfing every day. Angie, knowing Galicia and it´s hidden spots, made sure the surfing family was at the right beach at the right time, with the right conditions for everyone. Sure, sometime the group was split because of the different surflevels but there was always a beach where everyone could surf together. 
Loads of days of surfing, surf theory, ocean awareness excercises… Angie made sure that her family didn´t get bored. And was super stoked to see that after the holiday every single one had improved their surfing. Woohoo!! Looking forward to coaching you again next month 😉 Here you see the surfing grooms at a little tea pitstop at Angie´s mobile home parked on the beach.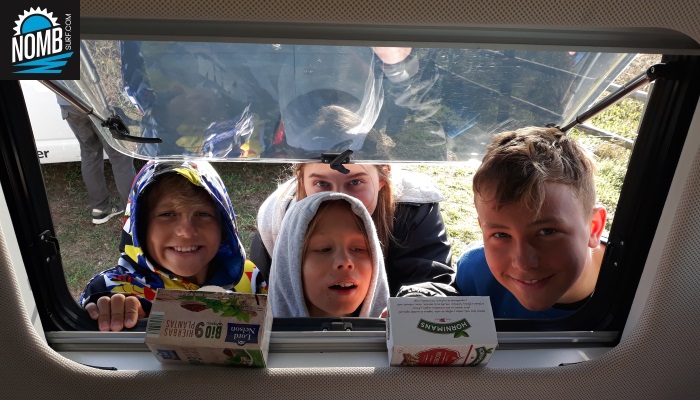 There are a few more surfcoaching projects planned in the future, involving families, social engagements and a fitness camp. But psssst, let´s not tell all the secrets yet..
If you have a cool surfcoaching project, involving travelling or not, NOMB Surf would like to hear from you!! We are always happy to help you improve and realize your dreams! Simply get in touch and tell us about it!!
Sea you in the water soon!
YOUR NOMB SURFTEAM