.. and yeah, we have already had a right laugh. Seems like all starts are shining bright for the NOMB Surfers and everyone made it over to the green isle in time.
It all started off a little bit bumby when headcoach Angie was ´diagnosed´ with excess luggage at Fuerteventura airport and had to start taking things out of her bag. But hey, easy done, she just took out her 5.4 wetsuit and put it around her neck. A different sort of scarf. The guys at the security check looked a bit puzzled and some really funny comments where dropped but this way they even let Basti through the bomb check 😉 Not without commenting on the blond, blue eyed surfer with the messy hairs.. hihi.. Great start..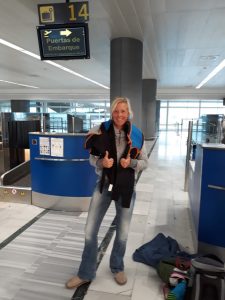 Nora, Jan and Thomas also found their way to Dublín airport, that´s where the group met yesterday morning, and headed straight up to the famous D-Place, aka Dunfanaghy. The D-Place is located on the wild atlantic way, one of Irelands most beautiful parts in County Donegal, Northwest Coast. After a little supermarket stop we arrived at our home for the next week, quickly uploaded everything into the lounge and headed straight to Narosa Surfschool in town. Thats where we stocked up on equipment and then straight to the beach. Here we met Good Old Lee, aka the Lee-gend, our local surfguide. We couldnt believe finding great and glassy waves, no wind and seriously only 1 other surfer in the lineup. Loooads of waves for everyone!!
Totally exhausted after a great first surf session we arrived back at the house. Only to find out that Angie had switched on the wrong switch, and that the house still had pretty much the outside temperatur (around 4 degrees). Thomas earned himseld the Title as ´Firedude of the week´ and lit up the fireplace in a sec. Quickly the lounge heated up, and the central heating kicked in. Basti prepared a delicious meal. Couscous salad for a starter, a warm and hearty Chili with Quinoa for an energyboost and rounded it up with a Mousse Au Chocolate. What a treat to have a professional cook spoiling us every day.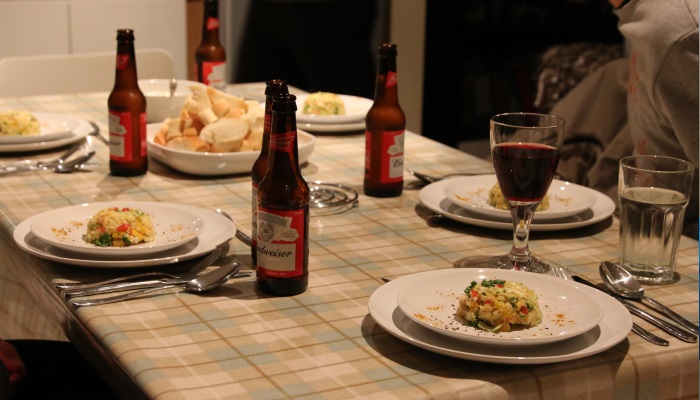 Plans where to hit town and check out the local pubs but the couch and the fireplace where waaay to comfy and warm to leave. After a good night of sleep the NOMB Surfers will hit the water around midday, after a delicious sunday breakfast. Stay tuned for more of our Shannanigans.
Your Irish NOMB Surfteam