… and other adventures!! A week that left us speachless!
For the second year in a row the NOMB Surf team rocked a little town in the forgetten corner of North-West Ireland. Let´s call it the D-Place, just to keep it a little bit more mysterious. This little gem is hidden away somewhere along the Wild Atlantic Way, one of Irelands most beautiful and breathtaking parts. The D-Place is a quite little place, the mainroad reaches maybe 800m length. Nevertheless they have everything you need: a little fruit&veg market, a couple of great coffee shops offering amazing food and a cup of tea, a butcher, a pharmacy, the best pizza joint in Ireland, a healthy food shop, 3 pubs (including the famous Oyster Bar) and of course Narosa Surfschool, our local partner. That´s the D-Place, isn´t it beautiful?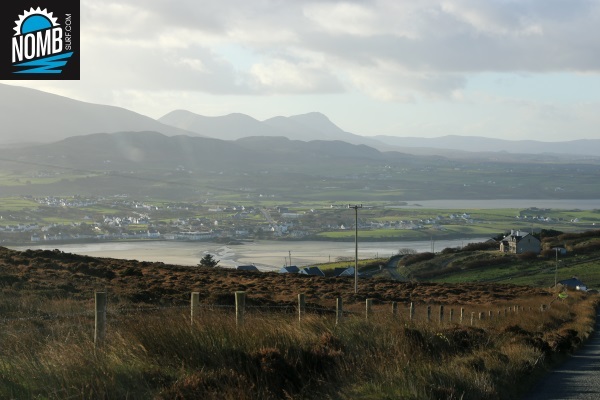 Loads of headlands, hidden away beaches, cliffs and west facing beaches made sure that our NOMB Surfers had amazing surf conditions every day. Our local surfguide Lee (the Legend) took the group to different breaks, the team seemed to always be at the right time at the right spot. Big thanks to you, Lee! Even though surfing in Ireland in November might sound weird to some people, our brave surfers didn´t mind at all. Getting changed into a full 5.4 wetsuit outfit, using booties, beanies and gloves in offshore winds, a very small price to pay for empty line-ups and incredible waves. To make sure that everyone felt comfy in those conditions head surfcoach and surf trip organizer Angie welcomed the NOMB surfers with a very special gift: a customized (with nametags in the back) warm surf poncho to get changed. Let me tell you, the NOMB team looooved them!! Here you see Nora, Jan, Thomas, chef Basti and surfcoach Angie smiling after a great session!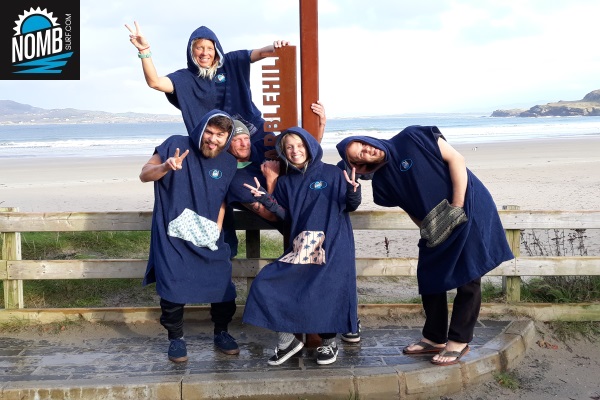 But let´s start at the beginning. The team met at Dublin airport on Saturday morning, boards and bags were stuffed into the mini-van and yeah, the roadtrip was on. DJ Thomas was in charge of the music, the mood in the car went up in anticipation of the waves that were expected to be seen, only one more hill, ohh maybe one more.. Once the group arrived at the beautiful little (still cold) house everything was thrown into the lounge, surfstuff was taken out of the bags and thrown back into the car, and the group headed straight to meet up with Good Old Lee and hit the water the same day. Fully kitted out and prepared our surfers started the 7days surf adventure at the local beachbreak only a few minutes drive away. Clean chesthigh waves rolling in, one after the other, it felt like paradise. Surfcoach Angie coached from in the water, making sure everyone was sitting in position and catching heaps of waves. Here you see Thomas dancing on one little jewel.
The next few days were spend with surfing, surfing and surfing. The second day we surfed Killer Point, the spot right in town. Coach Angie was frothing, having set her heart on surfing this wave last year but never gotten the chance. The setup was simply unreal. Hidden away behind a headland, on the bottom of some red and green cliffs, a rivermouth created cool waves for the team. Needless to say that it was only us in the water. The NOMB Surfteam couldn´t believe their luck. The third and fourth day held a challenge for our surfers. Lee took us to a different location, an open west facing beach that picks up every little swell and turns it into incredible waves. Working on confidence was the coaching goal these days. Surfing is a sport that makes you reach, and step over your limits. That´s the way to improve. After those couple of days in overhead surf all of our surfers where stoked on their achievements and improvements. Congratulations team, keep surfing those bombs!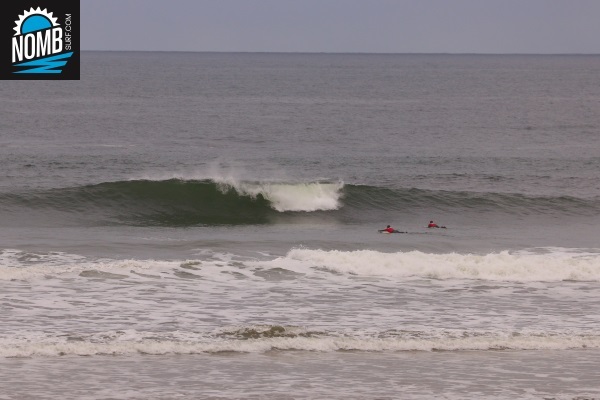 The rest of the week was filled with surfing (of course), surf theory, photo analysis, video analysis, sauna sessions with Eddy from the Centra Shop, exploring an abandoned castle, getting blown away on Horns Head (Donegals most famous cliff formation), BBQ with Lee (+family+friend), sleep ins, long breakfasts, surf fitness workshop, chilled hours in front of the fireplace, sneaky Whiskeys for the warmth and spirit, and loooooads of laughters and unforgettable moments.
Big thanks go out to our chef Basti for spoiling us with delicious breakfasts & dinners, Good Old Lee and the team from Narosa Surfschool, headcoach Angie for making it all happen and last but not least of course a massive thanks to our NOMB Surfers.
You guys rock, it´s been a pleasure! Hope to see you again soon for more NOMB Surfadventures!
YOUR NOMB SURF TEAM
PS: as usual you can find more photos of our surftrip to Ireland on our Facebook page!