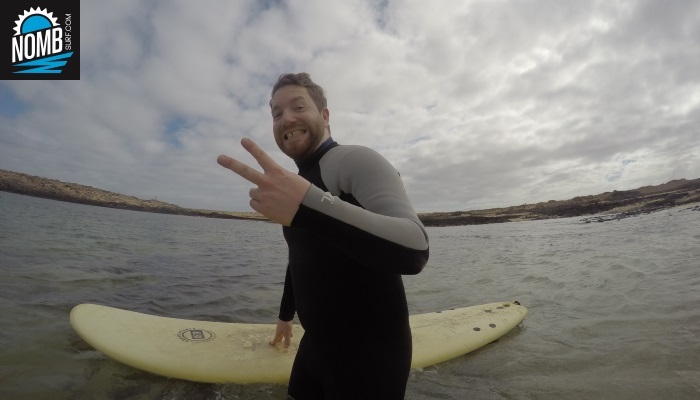 THE NOMB SURFCOACHING SEASON 2018/2019 ON BEAUTIFUL FUERTEVENTURA HAS OFFICIALLY STARTED!
That´s right, great news!! From now until the end of April next year NOMB Surfs headcoach Angie will be hanging around the surfing headquarters on our favorite island in the Atlantic. And making sure that YOU boost your surfing, gain confidence and surf waves you didn´t even know you could!
So what´s all this individual coaching about?? What makes NOMB Surfcoachings so different to a normal surfschool??
The answer is simple: it´s just you and your own surfcoach. The focus is on you, noone else. There are no random groups, no 8:1 student-instructor ratio, no rushing around. We generally only accept one coaching per day, giving us all the freedom to choose just the right time and spot for our coaching session.
But there are even more reasons that make NOMB Surf so unique:
 NOMB Surfcoaching is not only about direct coaching in the water, commenting every single of your waves. Here at NOMB Surf we work with a lot of different coaching techniques, direct and indirect. Photo & Video analysis are a big part of what we do for example. You will be surprised how much you improve your surfing if you see yourself recorded. Sure, it´s a bit of a reality check first but wait until you see your improvements in the water.
We also back up the practical coaching part on the beach with surftheory sessions. Totally individual, tailored for you. Like every wave, every surfer is different. Our headcoach Angie is an expert in analyzing your surfskill level, tickling out those hidden fears & worries and guiding you on the way to progress your surfing.
As we only have one coaching session a day there is no need for rushing around. You are on holidays still. Our coaching sessions have no set time limit. Your physical abilities and the local conditions will determine the actual time on the beach. But hey, no worries, so far none of our students has felt undercoached 😉 Often we split the session into two parts, the beach and the theory part. But again, it´s all individual here at NOMB Surf.
German, English or Spanish, you can choose the language you prefer. We understand how important it is to express yourself , your doubts and even fears when learning how to surf. Headcoach Angie is fluent in all three languages and used to coach three-lingual. Like on our surfcoaching trips our clients are international, however the German surfercommunity prevails.
A female surfcoach! With years of coaching experience! ISA Level 2 qualified! That´s rather hard to find as not too many females coaches stand out in a still male dominated sport. However, with equal prize money on the WSL competions starting next year the sport of surfing will see more and more females following the surfing career path. Either as a professional surfer, or even coach. Back to our female coach Angie. Many female surfers, especially beginner surfer, feel more at ease with a female coach. Angie is very emphatic with the concerns of female surfers. On the other hand though, she has a fierce reputation, some do even call her drillseargent 🙂
We here at NOMB Surf understand that every surfer, first day beginner to advanced, has different needs and expectations. Some prefer to surf as part of a group, some only want to give surfing a shot to see if they like it, some are looking for a mix of party and surfing.. That´s cool, too. There are loooads of surfschools and surfcamps here on Fuerteventura who offer exactly this kind of environments.
At NOMB Surf we have a slightly different but clear focus: individual, professional, efficient and fun surfcoaching!
Sounds good to you? We are stoked to get you into the water and onto the surfboard!
Get in touch for availability & prices!
Sea you in the water soon!
Your NOMB Surfteam
Ps: check out this little video about our last family surfcoaching day. First day surfing (well, sort of) for all three cousins. And yeaaaah, at the end of the day they all surfed whitewater waves all the way down to the beach!!! Clap your hands for our Kamikaze Family!!