You wanna learn how to surf, or improve your existing skills?
But where to start?? Woow, how much information is out there?? 
You sit down on your computer, you hammer surfschool or surfcoaching into Google, and then BANG, you are fully covered in loads of information. And yeah, all those surfcamps and surfschools, they look amazing. Great drone videos of people having a blast in the water, sunsets and good looking people on the beach. But hang on, does it say anything about coaching at all??
Most of the surfschools and surfcamps offer a lot more than only surflessons. There is accommodation, food and extra activities. All nicely shown on their websites. But do they say anything about the way they teach you how to surf and improve?? And where do you find this important information?
We have put together a LITTE GUIDE on how to find out what sort of surfcoaching quality your choosen surfcamp/surfschool is actually offering. Here we go:

1. STUDENT – INSTRUCTOR RATIO

In most countries there are strict regulations on how many students per instructor are allowed in the water. Here in Spain its 8-1 for example. As surfschools tend to be serious businesses nowadays you can be sure that most of the schools will max out this ratio. You found a school that offers max 5 students per instructor? Great, that´s a good sign for being serious about their coaching quality.
That´s our coaching group of last years surfcoaching trip to Ireland. Small group, empty line-ups, the improvements were unreal!!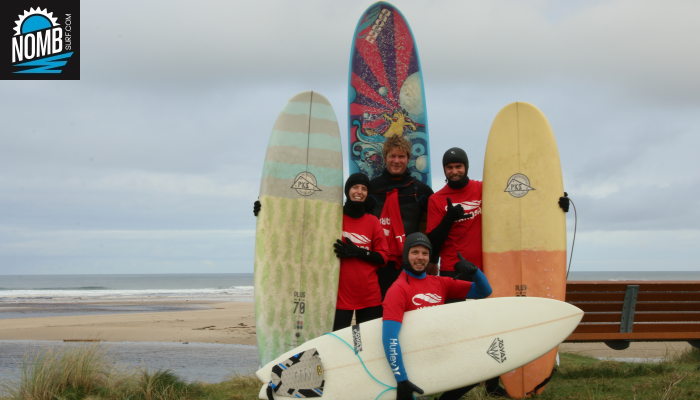 2. COACHING OUTSIDE THE WATER (e.g. video analysis or theory)
Many people limit good surfcoaching to commenting every single wave. Well, that´s one part of coaching but there is so much more. Direct feedback is only one little piece of the puzzle. Put the puzzle together and it will get so much more efficient. The website of your desired surfschool offers video analysis? Surf theory lessons? That´s great, again, another sign for good coaching. However, often what´s stated on the website isn´t really put into practice. Most of the times it really depends on the instructor itself. Before booking, contact the surfschool and ask how often they actually do these out of the water activities. You might be surprised by their answer. Opt for a school that promises to include these coaching techniques on a regular basis.
This is what a quality photo analysis can look like.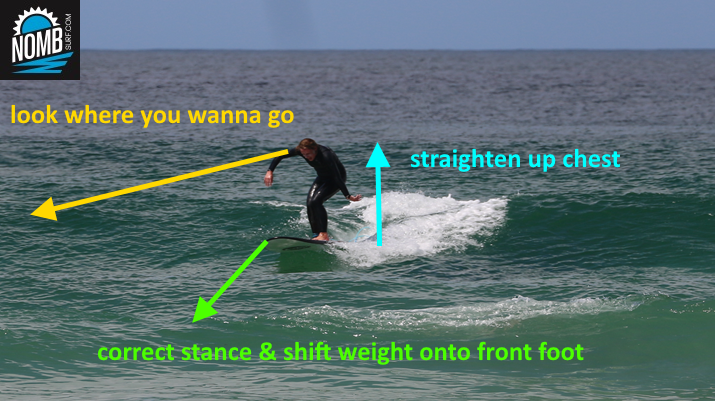 3. ONLINE REVIEWS (e.g. Tripadvisor or Google)
Online reviews are fantastic. They can tell you what´s been going on at the surfcamp you want to visit. Tripadvisor and such give customers a chance to rate their experience. Often do customers praise the place because they had a good time but sometimes serious issues are highlighted. Scan the negative feedback first, any comments about bad/missing coaching? Nothing, then move one to the positive reviews. They will surely tell you about how much fun they had etc but check for any comments about the actual coaching. Anything that sticks out? One particular instructor? A specific course??
Take your time to read quite a few of them and see if it says anything valuable to you. Nothing about coaching at all?? Maybe check another surfschool, even if their website might not look as fancy as the one you picked. Little tip: it´s mostly the smaller surfschools that have their focus on quality teaching! Make the effort and check them out as well!
Can you find the hidden information about NOMB Surf´s coaching in the Facebook review of one of our happy customers? 🙂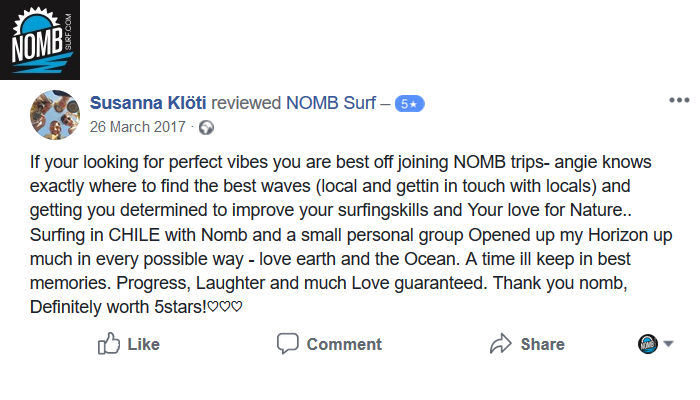 We hope that this little guide helps you finding a surfcamp/surfschool that is serious about surfcocaching. Sure, surfing is about having fun and surfholidays, as they say, are about relaxing and having a great time. But if you decide to combine your holidays with learning how to surf, make sure you pick a surfschool that not only offers quality coaching but also keeps it´s promises. This little guide can help you identify what´s really happening on the coaching side of a surfcamp.
Here at NOMB Surf we truly believe in the significance and efficiency of personalized surfcoaching. Over and over it amazes us to see how quality coaching boosts the surfing level of our customers. Our surfcoaching trips are fully focused on coaching, with a max number of 6 surfstudents. We go even further at our homebase Fuerteventura, where we offer only Private Coachings. Just you and your surfcoach!
Sounds good, doesn´t it?? Then check what´s happening next at NOMB Surf and hopefully we will have the pleasure to coach you one day!
Sea you in the water soon!
Your NOMB Surfteam