Get ready for a defiant week of intensive surfcoaching on our homebase island Fuerteventura. We decided to combine our proven individual surfcoaching format with the intensity of our surfcoaching trips, and voila, the Surfcoaching Week Fuerteventura (SWF) was born. During a minimum of six action packed coaching days you will challenge yourself in the water, on shore and also cognitive.
This is our third year of surfcoaching here on Fuerteventura, and our sixth year running surfcoaching trips around the globe. All these years of coaching experience have shown that our individual surfcoachings on Fuerte really boost our students surf performances. However, during our surfcoaching trips we have also seen many incredible developments, due to the intense nature of the trip format. We are now blending those two winning formulas into our newly designed #SurfcoachingWeekFuerteventura.
It´s all happening during your Surfcoaching Week Fuerteventura
As individual as our normal surfcoachings, your personal surfcoaching week kicks off long before you actually hit the ocean. Upfront your visit to the island you will chat by phone/video call with surfcoach Angie. This way you will get to know your coach (in case you haven´t met her yet) and can check if the chemistry is right. Angie will inquire about your surfing, your goals and challenges, in order to come up with your personal surfing gameplan. She will also happily answer all your questions and try to ease your doubts if you have any.
Once you are on the island, your coaching plan will be ready and waiting for you. In the first session coach Angie will outline your coachingplan and adjust it according to your thoughts. Depending on your own personal challenges and goals, the next days will be packed with loads of watertime, onshore training and mindset adjustments.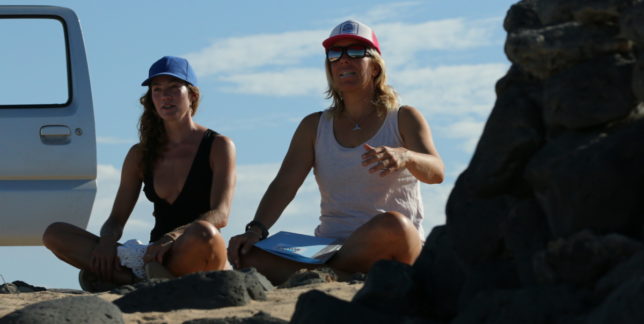 You pick the dates, goals and intensity
Unlike with our surfcoaching trips, for your SWF you can set your own dates. All you need to do is enquire with us about your perfect timeframe.
Everyone´s surfing is different, just like every wave. You decide on your own surfing goals, and we come up with a gameplan on how you can reach them.
Feeling on top of your game or rather want to take it a bit slower? No problem, we adopt the week´s intensity to your personal preference.
Work on your skills, ocean awareness and mindset
Surfing is a lot more than jumping onto your board and let´s go. Apart from different chains of movements you will also have to finetune your awareness of the surroundings and connect with the ocean. Often this includes facing your fears and overcoming them.
This week will take your surfing skills to the next level but also increase your mental abilities to control your emotions. Being able to address and control your emotions in the water (that includes joy, frustration, anger, just to name a few) will help you develop into a mature surfer. Resulting in a higher wavecount of quality waves, less critical situations and an overall enhanced surfing experience.
What you get: quality surfcoaching in and out of the ocean
By now you have decided that you can benefit from an intense week of surfcoaching 😉But how does it actually work? We have already talked you through which areas you are going to work on. We will achieve this using different coaching techniques and resources.
Always adopted to your personal gameplan, here is what can be included:
Direct in the water coaching, 1:1 with your personal surfcoach
Detailed video analysis
Drills and specific tasks in the water
´Homework´ for in between coaching sessions
Surfskate sessions on the flats or in the bowl
Fitness & Mobility Sessions with protrainer Kati
Mindcoaching
Nutritional advice session
Wide variety of surf theory
Your surfvideos / pics on a USB stick
A six days intensive SWF, tailored to your skills and goals, is available for 825€. If you are hooked and want to extend your coaching week, you can easily add additional days (120€ per day).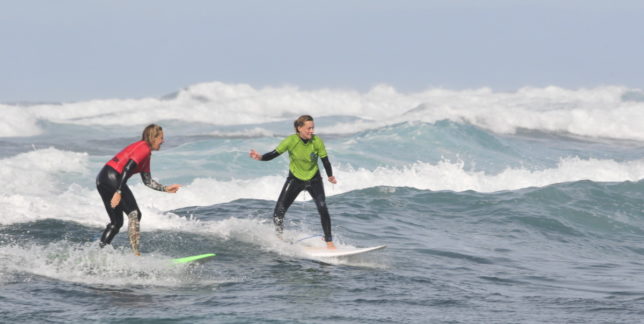 Ready to challenge yourself?
If you feel that a week of intensive surfing and training with us on Fuerteventura is your way forward, get in touch straight away and enquire about dates availability.
To get a bit more information and see a coaching week in full swing head to our Insta account and follow our next coaching week starting today Saturday, 27th February 2021. Stories will be saved in the highlights.
Sea you in the water soon!
Angie & the NOMB Surfteam