November, yeah!!
That´s a month the NOMB Surfteam is really looking forward to. November means Ireland, and Ireland means epic waves and empty line-ups!
For the third year in a row we offer a coldwater surfcoaching trip to Ireland. And so far Ireland has never disappointed us. On the contrary, we keep discovering new waves and adventures. Our local guide, Good Old Lee, makes sure that we won´t get bored and happily shares his breaks with us. Legend!
That´s Good Old Lee doing what he loves doing most.. Shredding!
Normally our trips to Ireland were run as Surf-Holidays. That´s our perfect mix of surfing and relaxing time. But voices were getting louder, wanting more surfing time so we deliver: Ireland Intense 2018 will be run as a Intensive Surfcamp. Woohoo! One surfcoaching session per day and also a freesurf session. That´s if muscles and conditions allow of course. By the end we always listen to the ocean, and our bodies.
So how exactly does it work, this Ireland Intense Trip?? Well, here is a quick overview:
Getting picked up in Dublin
Supermarket run on the way to our homebase
Checking into our homebase
Getting ready to hit the water
Safety Introduction & general information
Handing out of surf equipment
First surfcoaching session
Personal intro sessions with head surfcoach Angie
Welcome dinner prepared by our campchef Basti
Sneaky welcome drink
Sleep
That´s day 1 done. And what´s next?? How about surf? And surf? And even more surf??
Just like NOMB Surfer Thomas was doing it on last years trip. Nice wave, hey!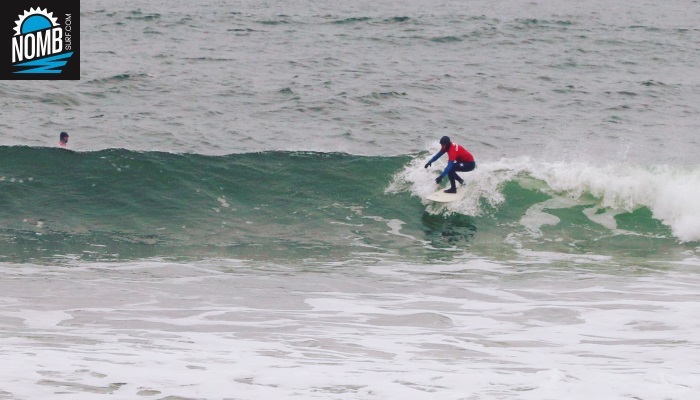 All our surfcoaching trips are care-free trips. Everything is organized for you. All YOU need to do is surf, eat and sleep. Repeat.

You wake up, a delicious breakfast is ready and waiting for you when you get out of your bed in our cozy house.
The best surfspot for the day is being picked for you.
Coaching instructions for you to improve rapidly are being laid out.
A warm snack is waiting for you when you get out of the water.
Your freesurf session will be guided so you won´t get into trouble.
A warm fire will be cracked up for you once back in the house after a long surf day.
And after a warm shower a hearty and healthy dinner will nearly be ready.
Surftheory and also photo/video analysises will be prepared for you to keep boosting your surfing.
The sofas are waiting for you to come and chill on them in front of the fireplace.
Sometimes, a yoga session will be organized so you can sit on the sofas at night even more relaxed..
That´s the 2016 Irish NOMB Surfcrew chilling after a long day out in the ocean back in our house ´James Palace´.
And after one week of care-free surfing, all YOU need to do now is say goodbye to our little cold water paradise, and start dreaming about coming back next year! That´s how the NOMB Surfteam does is every year 😉
If you are up for your own cold water challenge and want to improve your surfing through professional and personalized surfcoaching, than do not wait to book your surfspace on this great trip to Northwest Ireland. Hurry up because spaces are filling up quickly.
Here you can find more info about Ireland Intense 2018, or simply email us on [email protected].
Sign up to our newsletter & stay tuned for more crazy info to be released!
Sea you in the water soon!
Your NOMB Surfteam