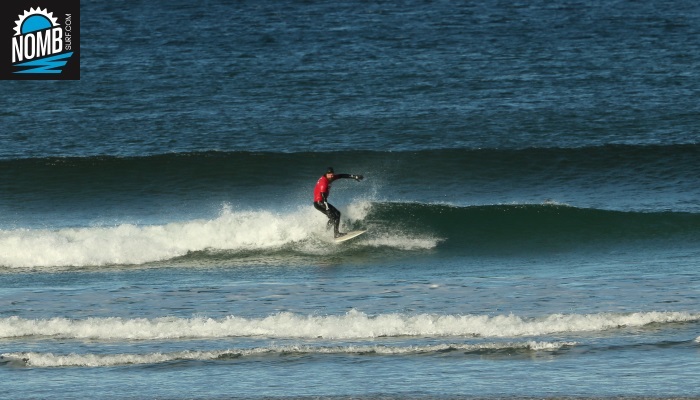 Day four on the intense surfcoaching trip in Ireland. Breakfast time. The smell of fresh coffee and insense is filling the living room. Chef Basti is preparing breakfast in the kitchen, NOMB surfers Thomas and Sebastian are chatting away with the sun lighting up Killer Point, the surf break just in front of the homebase. The rest of the surfcrew is still in bed, relaxing those challenged muscles, dreaming about waves.
The first three surfdays have been amazing. Small, clean and light offshore waves made it easy for everyone to find their bearings and catch loads of waves. Up here in Northwest Ireland there are mostly beachbreaks, producing nice A-frames. Most of the time it´s only the NOMB Surfcrew in the water, noone else around. Sharing waves between the 6 NOMB Surfers, headcoach Angie, campchef Basti and local surfguide Lee is a guarantee for everyone to catch waves.
Talking about waves, yesterdays first surfsession had a slightly different aim: survive 😉 Local surfguide Lee took the crew to a stunning remote beach, which was picking up a ´slightly´ bigger swell. A challenge for all the NOMB Surfers. Needless to say they mastered it brilliantly. Those who managed to get to the lineup experienced a heartstopping moment or two when the bigger sets came through. But that´s how you improve in surfing: reach and step over your limits. Well done NOMB Surfers!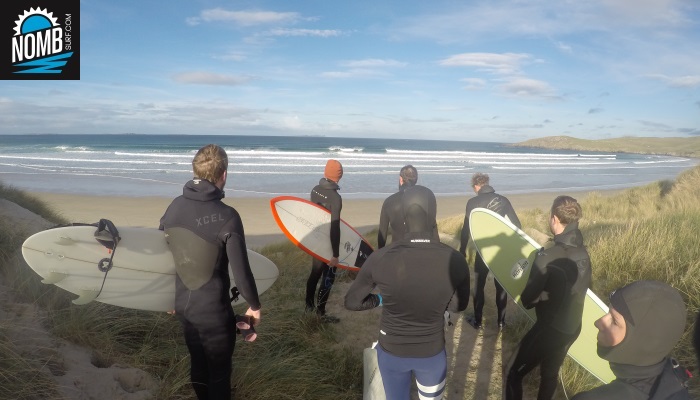 The crew is fullly enjoying their time on the green isle. Getting changed with sheep around you, having cows (and bulls) watch you from the distance, things like this only happen in Ireland. Leaving the cars in the sheep field ´carpark´,a 10min walk through fields and crossing fences and the NOMB Surfcrew found themselves here: PARADISE! What a a day!!
A delicious dinner prepared by campchef Basti and a trip to the local pub rounded up a perfect surftrip day here in Northwest Ireland. 4 more days to go, excited about whats going to happen next. We will keep you updated!
YOUR  NOMB SURFTEAM