.. to IRELAND! We are super stoked to anounce the next NOMB Surfcoaching trip for 2016. Get ready for breathtaking waves, scenery and experiences!
Surftrip (and improve your surfing of course) around the green island with the NOMB Surf Team from the 31st October – 7th November 2016!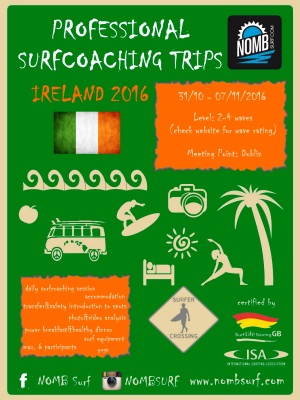 The team meets in Dublin the morning of the 31st of October 2016, ready to hit the road and chase the best waves! Check out the IRELAND AUTUMN 2016 trip details and get in touch! See you soon Irish waters!!
[email protected] or call/whatsapp +34 603163244
(Photo by SurfAroundIreland. Check out their website for more teasers!)