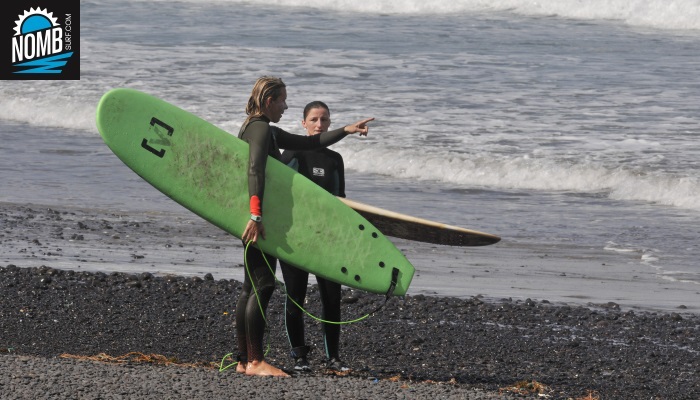 Stuck with your surfing? Not sure which board to buy? Unsure about how the ocean, waves and all that stuff works??
Well, surfing is a sport that not only requires you to learn chains of movement but also to be able to read and predict the ocean. They didn´t tell you that at your first surflesson? If they would, surely there wouldn´t be as many people out there trying to surf… 😉
But now it´s too late, you are already hooked on surfing, there is no way back. You do feel however that you are not advancing anymore. Going back to a surfschool or surfcoach is a bit outside your budget for the moment. But the summer is not too far away and you and your van are ready to hit the Atlantic coast.
So how can you boost your surfing without having to invest in quality surfcoaching?? The answer is simple: hit the internet! Yeah right you think, there is so much info out there, where to start? Right here, right now. Check out the following great sources to get free surfcoaching tipps and tricks.
1. You Tube
That´s an obvious one for sure. There are tutourials for pretty much everything. One of the most complete and easy to understand You Tube channels for surfcoaching tricks is 110% Surfing Techniques. With straight video and clear commentary these tutourials are very easy to understand. They cover pretty much everything, from beginner surfing to advanced tricks. You can buy their complete course as DVD or as download but by now they have nearly all the videos available for free on their You Tube channel. Here is an example of what they do, a short clip about how to wipe out correctly.
2. Facebook
Facebook is a great platform to keep in touch with family and friends. Especially important for us surfers who tend to spend more time at the coast than back in our hometowns. Apart from keeping everyone informed about how you are doing Facebook is a great source of free information. There are loads of different Facebook groups out there creating  spaces for people to ask questions, give tipps and get in touch. In big groups like Surftravellers you can ask for advice on destinations and transport for example.
New on Facebook is a community called SURFCOACHING TRICKS where you can ask concrete questions about your actual surfing. You can post videos or photos of yourself surfing, getting responses with tipps and tricks from the other community members. There will even be a monthly life chat where you can ask questions and get an immediate response. We are proud to confirm that our surf headcoach Angie will regularly offer free professional advice in the Surfcoaching Tricks group. We here at NOMB Surf believe in the essence of surfing: the connection to the ocean and within the community. and are happy to do our little grain and share the stoke. So sign up for SURFCOACHING TRICKS now!
3. Hang out with people who surf better than you
One of the first rules of surfing is to never surf alone. Even though surfing is a very selfish sport it´s not advisable to surf with noone else in the water. Just imagine you get knocked out by your board (happens) and there is noone around to get your head out of the water.
So find yourself a surfbuddy. And here is the trick now: find someone who surfs better than you. That doesn´t mean to hang out with someone who gets barreled on every wave if you are still practicing in the whitewater. Find someone who can share your session at the same spot with the same conditions but is more advanced than you. Why that? Isn´t it nicer to surf with someone who has less experience than you? Giving you that sneaky little joy of being better? Well, leave your ego behind, you want to advance, right? So hang around surfer who have a higher level and simply watch them. Their position. Their timing. Their chains of movements. Watching others is the best free advice you can get. And if you ask nicely, surely you will get some tipps as well. Everyone remembers how they started surfing and the little tipps along the way that helped.
Caution: don´t copy wrong styles. Always go back to double check with videos of professional surfing.
There are loooads of other free resources available, especially on the internet. Hopefully above three will help you, and your budget, to improve and catch more waves. Let us know how you got on! 
Sea you in the water soon!
YOUR NOMB SURFTEAM