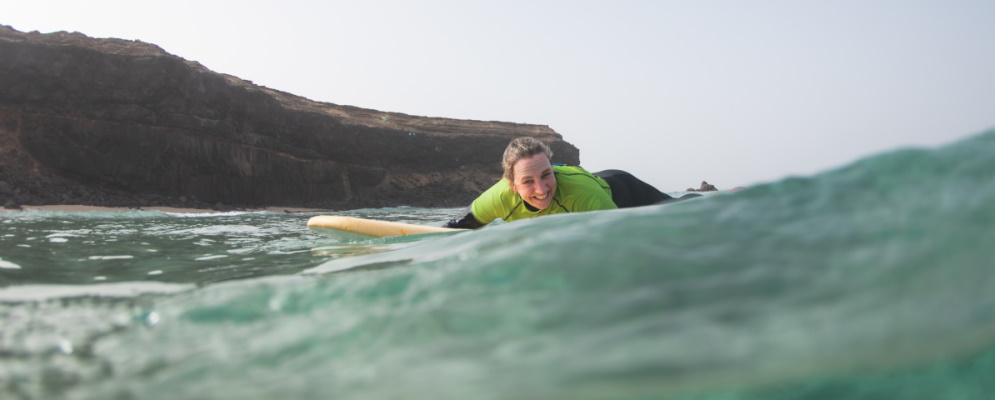 During the European summer nearly everyone is heading to the coastline. And why not? Sunshine, ocean and good vibes are waiting for you. While most bigger cities are boiling with extreme temperatures, at the coast there will always be a refreshing seabreeze.
Talking about a refreshing seabreeze here in Fuerteventura will make some people smirk. A refreshing breeze? How about full on wind guts? This island in the middle of the Atlantic Ocean is called Fuerte (strong) Ventura (wind) for a reason. Being so flat makes Fuerteventura exposed to any little wind blowing our way.
Searching for summer waves
But hang on, wind blowing on the ocean surface means waves. And for us surfers, waves are what we crave. But strong local winds also mean loads of cripply windswell and blown out conditions. Bummer.
But what if there was an island where the East, North and Westcoast are only 20kms apart, and all three coasts have rippable surfbreaks? Wouldn´t you be able to hide out from onshore winds if necessary? Welcome to Fuerteventura.
That´s right. While there is the odd day when none of the conditions align, most summer days you will find a surfable wave.  Yes, you will have to really make yourself familiar with our coast. And yes, you will need to learn how to read forecast models. And yes, sometimes the ocean will look completely different from what you have anticipated. But hey, that´s all part of the search, right?
Taking the surfcoaching shortcut
Surfing is not only about chains of movements, like the 1-2-3 pop-up. More than physical abilities, surfing requires you to connect with the ocean and all of nature´s forces. In times where wave pools are producing predictable perfect waves, and surfing has become sort of a commodity, we see a lot of surfers struggling to
a. find suitable waves for their levels
b. catch waves
c. follow the wave´s path.
But the good news is, there´s help out there: professional surfcoaching. A skilled and experienced surf coach does not only give you tips about your surfing technique. She/he will identify your surf skill level and your ability to read the ocean. Before having set foot into the ocean. You will learn how to dial in with the ocean and it´s forces, observe waves and identify a surfable wave for you. So why not take the surfcoaching shortcut instead of struggling with a. b. and/or c.?
Summer surfcoaching conditions in Fuerteventura
Even though Fuerteventura´s main surfing season is the winter, there are still heaps of quality waves to be found during the summer. Sure, you won´t find powerful northwest swells setting our reefbreaks in the North on fire but you have the whole winter to play around on our Northshore. Mix it up a little bit.
The East and the West coasts of this island both produce really good waves. Beach breaks as well as reefbreaks. Perfect for intermediate surfer who want to work on specific goals, surf in shorty and enjoy less people in the line-up. How about learning how to duckdive? One surfing essential that is often avoided to be learned, as it is not really needed in wave pools or perfect reef and point breaks.
You will find that there is a lot of stoke involved once you don´t have to fear getting hammered by a powerful ground swell.
NOMB Surf: summer mode on
We haven´t been coaching in Fuerteventura for the past few summers. The main reason was, and here we are being totally honest, that we didn´t appreciate the waves the summer gives us. Being so focused on the winter season and it´s epic swells, we didn´t give much credit to the summer months. But hell yeah, every since coming back from our surfcamps in Galicia this year we have been surfing every day. In shorty!! That´s priceless, believe us!
We are happy to share our summer stoke with you and take your surfing skills to the next level. (And all that while getting a nice tanline from your boardies / shorty). Throughout the summer we offer our intensive surfcoaching week as well as individual coachings tailored to your surfing needs.
Get in touch with us, secure your coaching spot and explore Fuerteventura´s East and West coasts with us this summer.
Sea you in the ocean soon.
Angie & the NOMB Surfteam