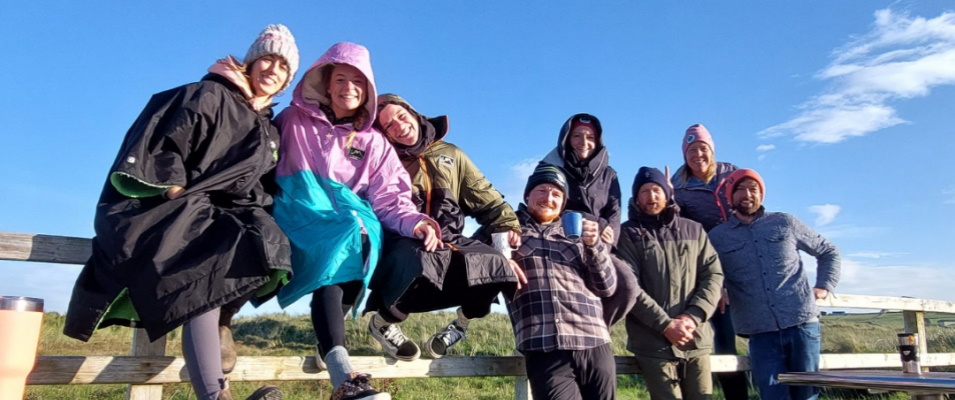 Thinking about our past surfholiday trip to Ireland in November 2022, that's the first thing to pop into my mind. Strange? Not really because it describes best all the non-stop fun and waves we have had.
All the wiggling started with a short clip I took of the surfteam, dancing on the beach at an early morning wave check. When I uploaded the clip to social media, the wiggle wiggle song appeared on the screen. I laughed and added it to the clip. And just like that, all the dance moves fitted the music. Epic!
I took this as a sign to produce little daily clips of the group. Imagine the fun we had seeing them later at night at our social media channels. Well, could be that I enjoyed the making off a bit more than everyone else enjoying the actual clip, but, in the end, that's what being self-employed is all about: loving your job!!
6 years of surftripping in Ireland
#I❤️Ireland was our 6th coldwater surftrip we had organized up to the D-place The reasons we keep returning year after year are quite simple:
Amazing waves
Stunning coastline
Beautiful people
Our homebase James palace
And definitely our local surfcoach Good Old Lee
Mix all this together with a group of super motivated cold water NOMB Surfers, and there you go: the #teamwigglinghuevos. Explaining the origin of this name would take some time but let me tell you, it wasn't short of giggles.
Mild weather and amazing waves
Going surfing in Ireland in November takes balls. You are facing mother nature at her purest. We were blessed this year with days of sunshine and mild climate. Sure, there was also a day with a 100km gail force wind but that's part of the Irish surfing experience.
Talking about waves, we took advantage of everything the ocean had to offer. Local surf legend Good Old Lee made sure that we were at the right spot at the right stime. We surfed everything from knee high glassy peelers to powerful low tide beach barrels. Everyone of the group said hello to hers/his personal limits, and even took a step across. So proud of you guys!!
Homebase with (a) spirit: James palace
The D-place is actually a very popular summer holiday destination for Irish, Northern Irish and British holiday makers. There are a lot of luxury holiday homes, but all closed shutters when we get there in November. But none of these houses compare to our homebase anyway, the one and only James palace.
It's a cranky typical Irish house with ocean view and passing by, you wouldn't pay it much attention. Until you meet it's owner, James. He lives in a little cottage right behind the house. James is what you envision a perfect Irish gentleman to be: very kind and welcoming, funny to bits, full of stories and with the biggest heart you can find up on the rugged Wild Atlantic Way. Every year he makes us feel like family staying in his house, rather than being a group renting it. We make sure to invite him over for dinner, and spoil him with little delicious treats. Just as we treat his cat, the world famous Adi.
Surftrip destination Ireland: come and see for yourself
I could keep writing for hours about the waves, about the coastline, about the moments, about what I love about Ireland and the surftrips up there. Leaving the D-place my heart is always filled with joy and love. All this, and especially the incredible waves up there, are hard to describe and put into words.
That's why: come and experience it for yourself!! Good Old Lee and his surfschool Narosa are open all year round. Check their social media channels for information about Narosa's iconic coaching weekends.
That's if you can't wait until we head up there again 😉 Due to pressuring demand, our next surftrip up to the D-place will be 14 days of pure Irish surfing experience!
There are 7 surfspaces available for this trip, with 6 places already gone. Better be quick and sign up for the last spot of 2 weeks of epic surfing, wiggling and laughing your heart out.
Words at the end
All the surftrips I run are unique and every single one holds a special place in my heart. I am grateful for the trust you NOMB Surfers, my kitchen crew and my local partners show me over and over again 💙
I am taking the time here to shout a big freezing thanks to my #teamwigglinghuevos: Chicken, Chegus, Flurina, Kim and Ray. You guys rocked it! A big freezing thanks to our host James, to yoga instructor and good vibes spreader Jude, to surfcoaches Good Old Lee and the Duncster for sharing their waves and looking after us. Can't wait to be up your end again, and do it all over again!!
Sea you in the ocean soon.
Angie