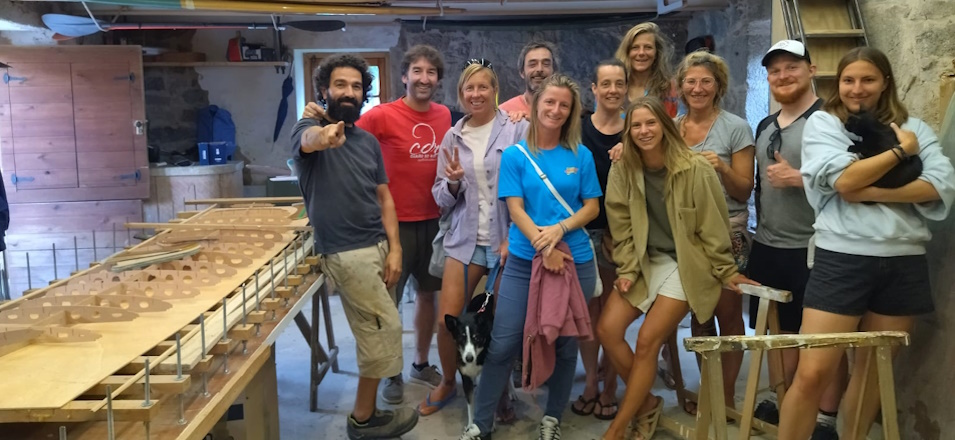 End of May this year we had the incredible opportunity to realize a surf coaching trip like no other. Nestled in the picturesque coastal region of West Galicia, we ran the #SurfingBrains surftrip, a unique surftrip combining expert surf coaching with neuro-centered training.
Over the course of 10 days, under the guidance of NOMB Surfcoach Angie and neuronuss trainer Chegus, we delved into the fascinating world of brain-focused techniques to enhance surfing skills. With the added delights of delicious meals prepared by camp chef Marie and the invaluable insights from local surfguide Ramon, this journey was a true immersion into the world of surf and neuroscience.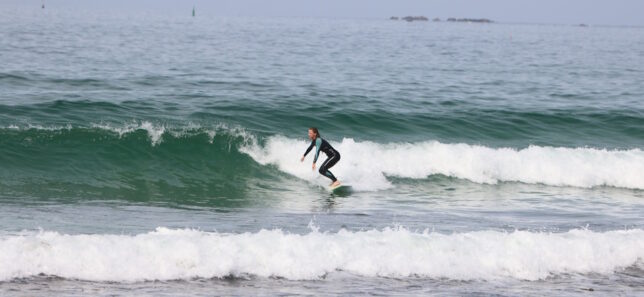 Is it safe?
Safety is of incredible importance in any sporting activity, especially one as dynamic as surfing. But for our brain, the question ´Is it safe?' is essential. If our brain decides that something isn't safe, it restricts our body from certain movements.
The carefully designed #SurfingBrainns program took a comprehensive approach to address this concern. Prior to hitting the waves, our participants treated their brains with specific activations and individual warm-ups. In addition they learned about reading and interpreting forecasts, connecting with the wave and identifying potential lines in the wave. NOMB Surfcoach Angie and local surfguide Ramon shared their expertise, teaching the team how to make informed decisions to ensure safety for their brains while maximizing the surfing experience.
The art of partyplanning (spot analysis)
With the guidance of our coaches, they developed a keen eye for recognizing wave formations, studying tidal patterns, and understanding the local geography to really understand why the waves were breaking the way they are. Here is the team partyplanning at an incredible surfspot up North.
Mastering spot analysis is crucial for surfers seeking the best waves. During the #SurfingBrains trip, our surfers learned the art of spot analysis, discovering how to identify the ideal wave conditions and entering the water with an already set plan. With their faithfull companion (our workbook) they partyplanned before every single surfsession, turning it into an importan routine. Here is the team partyplanning at a beautiful surfspot up North.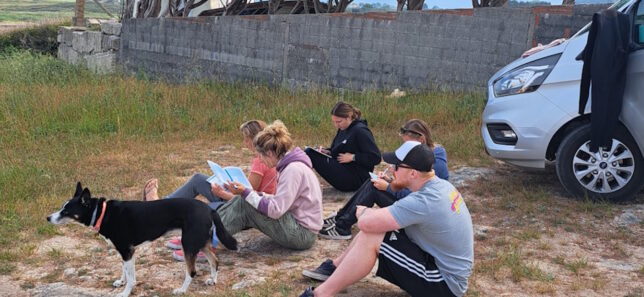 Exploring the brain's influence on surfing
Neuro-centered training formed the 2nd core of #SurfingBrains, and it opened up a whole new perspective on improving surfing skills. The team delved into the science behind the brain's role in sports performance, focusing on concepts such as input-output integration and hand-eye coordination. Through interactive sessions led by neuronuss.ch trainer Chegus, our surfers gained insights into how our brains process information and regulate our movements while surfing.
One key aspect was the individually designed warm-up routines that targeted specific neural pathways to enhance our physical preparedness. By understanding the brain's adaptability, our surfers optimized their individual warm-up exercises and improve overall performance in the water.
Connecting with waves through vision
Surfing is an art of connecting with the waves, and our vision plays a vital role in this interaction. We dedicated a significant portion of this trip to understanding how vision impacts our surfing abilities. We explored techniques to enhance visual focus, depth perception, and spatial awareness while riding the waves.
By honing our visual skills, we became more attuned to the subtleties of wave formations, identifying basic lines, and distinguishing different zones of the wave. This newfound visual acuity allowed us to navigate the waves with more precision and grace.
Busy surftrip life
It wasn't all serious training during our trip. Tons of giggles and fun moments marked every day. Important to mention were the UNO nights, finishing every day with even more giggles. We saw great clothing styles, air golf games and motor races.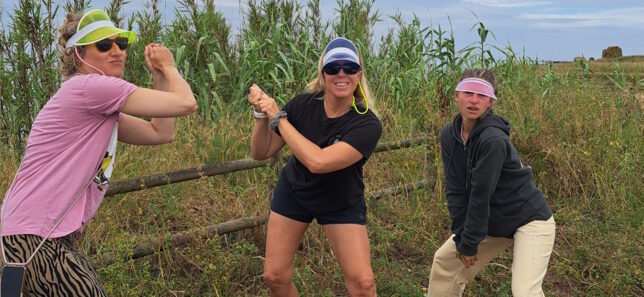 Highlights outside the ocean were definately the relaxing trip to a beautiful spa and the visit to the workshop of local shapers Oscar and Trigo from Camiño do Rio Surfboards. Shapers isn't actually the proper term for those to legends as their boards are made of wood. We felt very honoured that Oscar and Trigo shared their surfboard art and good vibes with the team. Gracias chicos!
An adventure into our brains
The #SurfingBrains trip in Galicia was an extraordinary adventure that merged the worlds of surfing and neurocentered training. We have all had aaahhhaa moments and got closer to understanding the complexity of our brains.
Big thanks goes out to NOMB Surfers Astrid, Marlen, Meike and Tina, trusting us to take their brains on a surfing journey. Big thanks also of course to Chegus from neuronuss.ch and Marie for spoiling us with delicious food. Check out our Facebook photo album for more pics about this incredible trip.
Stay tuned for news about a similiar trip planned in 2024. Sign up for our newsletter (below) to be the first one finding out.
Sea you in the water soon.
Angie & the NOMB Surfteam