… and a lot of waves!!! … and a lot of fun!! And so much more!!
Doro, one of our NOMB Surfers, summs up the Ireland Surftrip : epic waves, amazing group, it's been like a dream!
But let´ s sart at the beginning. The NOMB Surfteam met up in Dublin, Irelands crazy capitol city (and it really is crazy on Halloween Weekend) the night before the trip. It was a fun night but everyone was glad to leave early the next morning for the quiteness & calm of Irelands North-West Coast. Reaching James Palace (with direct view at Killer Point), our home for the next week, it was clear to everyone that we had arrived in our little surf  paradise.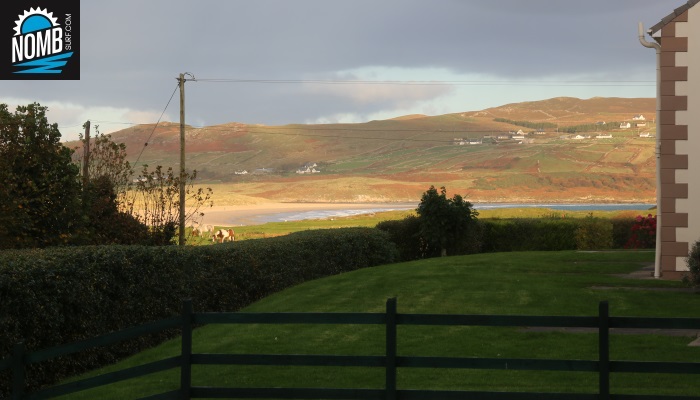 Taking advantage of the great conditions the NOMB Surfteam (Thomas, Kiki, Tobi, Susann, Doro, our chef Basti and surfcoach Angie ) straight away hooked up with Lee (aka. Good Old Lee or the Lee-gend) from Narosa Surfschool (highly recommended!!) who would be guiding us around this beautiful part of our planet. After everyone was kitted out with surfboards, 5.4mm wetsuits, gloves, beanies and other warm protection gear, our keen surfers hit the water. Every day Lee picked out the best spots & conditions for our Surfteam and took us to some crazy and hidden beaches. Surfcoach Angie coached in and out of the water while Lee made sure everyone was safe in the water and sitting at the right spot! Great teamwork!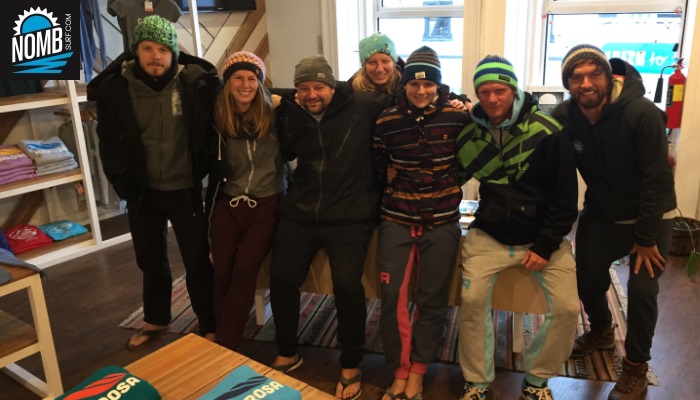 The weather conditions changed over the week, being in Ireland that had to be expected. And Ireland showed off with everything it has on offer: sunshine, wind, sunshine, rain, sunshine, rainbows, sunshine, double rainbows, sunshine, hail.. But nothing could stop the NOMB Surfers!! With smiles on their faces they braved everything that mother nature threw at them.. From perfect glassy & clean conditions, to windy & freezing cold windswell! Legends! Even though we surfed several different beaches, our homespot Marbel Hill was everyones favourite. You wonder why?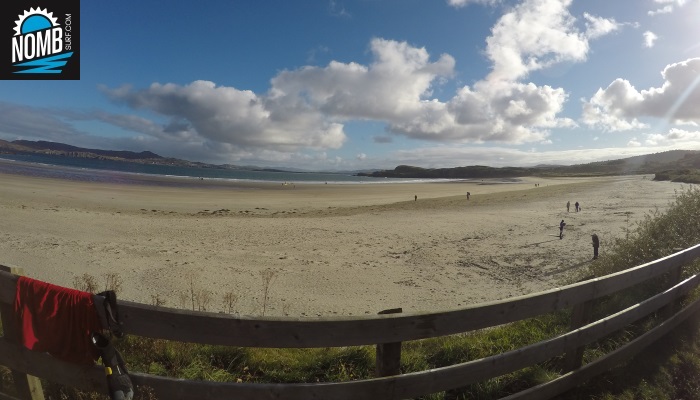 When the conditions turned a bit too gnarly to surf the team enjoyed a layday. Well deserved after the double surf session the day before. Yoga lessons with lovely Sam made sure that the team stayed streched & flexible. Sam also worked on the right breathing techniques, something important that´s often overlooked in surfing. With relaxed bodies the team set off to relax their minds and discover a bit of the breathtaking countryside surrounding us. Horns Head, one of County Donegals most rugged and untouched pieces of coastline offered some incredible views.
More days of surfing great breaks by ourselves! Tasty breakfasts & dinner prepared by chef Basti! Walks around National Parks! Castles! Live Irish Music, Guinness & Whiskey! Footbathes! 12-Links! Giggles in the morning! Laughters all day long! Surf theory! Video analysis! Surf! Surf! Surf! Shopping! A lot of tea!
Check out the NOMB Surf Facebook page for more photos of this surftrip and the amazing bunch of people that made this surftrip to Ireland so special!
Thanks NOMB Shredders, cu soon in the water!

Thanks a million: Lee & the team from Narosa Surfschool, the D-Place, the Rusty Oven Pizza and James
Palace for making this trip an unforgettable experience!! We will be back, for sure!