New year, new luck!! As usual Northwest Ireland welcomed the NOMB Surfteam with smashing waves (8m on 20sec) and it´s beautiful all-inclusive weather conditions.
All inclusive? That means you can have sunshine, rain, hail, howling winds, no wind at all, rainbows and about every cloud formation you can think of – within 2 minutes. For the 4th year in a row Ireland surprised with it´s natural beauty and cold but incredible surf conditions. Reason enough for our brave NOMB surfers Andy, Bianca, Chanti, Joel, Kristin and Svenja, head surfcoach Angie and local surfguide Good Old Lee to head out daily and search for waves.
Based in James Palace, the coolest crankiest house at the D-place, the team geared up every day and got ready to surf. Surfing in Ireland in November involves some serious preparation: a 5.4mm wetsuit, a neopren hat, neopren booties and gloves. Plus a flask filled with hot tea and ohh, don´t forget the hot water bottle, wrapped up in the surf poncho waiting for you to come out of the water. But no matter the time of the day or the weather outside, the stoke was always there and everyone was keen to surf. Or doesn´t NOMB Surfer Andy look stoked?? 😉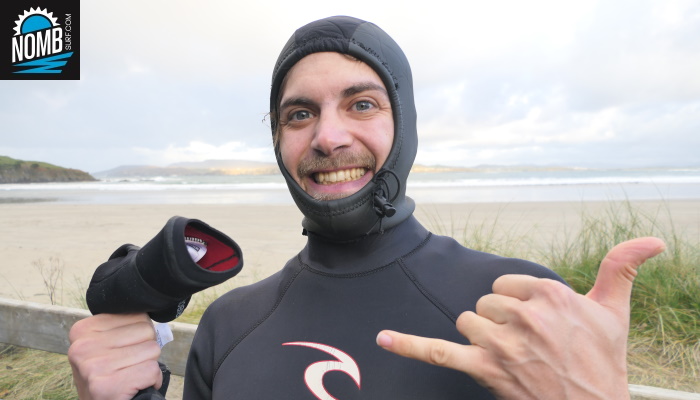 Ireland surprises with all sorts of weather and wave conditions. The rugged coastline makes it possible to find epic surf with pretty much all conditions. Local guide Lee from Narosa School of Surf made sure the surfteam always scored. Even though getting changed in pouring down hail turned out to be a challenge, the teamspirit was high and the occational warm-up dance wasn´t to be missed.
Surftheory and video analysis were a big part of this weeks surfcoaching. Head surfcoach Angie analysed the individual needs and made sure that everyone learned something new and had their questions answered. Through seeing themselves surfing the NOMB Surfers were able to correct small errors, resulting in a much higher wavecount, and some nice bombs once in a while 😉 And who wouldn´t want to sit in ´school´ in front of a fireplace snuggeled up on a sofa??
Due to the fact that campchef Basti couldn´t join the group this year the dinners were quite an experience, too. Local and traditional food turned out to always come in a maaassive portion. How about a pile of mashed potatoes, bacon, chicken, cheese and fried onions as a topping?? Loads of carbs and calories for the NOMB Surfers. Cold water surfing challenges not only our brains but also our bodies. Power breakfasts made sure the team started the day right and kept the bodies going all through the day.
7 days went by super quick, daily surfcoaching, a bit of exploring, chilling and generally just having a great time. Too soon the team was ending another incredible surftrip to Ireland with a delicious dinner in our favourite pizza place the Rusty Oven and some sneaky pints in the local pub. No trip to Ireland without the traditional pint of Guinness. Check out the recap of #IconicIreland.
Can´t wait for next year to come, the dates for  #IrishIdols are already set and the first surfspaces are booked. Be quick if you, too want to join us on our 5th year anniversary surftrip to one of the most magical (and overlooked) surfdestinations in Europe.
Have a great Xmas season and hopefully enjoy some good waves (its pumping here on Fuerteventura). 
Sea you in the water next year!
Angie & the NOMB Surfteam