Celebrating our 5th year anniversary of surf tripping around Galicia we ran not one but two 14 days surf trips. A whole month of surfing every day? Can you imagine? A dream came true for our NOMB Surfers.
Trip #1: our intensive surfcamp
We started off our Galicia surf season with our annual intensive surfcamp. NOMB Surfers Annette, Chicken, Fabus, Hendrik and Meike were ready to give it their all. Camp chef Miris, an expert in our kitchen as usual, was prepared to not only spoil us with her delicious food but also to seriously improve her surfing.
Two weeks were packed with daily surfcoaching and free surf sessions, loads of theory and practical exercises. Unfortunately, surf coach Angie suffered from a knee injury and had to be stitched up. To make things worse she picked up covid in the hospital, what a bad timing.
Not having to deal with any quarantine restrictions in Spain, Angie isolated herself from the group and changed her coaching format. This way the group benefitted from extensive video & photo analyses and worked in pairs on their specific tasks in the water. The surfing results were incredible, sometimes things do simply happen for a reason 😉 See for yourself!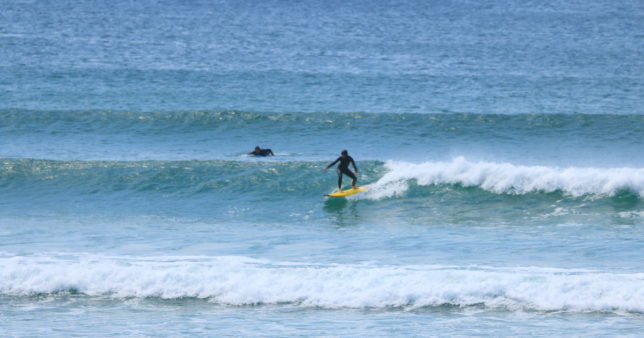 Learning how to surf, or improving your current surf level, does not only consist of training in the water. As the ocean is constantly moving and changing, we surfers spend a lot of time observing and trying to anticipate what´s going to happen next. Our NOMB Surfers were advised to daily observe the conditions and write them down in their surfing diary. They were instructed to discuss the waves within the group and independently find their waves in the ocean.
There was a lot going on outside the water during those two weeks. Together with coach Angie the surfers took a closer look at the pop-up techniques, they created muscle memories through surf skating, they learned basic lifesaving skills, had an introduction to mind coaching techniques and so much more. And just like that, our intensive surf camp in Galicia was over. We were really sad to see this epic group leave but were excited to welcome the next group of motivated NOMB Surfers. Hasta luego, intensive surfcamp team 💙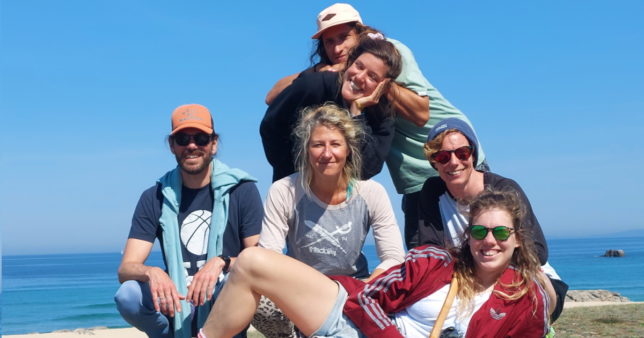 Trip #2: our AllYouCanSurf trip
After two weeks of sunny weather and glassy waves our second group was greeted with a low pressure system coming from the South, bringing rough weather and seas. But no problem for our surf team, motivation levels very sky high. The thought of surfing 14 days straight put a smile on everyone´s face, even in the rain.
NOMB Surfer Annette and former camp chef Miris just couldn´t get enough of Galicia and it´s waves, they stayed for our second camp as well. Annette had a surfboard shaped by local shaper Nico MX Surfboards, named it ´Ramonetta´ and was super keen to spend as much time as possible in the water. They were joined by Casper, Markus, Ava, Kim and camp chef Ray. What a team! Here are Annette and Ramonetta, shorebreak surfing with style.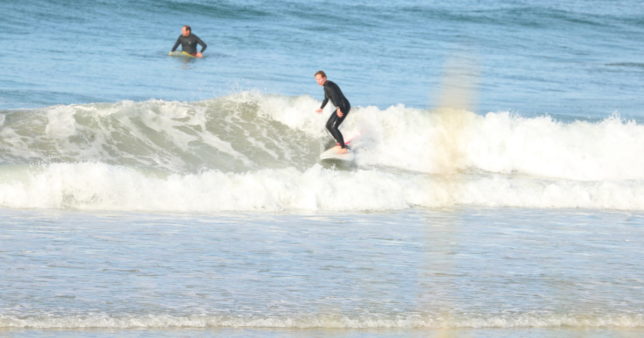 With the AllYouCanSurf trip we were trying out a new format. It basically consists of our usual surf trip format but without the coaching aspect. That means an organized and carefree trip with loads of freesurf. A challenge for surf coach Angie who is used to giving tips in and outside the water. Several times she caught herself falling back into her surf coach mode and had to stop herself. Old habits die hard 😉
Angie made sure that the team didn´t get bored when conditions got a bit smaller, and invented the first ever NOMBlymics. Our surfers competed in different categories: the longest wave, the best claim, the best barrel, the biggest effort etc. Check out the clip and cheer for our surfteam.
The group was incredible and shredded really hard. Sore arm showed just how much our surfers enjoyed the Galician waves. Power ladies Kim and Ava were hard to get out of the water. Casper and Markus were the ones patiently sitting out back and waiting for the bombs. Annette and Miris kept surfing in their fearless rhythm of the past two weeks and camp chef Ray took her ladies Coco and Orki out for surfs.
And just like that, another trip was nearly history. To finish things off we organized a little fancy dress surf. Everyone was supposed to bring something that they normally don´t take out surfing. Ohh, and it was supposed to be smaller than a hand. Schabernack levels were through the roof that day. See for yourself! Thanks for surfing with us on our first AllYouCanSurf trip, you guys rocked it 💙
One epic month in our favourite homebase with our favourite local guide, coach and amigo Ramon. Without him nothing of this would have been possible, what a legend!! Thanks so much for everything, Ramonskis!!
We left with the desire for more and are super thrilled to announce that we will be running #GarfioGallego next year. Two intensive surfcamps, same place, same fun. Spaces will book up pretty fast, make sure to secure yours asap.
Thanks for everyone who joined this years #GaliciaV, thanks for your support and good vibes.
NOMB Surf is what it is because of you! Sea you in the ocean soon!
Angie & the NOMB Surfteam