#LanzaroteLove
Surftrip to Lanzarote, Canary Islands
7 day surf holiday from 11th – 18th September, 2021
Trip details
Is it for me?
Surf & Explore
Surf, Sun & Rocks: The volcanic island in the middle of the atlantic
You want sunshine, waves and some laid back island time?
Join us on our 7 nights surf coaching trip to Lanzarote – a small island in the middle of the Atlantic Ocean.Think of all the swells that hit that little rock!
We will be based in a little town in the North of the volcano island close to the best spots to improve your surfing. In a mix of surf coaching and discovery of Lanzarote, this trip is the perfect surf holiday to improve your surfing, but also get to know a new placce.

Consistent waves for experienced beginners & intermediates
September is the end of summer and beginning of winter swells on the Canary Islands. In conclusion, the waves start rolling in more often with the first smaller winter swells hitting the island, resulting in friendly hip to shoulder high waves.

Canarian Summertime
28°C outside and 22°C inside of the water. Can't get any better than this in Europe in September, especially combined with quality waves!

A rough, extraordinary landscape
Imagine surfing with a view on a vertical cliff with clouds rolling down its surface and volcanos behind you. That's the all-in-one package you can expect of Lanzarote and this trip. A great mix of exploring and surfing.
Level: Experienced beginner – Intermediate
Minimum requirements:
Pop-Up in white wash, maybe even the first small green waves

Shifting the weight on the board, maybe even slight turning
accomodation in twin room
7 surfcoachings (depending on conditions)
transport from / to Arrecife
Trip Details
Here's what to expect
The Surfcoachings
The idea of our surfcoaching trips is to really improve your surfing. At the beginning of the trip, we set your individual goals which we will focus on for the week. One daily surfcoaching, backed up with ocean knowledge, surf theory and video analysis will make sure that we work on your skills through a variety of instruments to get the best out of it.
Even though we surf as a group of max. 6, surfcoach Angie will teach each of you individually. This includes assesssment of your surfing level, setting fixed goals, explaining drills and exercises, coaching in and outside of the water, demonstrating and explaining.

daily surfcoaching sessions (depending on conditions)


transport & safety intro to spots



your surfpics & videos to take away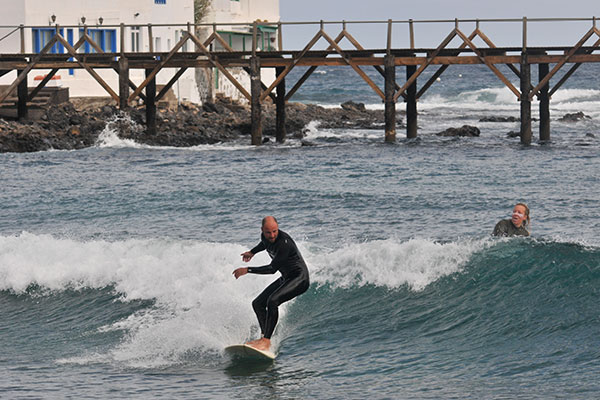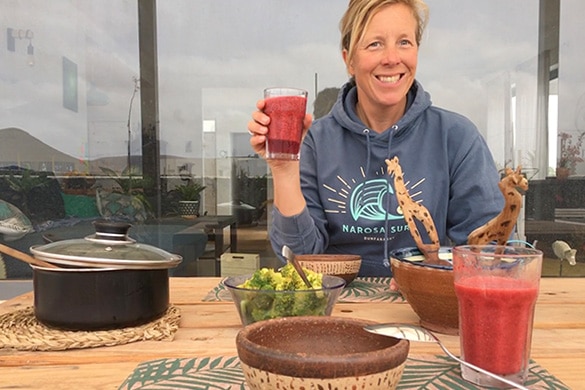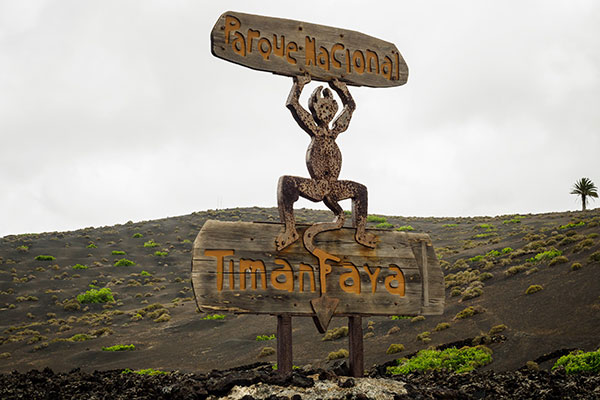 Accomodation & Day to Day
Imagine getting up in the morning and being treated to a healthy power-breakfast. You step outside the door to check the waves as your home is so close to the ocean. Your companions and surf coach follow up right behind you – ready to hit the waves!
Our house is located in the north of the island, close to the best surf spots for this trip. You'll stay in shared twin rooms with another (surf passionate) guest to share your best waves at the end of the day.
We will start every day with a nutritious power breakfast and finish it with a re-energizing dinner. In between we surf, coach, learn about the ocean, relax and explore.
As Lanzarote has some extraordinary places to visit like the Timanfaya National Park, typical architecture defined by Cesar Manrique and Miradores (view points) to watch beautiful sunsets, we can't wait to discover the island with you.

transportation from & to the airport

accomondation in a twin room

delicious breakfast & dinner


NOMB Surf goodies bag and little surprises

Facts & Summary
Does this trip suit me?
#LanzaroteLove will be run as a Surf-Holiday trip, a balanced mix of coaching and free time. In a 7 day timeframe, we will coach you individually within a group, so expect your surfing to improve immensely. We use direct & indirect coaching techniques, in and outside of the water.
With one surf session per day, you will have enough free time to relax and recharge your batteries. However, if the waves are epic, and our muscles allow, we might go for a sneaky free surf on some of the days if you're up for it!
This NOMB Surfcoaching trip is open to surflevel 2-4, so experienced beginners and up.
Mimimum requirements: 
Pop-Up in white wash, maybe even the first small green waves

Shifting the weight on the board, maybe even slight turning
Surfcoaching Time

50%

50%

Free Time

50%

50%

Minimum Surflevel

30%

30%
Lanzarote as a surf destination
Being the northernmost island of the Canaries, Lanzarote is the winner whenever a northern swell hits. That also means that the most consistent spots can be found in the north of the island, where we are located. Even though Lanzarote has some very advanced and big wave spots, the breaks between La Santa and Famara are friendly and perfect for improving your surf in green waves. Mostly reef breaks, the spots are great to learn as the waves break very predictable.
Wave season is in the European winter, so starting in September when #LanzaroteLove takes place. Being in the transition from summer to winter, the swells normally aren't as big as a classic winter swell, but already have a higher energy to allow for longer rides and hip to head high waves.
Being at the end of summer also means water temperatures are normally around 22 degrees. Ideal for a 3/2 mm wetsuit or even a shorty. 

Temperature
Water: around 22 degrees
Air: 20 – 28°C

Waves
Hip- to head high
Beach & Reef Breaks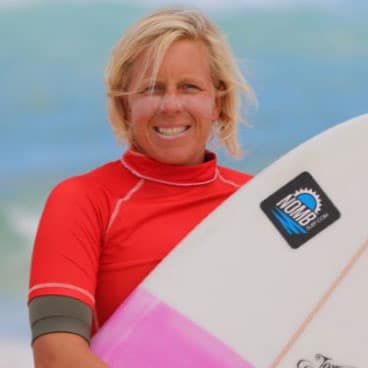 Angie
Your Surfcoach Angie is an ISA level II qualified surfcoach, a qualified lifesaver and has lots of years of coaching experience. Angie can coach in English, German and Spanish. Angie and NOMB Surf have their homebase on Fuerteventura but she loves setting off to run the NOMB Surfcoaching trips around the globe.
Miri
Miri is shaking up our surfteam with her rambling personality. Always a pleasure to have around, Miri will dive into the kitchen magic and follow her creative personality. Healthy, fun and powerfoods are guaranteed. Miri is a also a passionate photographer. Ohh, and she probably is Rainbows biggest fan, ever!
Melly
We are super stoked to have secured local surferchick Melly to take us around the breaks of her island. Melly has been living and surfing on Lanzarote nearly her whole life. A great personality, a big smile and a professional surfcoach attitude. Great to have you back in the NOMB Surfteam, amiga!
Make a reservation
Join us on our trip!
My reservation for #LanzaroteLove