#GaliciAddict
Surf Holiday in Galicia, Spain
7 days of intensive surfcoaching from 29.05. – 05.06.2021
Trip details
Is it for me?
Surf & more Surf
7 days packed with surfing and more surfing
Our second camp in Galicia in 2021 is a good mix of surfcoaching and free surf to enjoy a wave-focused vacation in the west of Spain! In this 7 days intensive surf camp, we will coach you each day individually to help you step up your game.
West Galicia has become our second home at the ocean over the past years. Located in a guest house close to the ocean, we will work on your skills one day at a time. From there we will either surf at one of the local spots or explore the west & north coast of Galicia and even Portugal to find the best waves for the day. With one coaching session per day and one free surf session your day will be filled with waves and time spend at the ocean.

We find the best spots for the day
With our base in West Galicia, we'll travel to spots on the West and North coast of Galicia, or even the North of Portugal which is only 90 minutes away. This is a guarantee for good conditions, as we cover the two main directions for swells in western Europe!

Surf & surf some more
Our GaliciAddict Trip is run as an Intensive  Surf Camp which means you will be coached each day and have a second free surf session to implement the learned information alone or in the group. On day trips, we will spend the whole day together to surf and explore the spots we visit!

What a beautiful country
The westcoast of Galicia is extraordinary. The coastline is rugged and known for its sheltered "rias" (bays) , the landscape is full of forests and mountains and the capital, Santiago de Compostela, is a centre of culture. Galicia delivers not only waves, but so many beautiful facets to enjoy.
Date: 29.05. - 05.06.2021
Meeting Point: Santiago de Compostela
Level: Experienced beginner – Intermediate
Minimum requirements:
Pop-Up in white wash, maybe even the first small green waves

Shifting the weight on the board, maybe even slight turning
accomodation in twin room
7 surf coachings (depending on conditions)
7 free surf sessions (depending on conditions)
transport from / to Santiago de Compostela
Trip Details
Here's what to expect
The Surfcoachings
The idea of our surfcoaching trips is to really improve your surfing. At the beginning of the trip, we set your individual goals which we will focus on for the week. One daily surfcoaching, backed up with ocean knowledge, surf theory and video analysis will make sure that we work on your skills through a variety of instruments to get the best out of it.
Even though we surf as a group of max. 6, surf coach Angie will teach each of you individually. This includes assessment of your surfing level, setting fixed goals, explaining drills and exercises, coaching in and outside of the water, demonstrating and explaining. In the water, we will also be joined by Josh and Ramon, two surf coaches from Galicia. Meaning you will get feedback from 3 different professional angles which will help you improve in various areas. 

daily surfcoaching & freesurf sessions (depending on conditions)


transport & safety intro to spots



your surfpics & videos to take away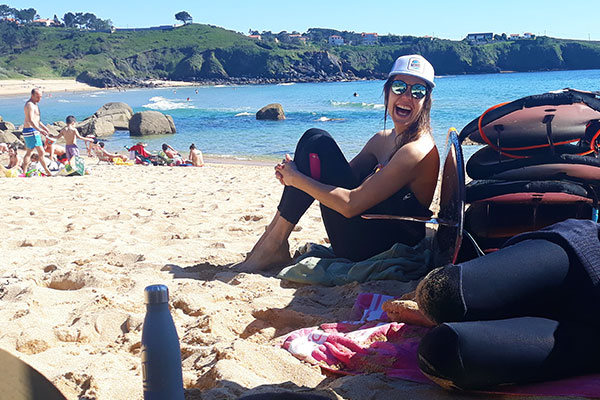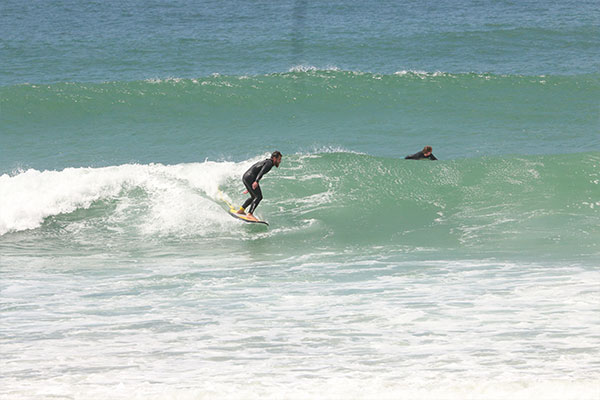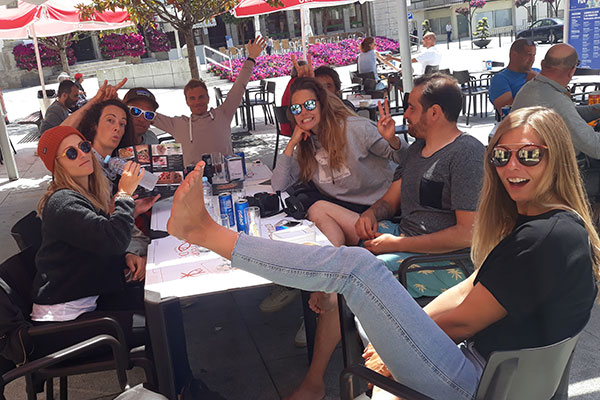 The Accomodation & Day to Day
From the moment the trip starts, we organise everything for you.
On day 1, will meet in Santiago de Compostela. We recommend arriving a day early to explore the city – the end of the way of St. James for all pilgrims. There, we will pick you up and bring you to our home in a beach town in West Galicia. You'll stay in shared twin rooms. If this is not for you, you can also book a single room for an additional fee.
On each day, you will wake you up to a nutritious power breakfast and then either start with a surf coaching or a surf theory lesson. If we stay at one of our local home breaks, you can cook yourself some lunch at home. If we go somewhere else, we'll take a nice break in one of the local restaurants which serve very affordable and delicious lunch plates. After that, it's guided free surf time. You can spend the rest of the day in the water to take another surf to really implement what you've learned or just relax on the beach if you need a break. We finish the day with a re-energizing dinner served by our cook Julez, some nice sunset views from the garden and a match of table football.

transportation from & to Santiago de Compostela

accomodation in a twin room

delicious breakfast & dinner

NOMB Surf goodies bag and little surprises
Is this trip for me?
#GaliciAddict will be run as a 7-day intensiv surf camp. In a 7 day timeframe, we will coach you individually within a group, so expect your surfing to improve immensely. We use direct & indirect coaching techniques, in and outside of the water.
With two surfsession per day, the focus is on improving your surfing . However, if your muscles or soul need a break, take some time off and relax – you know your body best and no one will force you to go into the water (we are no drill surf instructors).
This NOMB Surfcoaching trip is open to surflevel 2-4, so experienced beginners and up.
Mimimum requirements: 
Pop-Up in white wash, maybe even the first small green waves

Shifting the weight on the board, maybe even slight turning
Surfcoaching Time

50%

50%

Free Surf Time

50%

50%

Minimum Surflevel

20%

20%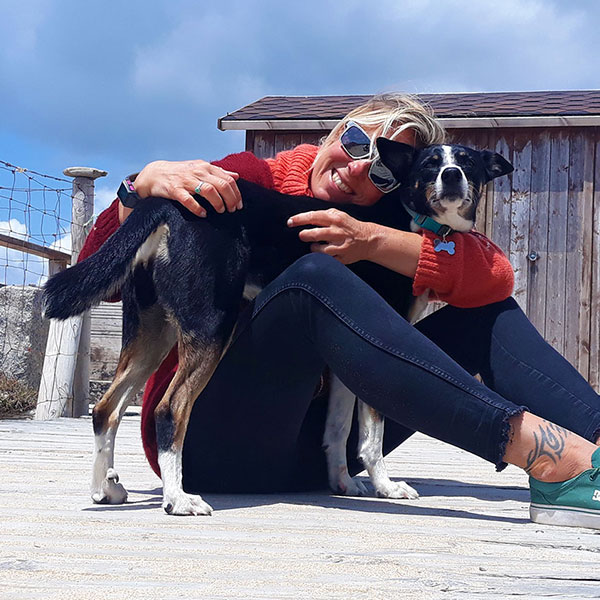 Angie
Angie is an ISA level II qualified surfcoach, a qualified lifesaver and has lots of years of coaching experience. Angie can coach in English, German and Spanish and will be your main coach in this trip. She'll also bring her companion Rainbow, our NOMB Surf Dog!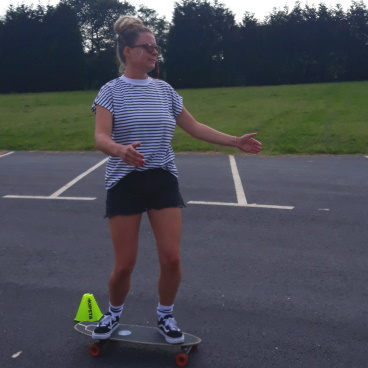 Ray
Your chef on this trip is Ray from Bonn. In real life, Ray is a bad ass journalist and podcast presenter. After work however she is a cook & bake enthusiast. Ray will treat us to glamorous breakfasts and dinner, and also lift the group spirit in and outside the water, with just being her glitzy self.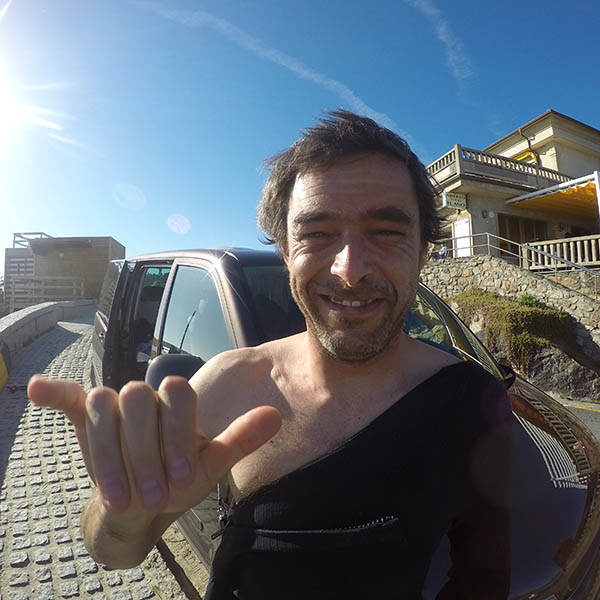 Ramon
Ramon is one of the owners of the Ocean Squad Surf Academy, certified surf coach and also owner of our cosy home in Galicia. He'll guide you to great spots, coach you together with Angie and Josh, and beat you in a crazy game of table football!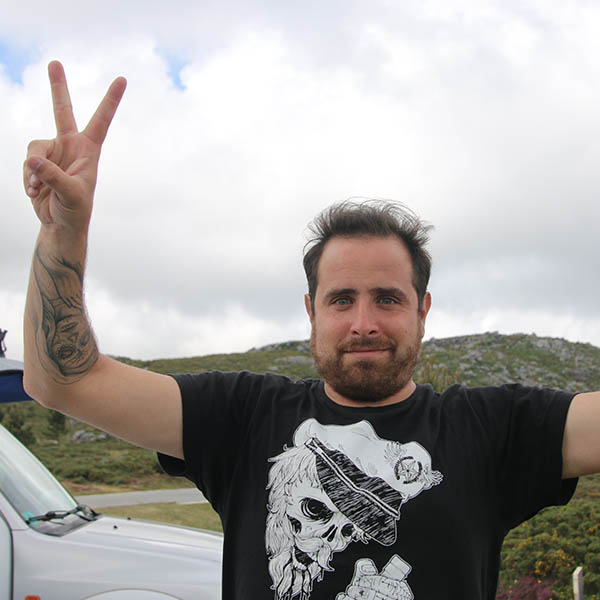 Josh
Josh is the other half of the Ocean Squad Surf Academy. He'll be surfing with us on a lot of days and help you with great feedback in the water. Also, he will probably involve you in some of his pranks – you have been warned 🙂
Make a reservation
Join us on our trip!
My reservation for #GaliciAddict: