10 full days of surfing and fitness
Professional surfcoaching and neuro athletic training in a small group.
Challenge yourself on this exciting 10 days Surf & Fitness camp. #FuerteFloater takes you and 5 other surfers to the beautiful desert island of Fuerteventura, right in the middle of the Atlantic. Based in the North of the island we will have all three coasts (North, West and East) and all its fantastic waves in short reach. Stay with us in a beautiful house and train outside, in our homebase or even on the beach. This trip will push your surfing to new limits with a mix of intensive surfcoachings and neuro athletic trainings. 

Fuerteventura is a surfer's paradise
The Canary Islands are the european winter destination to go surfing. It gets hit by consistent winter atlantic swells, but without bringing the cold temperatures with air and water being around 18°. Also: With 3 coasts in different directions, we always find the most epic wave for the day!

5 days of surfcoaching + 5 days of neuro-athletic training
= Big steps forward in your surf performance!
We will intensely work on improving your surfing through 5 days of surfcoaching and 5 days of neuro-athletic training. On each day, you'll also always have the option to go for another free surf session in case your muscles and stamina allow – so you can get in the water every day of the camp!

Brain and body fit for better surfing
Neuro-athletic training helps you to achieve your full potential by using brain-based neurological assessments combined with biomechanical models of training. Take this knowledge and confidence into the water and your surfing will go through the roof.
Date: 23.01. - 02.02.2021
Meeting Point: Fuerteventura
Level: All Levels Welcome
accomodation in twin room
5 surfcoachings (depending on conditions)
5 neuro athletic sessions
transport from / to airport
Trip Details
Here's what to expect
The Surfcoachings
The 10 days trip will be split into 5 surfing days and 5 training days. Of course, you can always go for an additional freesurf session when you're up for it. As Fuerteventura is our homebase, we will choose the ideal spot for each day and the groups level. We will also recommend you spots when you want to go on your own. The surfcoachings will mostly take place in the north of the island at the different lava reef spots Fuerteventura is known for.
How does the Surfcoachings work? At first, we set your individual goals  for the week. Your surfcoachings are backed up with ocean knowledge, surf theory and video analysis to make sure that we work on your skills through a variety of instruments to get the best out of it.
Even though we surf as a group of max. 6, surfcoach Angie will teach each of you individually. This includes assesssment of your surfing level, setting fixed goals, explaining drills and exercises, coaching in and outside of the water, demonstrating and explaining.

5 surfcoaching sessions (depending on conditions)


transport & safety intro to spots



your surfpics & videos to take away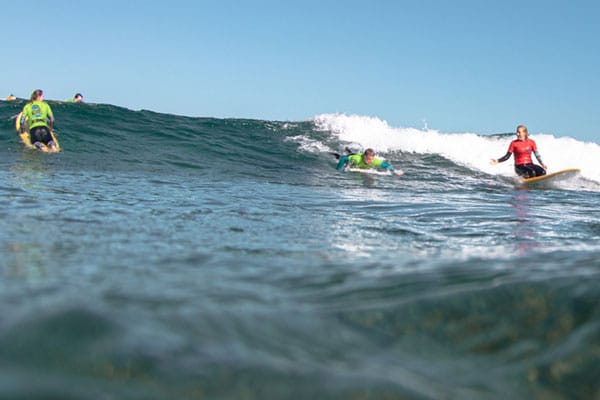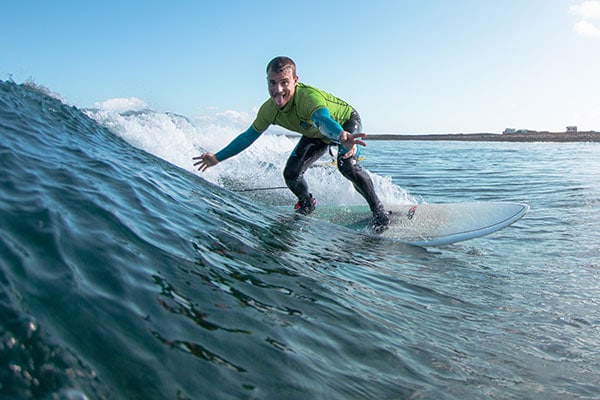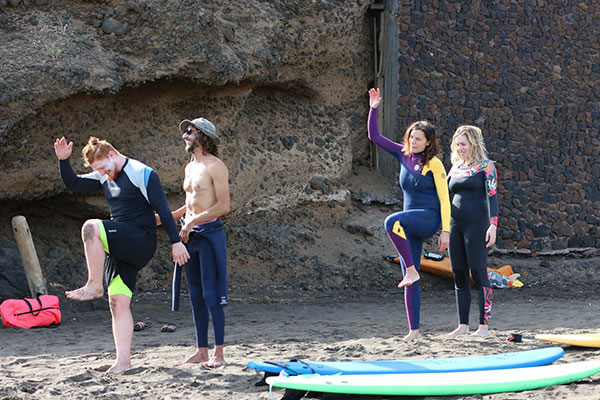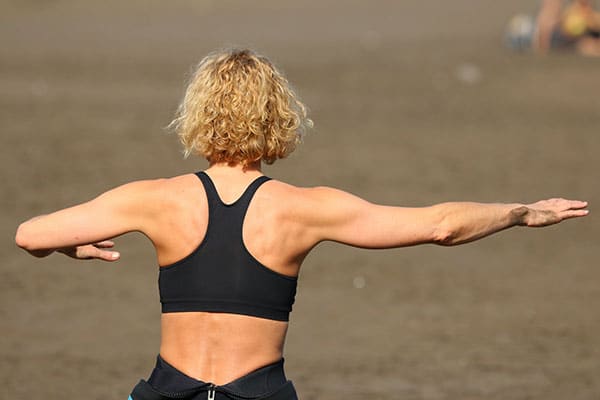 The Fitness program
Different from our other camps, #FuerteFloater is not only about surfing. We believe that to be able to perform in the water your body needs to be trained and mentally & physically fit. 
For this very reason, professional health & motion coach Christian "Chregu" Sidler will join us. As qualified Z-health coach, he will train you to perform to your maximum using a neurology-based training system.
On 5 training days, we will focus on a combination of neuroscience and movement control to work on your physical health. Chregu's training will connect your body and brain which will allow you to perform at a higher level. It will also train your endurance and your mobility – two important factors to surf better.
As a further possibility, we offer yoga sessions for everyone interested. If you want to add a flow or stretching session to your days, we can arrange that throughout the camp weeks. 

5 days neuro athletic training



possibility of Yoga sessions
Accomodation & Day to Day
We will pick you up from the airport and bring you to your home for the week. Our homebase is a villa in the north of the island, from here we explore the volcanic island's beaches and surfbreaks. You'll stay in shared twin rooms. If this is not for you, you can also book a single room for an additional fee.
Our days start with a healthy power breakfast prepared by our campchef. They will also teach you about the different types of ingredients they use and happily share their recipes. Depending on the local surf conditions we will go surfing after breakfast or start with neuro-athletic training, choosing what is best for your surf improvement.
We will have a break for lunch where you can prepare yourself something you like or head to one of the local restaurants. After lunch we continue with an afternoon session. This can be more surfing / training or theory sessions. We will finish off this action filled day with a delicious dinner prepared by our chef and then relax for the rest of the day (or fall into our beds totally exhausted).

transportation from & to the airport

accomodation in a twin room

delicious breakfast & dinner

NOMB Surf goodies bag and little surprises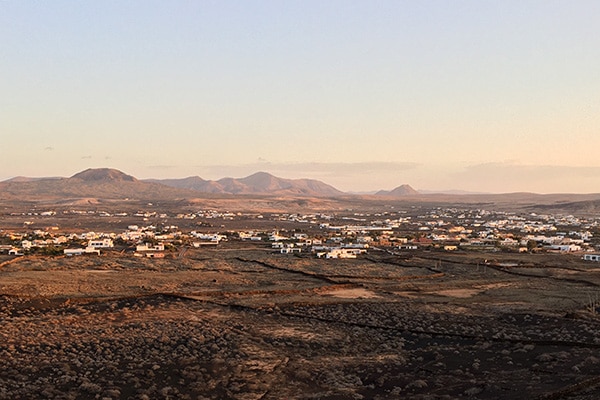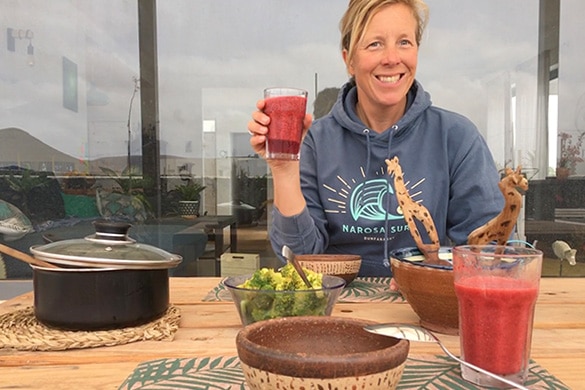 Is this trip for me?
#FuerteFloater will be run as a Surf & Fitness Camp. This trip is designed for surfers who really want to improve their surfing and challenge their bodies. Trying a new type of training you will be confronted with your limits and most likely have to reset them.
Even though it's all about improving your surfing, you might not get into the water on every day as we split it up between surfcoaching and training sessions. However, if the waves are epic, and our muscles allow, we might go for a sneaky freesurf on some of the days if you're up for it!
This NOMB Surfcoaching trip is open to surflevel 1-4, so beginners and up.
Surfcoaching Time

50%

50%

Fitness Training Time

50%

50%

Minimum Surflevel

0%

0%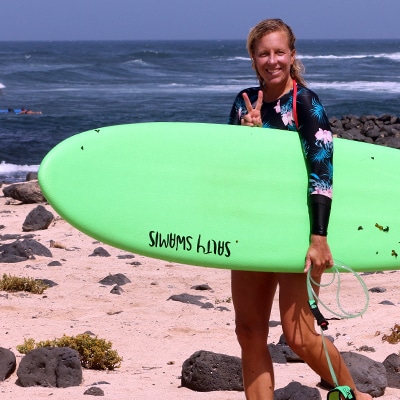 Angie
Your Surfcoach Angie is an ISA level II qualified surfcoach, a qualified lifesaver and has lots of years of coaching experience. Angie can coach in English, German and Spanish.
Angie and NOMB Surf have their homebase on Fuerteventura, so on this trip her expertise will guide you to the best spots.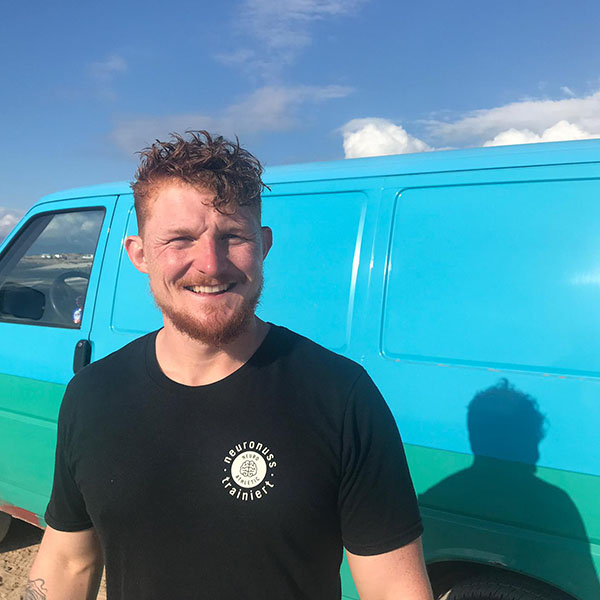 Christian "Chregu"
Responsible to mobilize your body is Health & Motion Coach Chregu from Switzerland. With a passion for brain function his job is to get the maximum out of your body, to help you improve your surf skills.
Be prepared to be confronted with funny movie quotes and jokes when you're not training – Chregu loves a good laugh!
Our Chef
We will take care of your well-being. Right now, we don't know yet who will be our chef during this trip, but we can assure you that they will definitely bring great cooking skills and a loveable personality!
Make a reservation
Join us on our trip!
My reservation for #FuerteFloater: