´The ocean provides the natural stage for surfing performance where your mind coordinates body and equipment to achieve speed, grace and harmony with the moving energy and power of the waves.
The ocean is a dynamic force of mother nature that draws you in time and again for a thrashing, a lesson and some of the most intense, exhilarating rides of your life´ (Richard Bennett – surf psychologist)
So surfing is all about being in the ocean you think? Well, times change and with the first ever WSL championship stop at Kelly Slater´s Surf Ranch next weekend the artificial wave topic is on fire. There are waves in inland California, in a crazy waterpark in Texas, in rivers all over Europe and even on lakes (!).
Riversurfing is a sport for it´s own. The Eisbach in Munich, Germany, for example has a vibrant and established surf community of riversurfers. To name only one of Germany´s many river surfspots. Rumors are that a riverwave is being planned in Switzerland as well. A treat for the landlocked Swiss surfers. NOMB Surf´s campchef (and professional physiotherapist) Julez is a motivated riversurfer in Munich and always has great stories to tell. Like the one where she installed flashlights on the bridge across the river, in the middle of the night, in winter, with 2 degrees outside temperature. How is that for dedication?? Check out Julez ripping the river..
Surfing on a lake isn´t new either. The Great Lakes, sandwiched between the USA and Canada, produce decent swells and a thriving lakesurf community can be found up there. Check out our recent surfblog about the waves on the great lakes.
What´s new is that there is an artificial wave in a lake. Earlier this year the world´s first man-made lake wave opened it´s doors in Langenfeld, Germany. Our NOMB Surfteam was curious and headcoach Angie and NOMB Surfer Kiki spend a really fun day surfing. They even brought their little fan club, NOMB Surfer Jan was cheering from the outside and taking pics and videos.
This is Angie on her first ever try on a standing wave.. A little bit shaky still..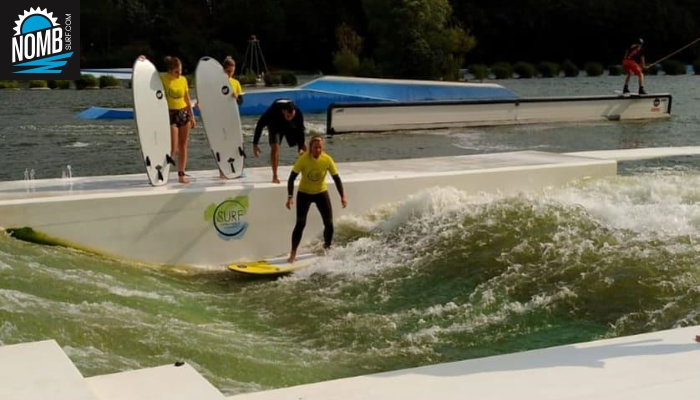 ´It´s crazy, the dynamic of the wave is totally different. The water is flowing into the other direction and instead of going up and down the face of the wave you first have to learn to sort of slide sideways along the moving water´ said Angie after her first session.
The first few waves of the ladies were a bit bumpy, trying to adjust to the wave. But really quickly it clicked and our NOMB ladies were traveling along the wave. Kiki and Angie were so confident that they directly booked themselves onto the following session: the big wave session! They simply pump more water through the same system, creating a steeper wave with more face. Using a smaller board and having more face proved to be a lot easier. And both surfergirls were flying along the wave, doing turns and having a hell of a time. Thanks to the great staff at Surf Langenfeld for the intro and the good vibes.
Surfing in any kind of wave is fun, doesn´t matter if you are surfing an ocean wave, a man-made wave or one made by mother nature outside the ocean. This weekend at Kelly´s Surf Ranch in California we will see some extraordinary technical surfing, in a wave that´s totally predictable.
And that´s exactly the difference. Ocean waves can never be predicted. Surfing in the ocean means fine tuning your body and mind to all the constant changes around you. In the ocean we as surfers are really little, surrendered to the power of mother nature, thankful for every wave produced. Some say this is the essence of surfing, others say it´s all about surfing as a sport. It´s a never ending discussion and we believe that there is no right or wrong. Everyone surfs for their own desire and reasons.
Still, however fun it was to surf in a lake, we here at NOMB Surf prefer surfing ocean waves, and that´s where you can find us 😉
Sea you in the ocean soon,
Your NOMB Surfteam