Surf and fitness? Is it really related or just another hype?? We say: for sure it is.
Unless you train some sort of sport minimum 4 times a week you have probably experienced the lack of paddling power and endurance on your surftrip; especially during the first few days. And have you not wished you had prepared better?? Some laps in the pool, some pop-ups in front of the TV, some kms of running after work. Why haven´t you joined the surffitness group in your city that´s training every week and posting fun pics on Instagram?
The thing is, you already know how important it is to prepare for your surftrip but it´s just too hard to incorporate a fitness routine into your every day lifestyle. We are here to change this! Let us introduce to you our newest surftrip category: a SURF & FITNESS CAMP! Professional surfcoaching and intensive fitness & yoga training, combined in one trip!
So how is a surf & fitness camp going to change your everyday routine? By changing your mindset and showing you how much your body is capeable off, if you only let him. Once you have realized that fitness can be fun and efficient, you will see how easily your body responses to any type of challenge. Don´t worry, we are not going to make you run for hours but we will make you listen to your body and understand it. Seriously you think? Yes! All our surf & fitness camps will be joined by a professional fitness coach, each one with his / her different style. Yoga sessions are also included in this type of NOMB Surftrip, to give your body and mind the rest and peace it deserves.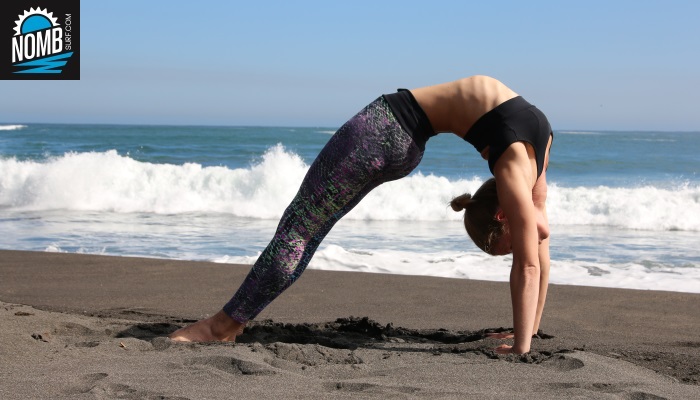 Some facts about our first ever Surf & Fitness Camp #GranCanariaGrinder
(Jan 2020)
On #GranCanariaGrinder, our 7 days trip to the Canary Island of Gran Canaria, we will be joined by professional health & motion coach Christian ´Greghu´ Sidler. Greghu is an expert in neuro based fitness training. Never heard of it before? Here is what Greghu has to say about it:[blockquote text="The main target is to enjoy the movement, with the movement comes concentration, with concentration the skills, followed by a smile which gives you satisfaction to keep going until your performance reaches the next level." show_quote_icon="yes"][vc_column_text]Neuro sports performance is an approach to unlock the full human potencial by using brain-based neurological assessments combined with biomechanical models of training. After you have been assed and trained by Greghu you will be surprised how much your body is able to achieve. Not only in every day life but especially in surfing.
Daily individual surfcoaching during the trip will make sure that you take your surfing to the next level. We train as a group but the surfcoaching is highly personalized, tailormade for everyones skill level.
[/vc_column_text] [vc_row row_type="row" use_row_as_full_screen_section="no" type="full_width" angled_section="no" text_align="center" background_image_as_pattern="without_pattern" css_animation=""]
Any questions about our surf & fitness camp?
[vc_empty_space][vc_empty_space]