A hollistic approach to surfcoaching
Challenge your brain and tackle your surfing issues
#SurfingBrains is an innovative 10 days trip to the Northwest of Spain during which you will discover the hidden potentials of your body and your brain and use them to improve your surfing.
Extending surf coaching with neuro-centered training is a new concept – one that makes total sense.
Surfing is, on the one hand, all about connecting with the ocean.
On the other hand however it is about executing a chain of movements at the right time and the right point of the wave.
What if you find the right point at the right time, and then struggle with a certain movement? That's where our carefully designed training program will start. 
Based on your personal needs we will work out an ideal sensory surf-warm-up for you, so you face the waves in your best possible mental and physical condition. Then we will coach you inside of the spot to enhance your wave count and work on your skills.
Our home base is located in a small seaside village on the west coast of Galicia, in the Northwest of Spain. Our home break is in walking distance and from here we also set off to discover more corners of Galicias beautiful coastline. 
Are you up for challenging your brain and body with this new, hollistic and exciting approach to improve your surfing?

A specifically designed trainings program
NOMB Surf and neuronuss have teamed up and designed a tailormade training programm for #SurfingBrains. The first 5 days will contain daily surfcoaching in the water and a neuronuss session on land. The second part of the trip will be filled with two surfing sessions per day. The idea behind this structure is to understand your movement patterns and learn how to change them in a safe (on land) environment. Once you are confident, we then transfer the aquired skills into the waves.

Individual NOMB Surf coaching within a group
At the beginning of the trip surfcoach Angie will identify the individual surfing skills and goals. Being in a group environment doesn`t mean getting lost. Quite the opposite. You will have a clear undestanding of your surflevel, your goals, your areas to work on and specific daily tasks for the time in the water.
Angie and our local surfguide Ramon will be in the water with you, giving you direct input and feedback.

Neuro athletic coaching gets your brain fired up
Understanding how your body and brain work is fundamental if you are aiming at changing movement patterns and/or habits. Lead by neuronuss coach Christian you will learn to understand why some things are just so hard for you to change or achieve.
You will be able to identify and understand your specific surfing issues and get shown how to tackle them.
Meeting Point: Santiago de Compostela (Spain)
Plätze: 6 (Mindestanzahl: 4)
Surflevel: experienced beginner to intermediate.
Mindestanforderungen: Unser Ziel ist es, grüne Wellen zu surfen, daher solltest du bereits ein bisschen Erfahrung mitbringen und in der Lage sein, raus ins Line-Up zu paddeln und dort entspannt auf deinem Board zu sitzen.
Fitnesslevel: generally fit and living a healthy lifestyle.
Mindestanforderungen: as we will be working on developing your individual skills, any fitness levels are welcome.
10 Nächte im Doppelzimmer
delicious & nutricious breakfast and dinner
10 days NOMB Surf surfcoaching
10 days neuronuss neuro athletic training
specifically designed trainings programm
Transport zu / von den Surfspots
Sicherheits-Einführung zu den Spots
all surf & training equipment
all your surf/training pics & videos
transport to/from meeting point
Alle Details zum Trip
Das erwartet dich
#SurfingBrains Training Program
Let the name of the trip speak for itself: these 10 days are all about surfing – and your brain.
To break it down: Surfing, as any movement, is a result of the information your body/brain receives. While you can't influence the weather and ocean, you are very well able to prepare your brain and therefore your body for being in the water.
You might not know this yet, but when entering any situation, your brain is evaluating the question "Is it safe what I'm doing?".
To answer this, it gathers information (explained in a simplified way) from:

your visual systems (eyes)

your balance system (straighten up against gravety)

your body perception (joint positions, muscle stretches)

breathing (energy availability, tension or relaxation)
Inaccurate or deficient information from the above systems make it difficult for your control center to answer this question. The result is usually a protective reaction. This can occur in the form of loss of strength, immobility, pain and more. Ever wondered why one of your legs is stronger than the other? Or why the turn on one side is better than on the other? This is why.
Your quality of movement depends heavily on the accuracy of the information from your brain. With our neuro-centered surf training program we improve this information and therefore your surfing.
Neuronuss Neuro Athletic Training
Guided by Christian Sidler, expert in neurocentered training & rehabilitation (neuronuss.trainiert), you will discover your potential out- and inside the water.
Together we will develop an individual program to synchronize your body and brain for the surf sessions. Thus we create the best possible conditions for you to take the next step in your performance.
The neuro athletic coaching sessions will come with small theory parts. You will learn useful tricks and tips that you can apply in everyday life. We will get to the bottom of some training myths and you will learn why some things work or don't work for you. The focus however is on the practical part, where you can feel the changes in your body and movements immediately.

daily practical exercises & training for breathing, balance, and body awareness

individual surf preparation program

short and crisp inputs about the brain and how learning works

tips and tricks to take home

the possibility to look at sports & everyday life from a new perspective
NOMB Surf Surfcoaching
Out of your head and into your body. We're also working on your surf skills with daily surf coachings.
You'll go surfing with Angie Ringleb, an ISA Level II surfcoach and local surfcoach Ramon Alvarez. Together they guarantee you a safe and professional coaching experience.
For each participant, we will create an individual surfing plan at the beginning of the trip. This includes an assessment of your surfing level, defining blockades, and setting reachable goals.
Jedes Surf-Coaching beinhaltet eine Session im Wasser und wird zudem unterstützt durch Übungen, Demonstrationen sowie Erklärungen, Wellen- und Meereskunde, Surf- Theorie sowie Foto– / Video-Analyse. to make sure that we work on your skills through a variety of instruments.
When we paddle out, we will go surfing as a group while still focusing on you as an individual. Included in the trip are:

daily surfcoaching sessions

all surf equipment (if needed)

Transport & Sicherheits-Einführung zu den Spots

surf theory & visual analyis sessions

Deine Surffotos & Videos als Erinnerung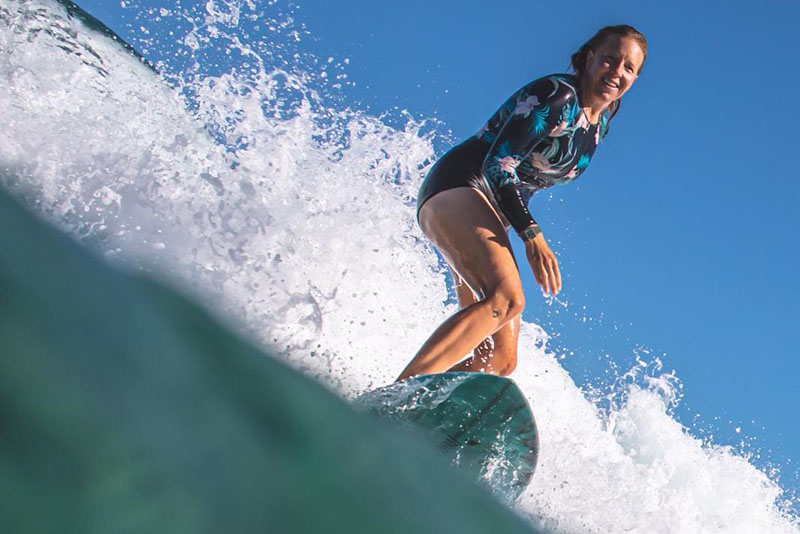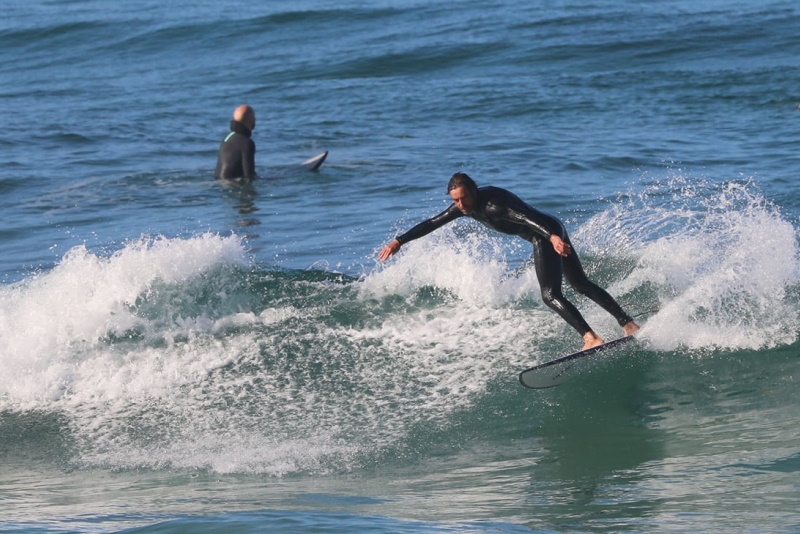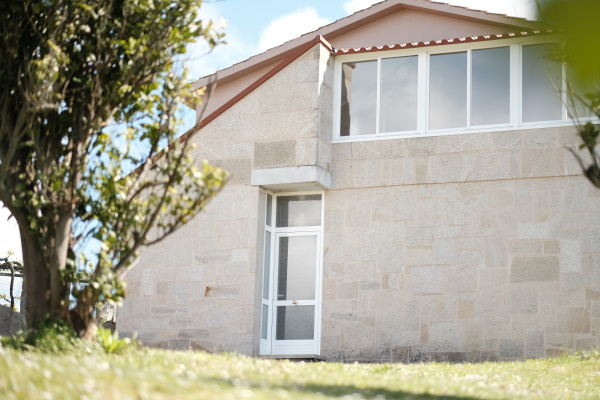 Unterkunft & Verpflegung
We will meet in Santiago de Compostela on Saturday morning (04th of June, 2023). Please arrive at least a day early. This also gives you some time to explore this magical city. Here we will pick you up and bring you to our homebase, in a small village on the Westcoast of Galicia.
The house is a classical Galician stone house, with a garden and perfect sunset view. Our homebase has five rooms, two kitchens and two bathrooms spread over two floors, enough space in case you want some me time. In the living room, the winter garden, on the sun terrace and our garden, there are plenty of options to sit down in good company and play a round of table football.
You will stay in shared twin rooms. If this is not for you, you can also book a single room for an additional fee (please request).
Every day, our private chef treats you to a nutritious power breakfast and a delicious re-energizing dinner. Yum! Your food will be mostly vegan but with options for meat/fish.

transport from & to Santiago de Compostela

accommodation in twin room

Köstliches Frühstück & Abendessen
Waves in Galicia
The waves in Galicia can be described by one single word: epic!! No joke, we are truley in love with the variaty of Galicia`s waves.
Endless beachbreaks with several peaks offer a little bit of everything: gentle longboard waves, perfect intermediate waves, more challenging & bigger waves, barrels and slabs.
Every day we will choose the best conditions for you and your surfskill level. Surfing in Galicia means having to go wave hunting. Loving it. If there are no waves on the beach in front of our homebase, we will travel up to the next ria, or even drive down to the North of Portugal. The options are endless.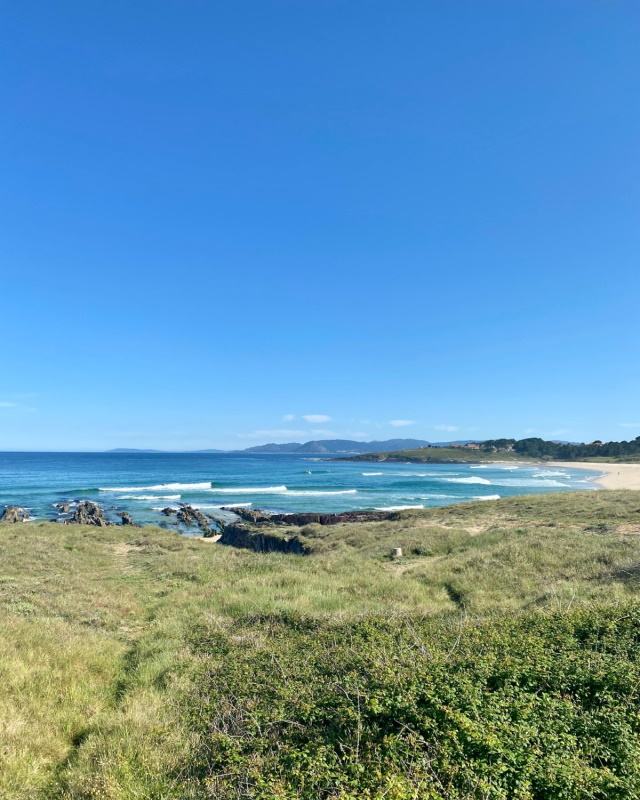 Ist dieser Trip für mich geeignet?
#SurfingBrains is designed for surfers who want to experience a new and innovative form of surfcoaching and are excited about tackling their performance issues.
We will be focusing on breaking down and understanding your automated movement patterns on the surfboard. Both the surfcoaching and the neuro athletic training will be in the actual waves but also outside on dry land. Don't expect much free time 😉
During the first 5 days we will develop individual foundations and understanding of your movements which we then implement directly into the water during the second half of the trip. 
Der Retreat erfordert ein Surflevel von mindestens 2-4 , also für erfahrene Anfänger und Fortgeschrittene.
Surfcoaching Zeit

50%

50%

Neuro Athletic Training Time

50%

50%

Minimum Surf & Fitness Level

25%

25%

Zeit zur freien Verfügung

10%

10%
Nachhaltig Surfreisen
Wir tun nichts lieber, als um die Welt zu reisen und Wellen zu suchen. Allerdings sind wir uns auch über die Probleme bewusst, die Surfreisen mit sich bringen. Daher gibt es für uns nur eine Art zu agieren: wir folgen dem Konzept der nachhaltigen Tourismusentwicklung. Wir streben nach ökonomischer, sozio-kultureller und ökologischer Nachhaltigkeit, bei all unseren Surftrips.
Wie kannst du dir das vorstellen? Es bedeutet, dass wir mit Absicht die Zusammenarbeit mit einer lokalen Surfschule und Partnern suchen,um einen ökonomischen Nutzen in der uns beherbergenden lokalen Community zu lassen. Es bedeutet, dass wir offen sind für sozio-kulturellen Austäusche und durch Offenheit, Respekt und Teilnahme an lokalen Events, unser Surfteam achtsam integrieren. Es bedeutet, dass wir jeden Ort in einem besseren Zustand verlassen, als wir ihn vorgefunden haben.
Falls du herausfinden möchtest, was wir noch alles tun um unseren Surfreisen Fussabdruck positiv zu halten, melde dich gerne. Wir würden uns freuen, dich inspirieren zu können.
Surf Coach Angie Ringleb
Vor vielen Jahren beschloss ich, mein Leben so zu gestalten, wie es mir gefällt – abseits von gesellschaftlichen Normen oder Zwängen. Meine Reisen brachten mich in viele verschiedene Ecken dieses Planeten, und ich konnte mir nicht vorstellen, mich irgendwo niederzulassen. Bis ich über eine karge Insel im Atlantik stolperte: Fuerteventura. Der perfekte Ort für mich, um eine kleine, von Frauen geführte Surfschule zu eröffnen und meine Liebe für den Surfsport und das Meer mit anderen zu teilen. Von dieser Homebase aus ziehe ich nun immer wieder los, um neue Wellen und Orte zu entdecken.
With my licensed surfschool NOMB Surf I follow a different coaching style: I focus on individual surf coaching, fully adapting to my studends goals, needs and challenges. During my 10 years of coaching experience I have developed a highly successful coaching method, combining direct coaching in the water, visual analysis and personalized theory knowledge.
On my trips I coach every student individually in a group environment. Sounds impossible? Let me proof it to you on this incredible power surftrip. Sea you soon in Galicia 💙
Neuro Athletic Coach Christian Sidler
Why does a training method work for some and not at all for others? This question has fascinated me since I started in the healthcare industry. It quickly became clear to me that pure fitness training is too one-sided to develop one´s full potential. Through various athletic courses I came across neuro-centered training.
At neuronuss we have been working for the past 5 years with a holistic and neuro-centric way of thinking. We believe that we are all athletes in some way, and everything we do is some form of skill.
Let me help you dive into the fascinating world of your brain and teach you how it affects movement. Our control centers are as different as we are. Through individualized training but also easily digestible bits of knowledge, you will rediscover your potential. I am looking forward to help you to discover your hidden abilities and amazing AHA moments. Let`s take your surfing and movement skills to the next level. 
Hast du noch Fragen?
Schicke uns eine Nachricht und wir antworten dir so schnell wie möglich!