Surf & more Surf
7 days packed with surfing and more surfing
Our second camp in Galicia in 2021 is a good mix of surfcoaching and free surf to enjoy a wave-focused vacation in the west of Spain! In this 7 days intensive surf camp, we will coach you each day individually to help you step up your game.
West Galicia has become our second home at the ocean over the past years. Located in a guest house close to the ocean, we will work on your skills one day at a time. From there we will either surf at one of the local spots or explore the west & north coast of Galicia and even Portugal to find the best waves for the day. With one coaching session per day and one free surf session your day will be filled with waves and time spend at the ocean.

We find the best spots for the day
With our base in West Galicia, we'll travel to spots on the West and North coast of Galicia, or even the North of Portugal which is only 90 minutes away. Das ist fast schon eine Garantie für beste Surfbedingungen, denn wir decken damit die beiden Hauptrichtungen des Swells in Westeuropa ab.

Surf & surf some more
Our GaliciAddict Trip is run as an Intensive  Surf Camp which means you will be coached each day and have a second free surf session to implement the learned information alone or in the group. On day trips, we will spend the whole day together to surf and explore the spots we visit!

Eine wunderschöne Region
Die Westküste Galiziens ist außergewöhnlich. Die Küste ist zerklüftet und für ihre geschützten "Rias" (Buchten) bekannt, die Landschaft ist voller Wälder und Berge und die Hauptstadt Santiago de Compostela ist ein Zentrum der Kultur. Galizien bietet nicht nur fantastische Wellen, sondern ebenso zahlreiche weitere Highlights.
Date: 29.05. - 05.06.2021
Treffpunkt: Santiago de Compostela
Level:Erfahrene Anfänger – Fortgeschrittene
Mindestanforderungen:
Pop-Up im Weißwasser, vielleicht sogar schon die ersten kleinen grünen Wellen

Verlagerung des Gewichts auf dem Brett, idealerweise schon leichtes Drehen
Unterbringung in einem Zweibettzimmer
7 surf coachings (depending on conditions)
7 free surf sessions (depending on conditions)
Transport nach/von Santiago de Compostela
Alle Details zum Trip
Das erwartet dich
Die Surf-Coachings
Die Idee unserer Surfcoaching-Reisen ist es, dein Surfen wirklich zu verbessern. Zu Beginn des Trips legen wir deine individuellen Ziele which we will focus on for the week. One Ein tägliches Surfcoaching, kombiniert mit Wellen- und Surf-Theorie, sowie Foto- und  Video-Analyse, bringen dein Surfen mit Hilfe verschiedenster Instrumente auf ein besseres Level.
Even though we surf as a group of max. 6, surf coach Angie will jeden einzeln unterrichten.. This includes assessment of your surfing level, setting fixed goals, explaining drills and exercises, coaching in and outside of the water, demonstrating and explaining. In the water, we will also be joined by Josh and Ramon, two surf coaches from Galicia. Meaning you will get feedback from 3 different professional angles which will help you improve in various areas. 

daily surfcoaching & freesurf sessions (depending on conditions)

Surfausrüstung, falls erforderlich

Transport & Sicherheits-Einführung zu den Spots



Deine Surffotos & Videos als Erinnerung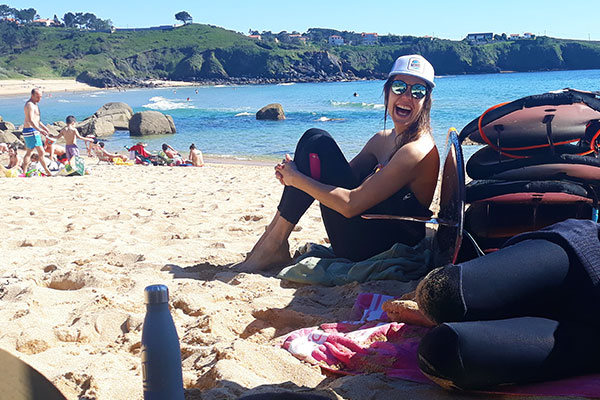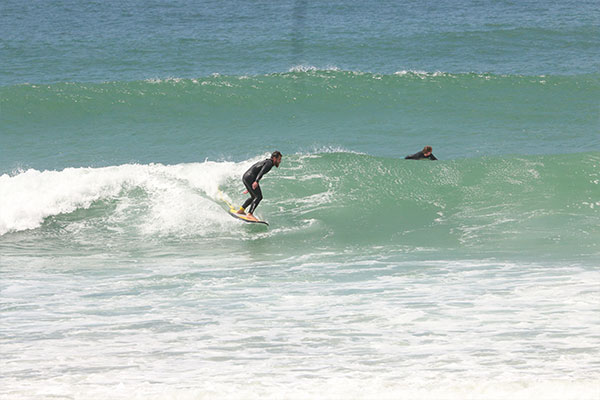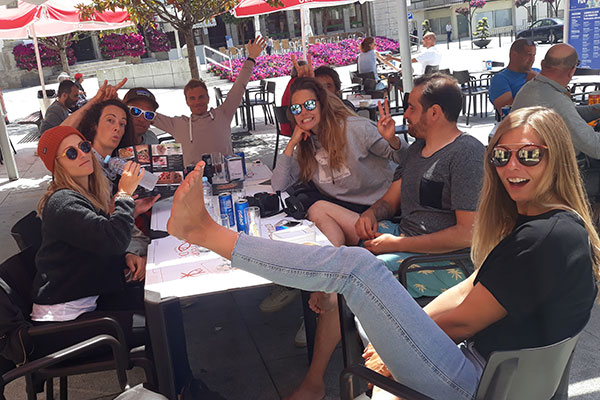 The Accomodation & Day to Day
Wir organisieren alles für dich – vom ersten Moment an.
On day 1, will meet in Santiago de Compostela. We recommend arriving a day early to explore the city – the end of the way of St. James for all pilgrims. There, we will pick you up and bring you to our home in a beach town in West Galicia. You'll stay in shared twin rooms. If this is not for you, you can also book a single room for an additional fee.
On each day, you will wake you up to a nutritious power breakfast and then either start with a surf coaching or a surf theory lesson. If we stay at one of our local home breaks, you can cook yourself some lunch at home. If we go somewhere else, we'll take a nice break in one of the local restaurants which serve very affordable and delicious lunch plates. After that, it's guided free surf time. You can spend the rest of the day in the water to take another surf to really implement what you've learned or just relax on the beach if you need a break. We finish the day with a re-energizing dinner served by our cook Julez, some nice sunset views from the garden and a match of table football.

Transport von & nach Santiago de Compostela

Unterbringung in einem Zweibettzimmer

Köstliches Frühstück & Abendessen

NOMB Surf Goodies-Tasche und kleine Überraschungen
Ist dieser Trip für mich geeignet?
#GaliciAddict will be run as a 7-day intensiv surf camp. In a 7 day timeframe, we will coach you individually within a group, so expect your surfing to improve immensely. We use direct & indirect coaching techniques, in and outside of the water.
With two surfsession per day, the focus is on improving your surfing . However, if your muscles or soul need a break, take some time off and relax – you know your body best and no one will force you to go into the water (we are no drill surf instructors).
Diese NOMB Surfcoaching-Reise ist geeignet für Surflevel von mindestens 2-4,also für erfahrene Anfänger und Fortgeschrittene.
Mindestanforderungen: 
Pop-Up im Weißwasser, vielleicht sogar schon die ersten kleinen grünen Wellen

Verlagerung des Gewichts auf dem Brett, idealerweise schon leichtes Drehen
Surfcoaching Zeit

50%

50%

Free Surf Time

50%

50%

Minimum Surflevel

20%

20%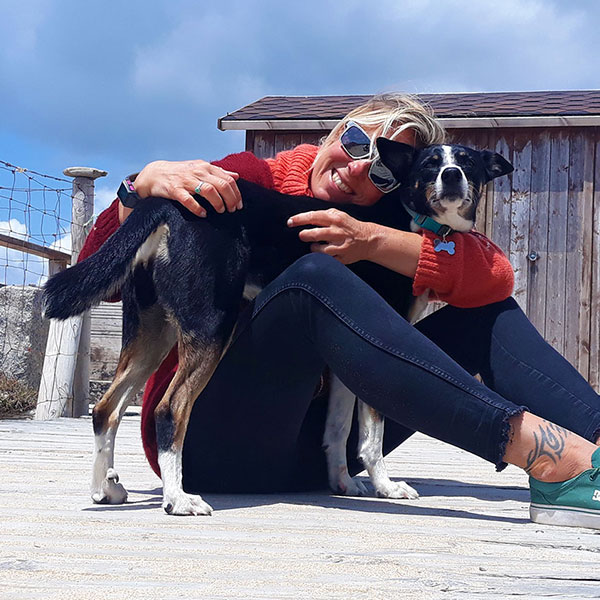 Angie
Angie ist Surfcoach mit ISA-Level II-Qualifikation sowie eine zertifizierte Rettungsschwimmerin und verfügt über viele Jahre Coaching-Erfahrung. Angie kann auf Englisch, Deutsch und Spanisch coachen und wird bei dieser Surf-Reise dein Headcoach sein. Sie bringt zudem ihren treuen Begleiter Rainbow mit, unseren NOMB-Surf-Hund!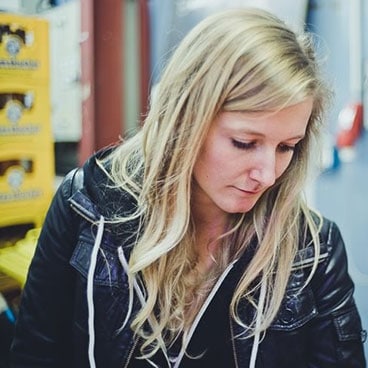 Jules
Your Chef on this trip is Jules from Munich. She's actually a physiotherapist, but is also very gifted in cooking. She'll help the whole crew stay strong for long sessions and fun days and hopefully join in on some of our surfs to share some epic waves.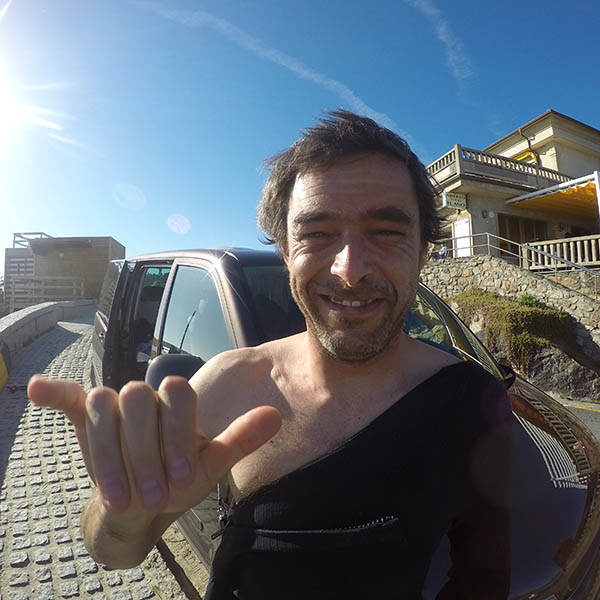 Ramon
Ramon ist einer der beiden Besitzer der Ocean Squad Surf Academy, zertifizierter Surflehrer und auch Eigentümer unseres gemütlichen Hauses in Galizien. Er wird dich zu großartigen Spots führen, dich zusammen mit Angie und Josh coachen und dich bestimmt mal bei einem Tischfußballspiel schlagen!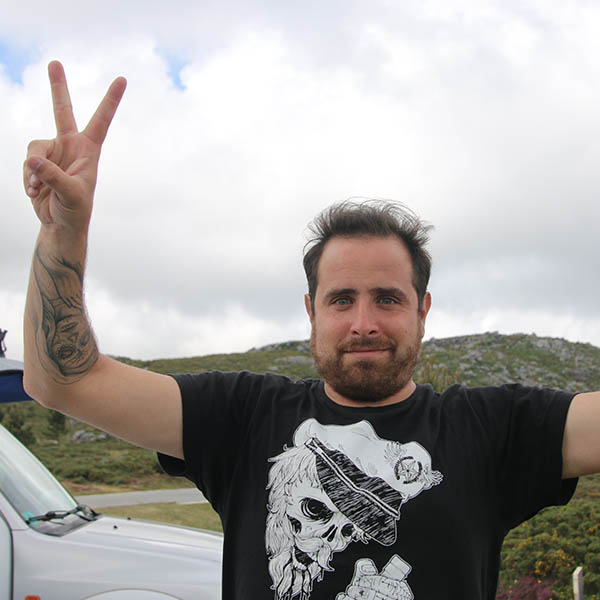 Josh
Josh ist die andere Hälfte der Ocean Squad Surf Academy. Er wird an vielen Tagen mit uns surfen und dir mit seinem Feedback im Wasser helfen. Außerdem ist er immer für einen lustigen Streich zu haben – Schabernack ist sein zweiter Vorname. ;-) ´
Buche jetzt deinen Platz
Join us on our trip!
My reservation for #GaliciAddict: