Does that work? And how does it work?
And are there actual surfers out there lakesurfing? Might there even be a lakesurf-community?? Loads of questions pop into the head thinking about surfing on a lake. The answer is yes,yes and yes! Innovative surfers have been shredding lake waves for more than 60 years by now.
Thinking about it, it makes sense. Waves are created through friction of the wind on the water surface. All you need for a decent enough ground swell is enough distance from the center of the storm to the shore. So what if the lake is so big that if it blows at one end clean waves pop out the other end?
Guess what, it works!!! Welcome to the Great Lakes!! Sandwiched in between the USA and Canada the Great Lakes consists of 5 interconnected freshwater lakes: Lake Superior, Lake Michigan, Lake Huron, Lake Erie and Lake Ontario. Look at the shear size of those lakes. Impressive, no?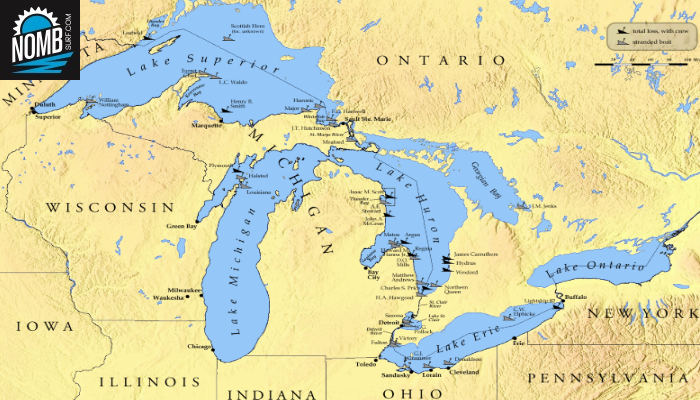 So now we know there are waves. But are there surfers out there surfing them?? You will be surprised to find out that there is a vibrant community of lakesurfers.
There are surfshops in prime locations  along the shores of the lakes offering surfing lessons, rental equipment, clothes and (most important!) swell information. Third Coast Surfshop in St. Joseph for example is a cool shop on the towns mainroad. The staff are super happy to provide travelling surfers with their local knowledge and even take their time to explain you the swell forecast model found on their website. Legends!
The Great Lakes surfing community even has their own surfmag. It´s called Great Lakes Surfer´s Journal!! You will never imagine the waves you find inside. Check them out on Facebook or Instagram and get your own copy of this great surfmag. Totally loving their Facebook profile pic.
Would you have guessed that a lake can produce waves like this??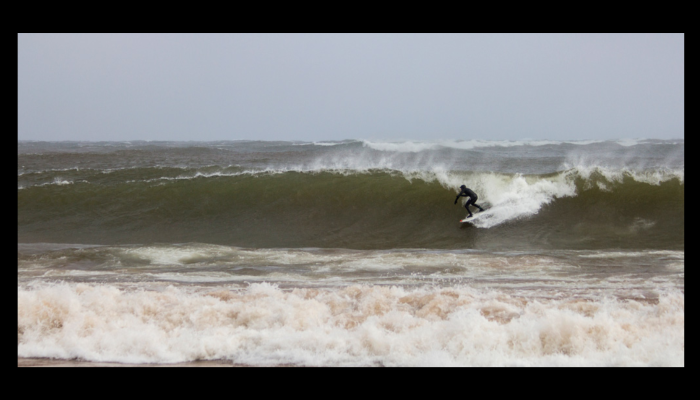 (pic: Great Lakes Surfers Journal)
So who are those girls and guys who brave freezing cold water and sometimes hailing winds to catch some waves?? Meet Lake Surfistas for example. A group of active female lake surfers. Their slogan is ´Embracing the Sisterhood of Great Lake Surfers. From 32F to 32C since 2006´. Judging from their Instagram account they really go out and shred. You go ladies!! Check them out on Instagram and follow their surf adventures.
It´s amazing to see how girls are really pushing the sport of  surfing these days. From Big Wave Surfing (just look at the recent Puerto Escondido Challenge) to freezing Lake Surfing!! Here you see the Lake Surfistas ladies frothing on an epic lakesurf day!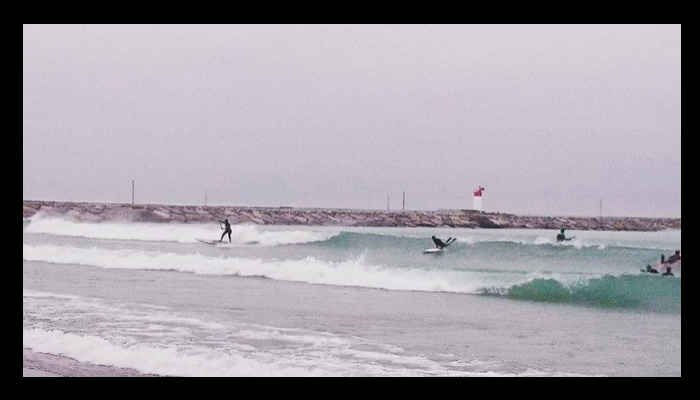 (pic: Lake Surfistas)
So when is the best time to go? Get your thick wetsuits, booties and gloves ready, it´s definitely the winter months that are pumping most. Makes sense, more storms, more waves. There are some smaller swells even in summer, great for those who want to learn surfing. But the real action is in the winter.
Summer on the Great Lakes might look like this. That´s NOMB Surf´s headcoach Angie ´wave hunting´ on Lake Michigan yesterday. No luck this time but she will be back, that´s for sure!!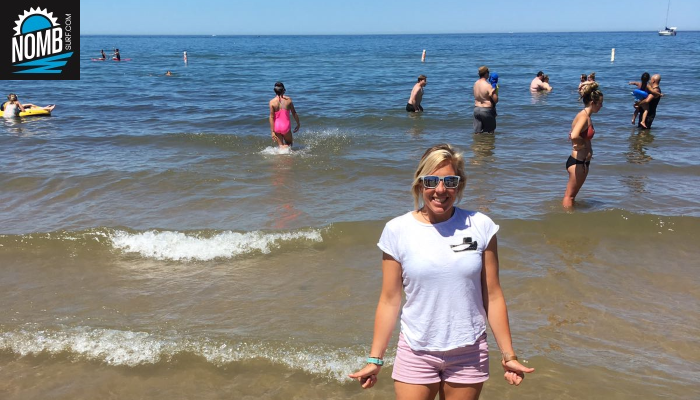 And you never know, there might even be a NOMB Surfcoaching Trip to the Great Lakes on the horizon. Because that´s what we do best: take you to off the beaten track surfing destinations and boost your surflevel through the roof!!
Sign up for our Surfnewsletter to stay up to date with what´s happening at NOMB Surf. Wishing you all great waves, especially you, the Great Lakes Surf Community!
Sea you in the water soon!
Your NOMB Surfteam