NOMB Surf Team
Our Family all around the globe
NOMB Surf Team
Meet the Family
While NOMB Surf itself are Angie and Rainbow, we are a whole family around the globe. On our trips, we always bring an additional crew taking care of your well-being through food, hospitality, fitness, yoga – you name it. We also always collaborate with local surf schools, on our evergreen trips it's the same ones every year that we love and trust.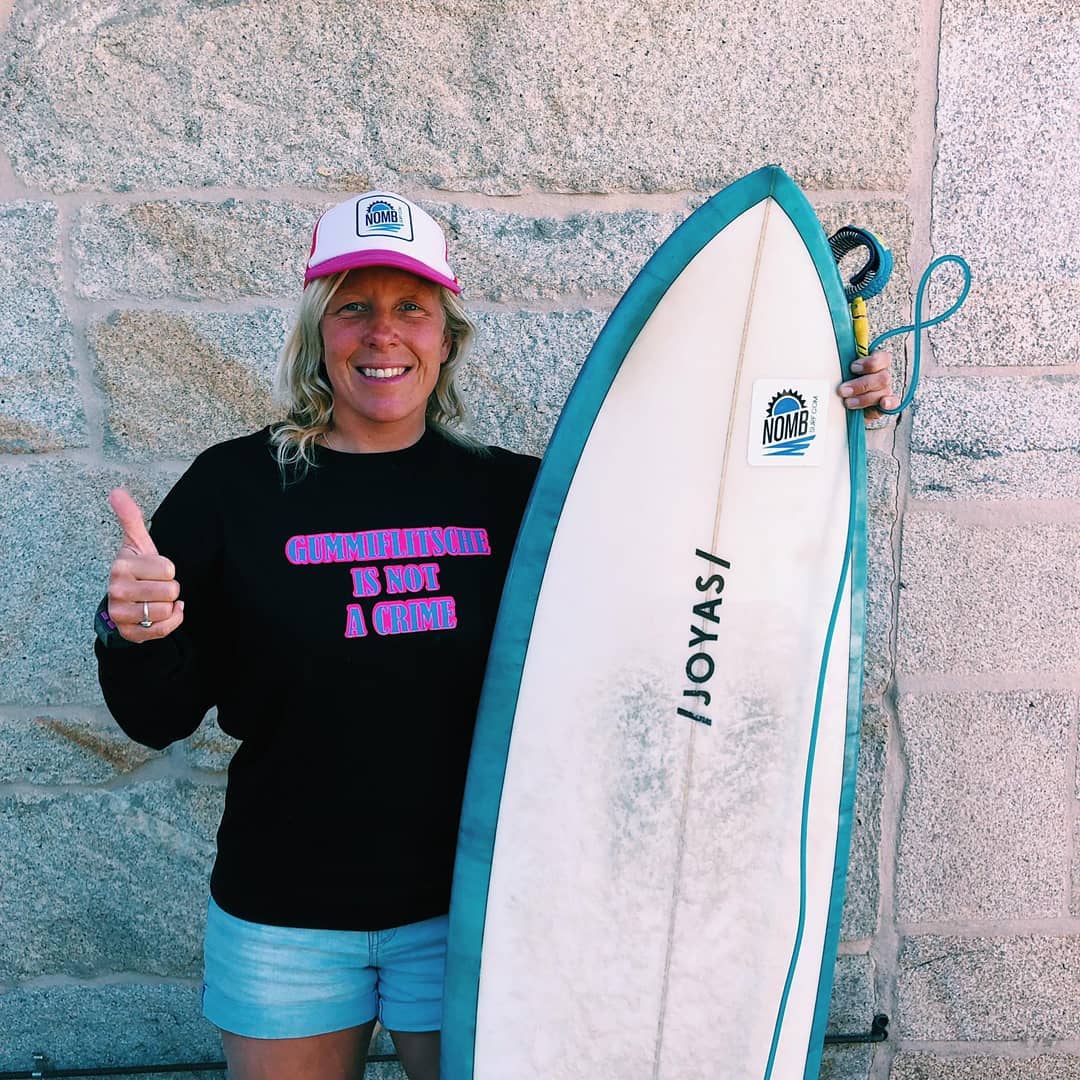 Angie Ringleb
Founder & Surfcoach
Fuerteventura, Spain
NOMB Surf wouldn't exist without her. Angie is the head behind it all. She is also an ISA level II qualified surfcoach, a certified surf judge, a qualified lifesaver and has loads of years of coaching experience. Angie and NOMB Surf have their homebase on Fuerteventura, where she coaches individual surfcoaching and from where she heads off to meet you for the various NOMB Trips.
Team on the Trips
Our Lovely Companions
A.K.A. Lovely Lindis.
Look at all these talents! No wonder that we love having Linda around. Even though it might also be because of her great company, hilarious or deep conversations (nothing in between) and her beautiful soul. She's a constant member of the Galicia Trips and sometimes joins in on other ones, too.
A.K.A. Basti.
When you surf with us in Fuerteventura, chances are high you will meet Basti in the water: He will be the one dude on the Longboard, looking like a tree. He often joins us on trips to the UK & Ireland to spoil us with his cooking – which always makes us feel at home no matter where we are.
Our Yoga Goddess.
For Sharon, surfing and yoga go hand in hand as both help you find the balance of your mind, body and soul. She has been joining us on our trips to Chile and makes an online appearance on our social media channels every now and then to help you implement (surf related) yoga into your daily life.
Partners on the Trip
Our Family Worldwide
A.K.A. Good Old Lee, formerly known as Lee-gend.
Surfcoach ISA Level 2.
That's his face when the swell hits big close to his home in D-Land, Ireland. He's a ripper in the water, always up for a joke and a laugh, and a really nice guy!
A.K.A. Ramonski, Ramonetta or La Pirata.
Him and Josh are our family in Galicia and one of the main reasons why we normally stay a couple of weeks longer than the actual camps last. His welcoming guesthouse is our base in Galicia.
Ramon knows the west coast in Spain and North Portugal like the back of his hand and always finds the best waves for the day.
A.K.A. Joshinski or Joshiño.
Don't mess with Josh. He's the king of jabber and definitely one of the reasons our surfdays in Galicia are filled with laughter. 
He's also a great surf instructor who knows when to switch from fun to empathy and seriousness. He is also the one taking fantastic videos and photos during the trip.